Would You Rather?
Would you rather live above the Second Ave subway construction or a Subway sandwich shop?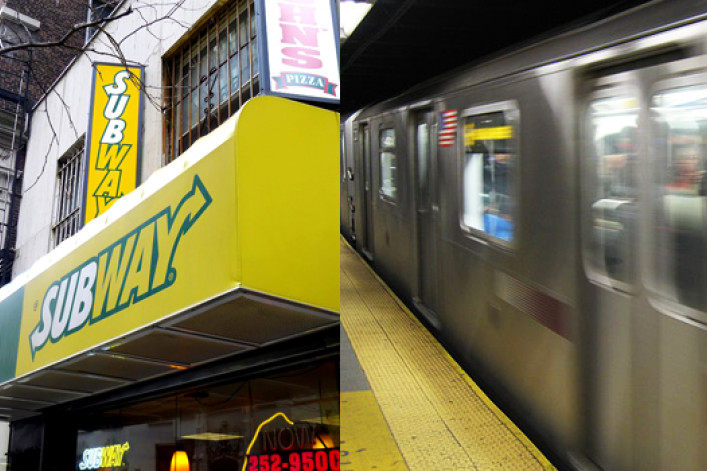 The sound and fury of a subway line construction, or the smell of $5 footlong subs all day long? We asked these new Yorkers to pick their poison when it came to their neighbors: Would you rather live above the Second Avenue subway construction or on top of a smelly Subway restaurant?
Second Ave subway I've actually been in apartments along the Second Avenue subway construction and they're all high rises, and you can't hear a thing. So I wouldn't mind living there. Construction is construction, it's all over the city. Plus, it's going to end at some point. -Victor, Battery Park City
Subway restaurant I wouldn't mind living above a Subway restaurant. I like the smell of bread! Who doesn't? Five Dollar Foot Longs rule. -Marta, Upper West Side
Subway restaurant I live close to a Subway restaurant. Yes, there's a distinctive smell I associate with it. But I don't mind it that much, I guess. There's a lot of trash on the sidewalk outside it. I mind that more. But I wouldn't want to live above a noisy construction for any stretch of time. So I'd rather live above a Subway restaurant. I actually eat their food, so that's a bonus. -Martin, Hamilton Heights
Second Avenue subway As long as they keep working on the Second Avenue Subway, I'm fine with it. I woudn't want to be living next to the construction site if I didn't think they were doing some thing really good with it. The subway line is really important! -Lucas, East Village
Subway restaurant I think it's a huge bonus to live close to a subway. But who knows when or if it'll ever get done? So I guess I'd choose to live above a Subway restaurant instead. Lord knows there are better sandwiches around, but I'd rather use an air freshener in my apartment than have to fight the noise and dirt of a construction site. - Alessandra, Upper West Side
Second Avenue subway If I could be guaranteed an affordable living space once the Subway on Second Avenue is complete, I'll endure the noise and traffic. I hate that smell of Subway...like rotten bagels.  -Olga, Tribeca
 The consensus: Subway station: 3 , Subway sandwiches: 3. It's a tie!
---
Related posts:
Would you rather... have pre-war charm or modern convenience?
Would you rather...have a two-bathroom apartment or a one-bathroom with a washer-dryer?
Would you rather...live in a fabulous 4th floor walk-up, or a plain-vanilla elevator building abode?
Brick Underground articles occasionally include the expertise of, or information about, advertising partners when relevant to the story. We will never promote an advertiser's product without making the relationship clear to our readers.