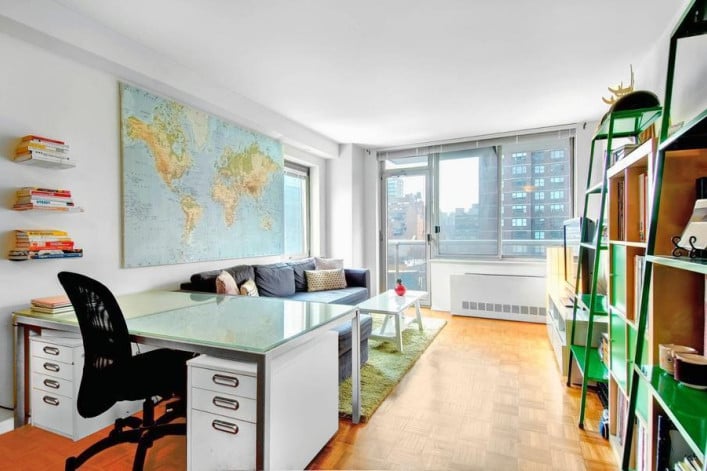 Q. I want to buy a one-bedroom apartment as an investment and rent it out.  What should I look for as far as type of building, layout, location, carrying costs etc.? Any other advice?
A. There is much to consider before plunking down several hundred thousand dollars or more on a one-bedroom apartment that you intend to rent out rather than live in yourself, say our 
experts
.
Do the math
"Be prepared to compromise," he advises. "In the current market, you're likely to have a pretty short list of candidates."
In addition to the cost of any renovations that will be needed to make the apartment attractive to a renter (see specific renter-friendly attributes below), be sure to factor in monthly common charges, annual taxes and any special fees for subleasing, says 
real estate broker Shirley Hackel of Warburg Realty
You should also ask your tax advisor to review the tax ramifications of owning an investment property, and consult with your financial advisor to make sure you have the reserve funds to carry and maintain the property over an extended period of time, tenant or no tenant, says Roberts. 
If you're intending to take out a mortgage to buy the apartment, be aware that many banks won't finance investment units, as these loans are considered riskier than a mortgage on a primary residence.
"For a loan on an investment purchase, we like to see a 51% owner-occupied building, a maximum loan-to-value ratio of 65%, a minimum credit score of 720, and a maximum loan amount of $750,000, as well as 12 months of principal, interest, taxes, and insurance in reserve," says Gendels. In addition, borrowers must be individuals (not a corporation) with a maximum of 4 properties including their personal residence.
Pick the right building
"Limit your search to condos, where subleasing restrictions are minimal," advises Hackel.  "But even with condos, ask specifically about each building's sublease policy, because recently I came across a condo on East 72nd Street that would not permit subleasing beyond two years."
You're likely to get the best price per square foot in older, post-war, full-service condos, says Roberts.
"Building amenities such as a garage or roof deck are also a plus," he adds.
Be sure to find out what comparable apartments are renting for, says Roberts, and "you'd want to know that the building has a reputable managing agent. Rely on your own first impressions to evaluate the vibe of common spaces such as lobby and corridors."
When considering location--such as whether the apartment is in walking distance of a university or business area--keep in mind the type of tenant you'd like to deal with, says Hackel.
"Think about whether you would prefer dealing with business professionals or students," she says. "The latter might want to put up a wall in the living room to share the space."
Locations near university are in strong demand, potentially minimizing the amount the time the apartment might languish vacant between renters, "but students are harder on apartments in terms of wear and tear and they require guarantors," says asset manager and real estate broker Roberta Axelrod of 
Time Equities
.
And as with any real estate purchase, always consider resale value.  
"Where will your potential appreciation be greatest?" says Hackel.  "If the market cycles down, where will your investment be less at risk?" 
Choose a renter-friendly apartment
"Scour the market for a one-bedroom that is not only within your means, but also would likely be attractive to a renter," says Roberts.
He recommends seeking out fixer-uppers with good natural light, nice exposures, large windows, and high ceilings.
"Oftentimes these 'tired' apartments can be updated with new hardwood floors, modern kitchens and baths in an appealingly sleek, mid-century style," says Roberts, noting that "renters tend to be less fussy about location, and gravitate towards 'new.' Look for kitchens that can be opened-up, and extras such as a balcony, half-bath or dressing area."
Layouts that have an area for eating--either an eat in kitchen, island for stools or dining niche --tend to command higher rents, says Axelrod.
Limit your downsides
Strong location is one of the best ways to minimize the amount of time the apartment sits vacant between tenants, says Axelrod.
In addition,  she says, put in the lease that you have right to show the apartment for 60 days before end of lease and that the tenant needs to give 60 days notice if he or she does not intend to renew the lease.
Related:
Brick Underground articles occasionally include the expertise of, or information about, advertising partners when relevant to the story. We will never promote an advertiser's product without making the relationship clear to our readers.