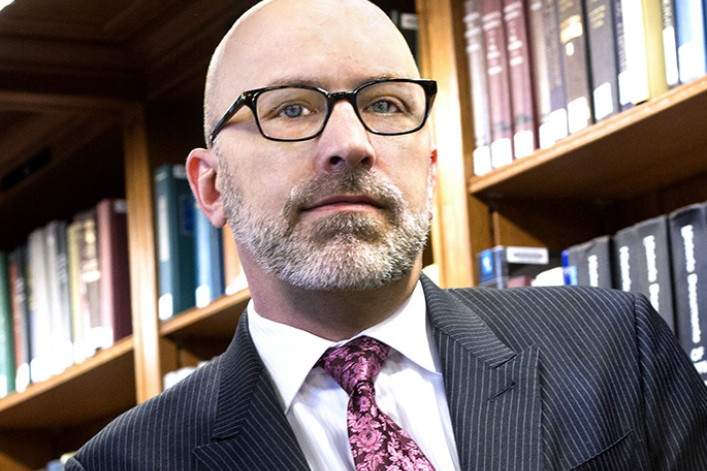 In a city where 70 percent of residents rent, disputes between landlords and tenants arise with predictable regularity. Is rent owed? Can your subletter be evicted? Does the tenant-on-record's ex have a right to stay on in a once-shared rent-regulated apartment following a breakup?
For attorney Todd V. Lamb— a member of BrickUnderground's Real.Est List resource directory and the focus of this week's Real.Est List Spotlight series—these are not hypothetical questions. Specializing in landlord-tenant law, Lamb's Hell's Kitchen-based solo practice focuses on negotiating landlord-tenant disputes, real estate litigation, co-op and condo disputes, broker disputes, construction litigation and appeals, and more.
"Disputes are especially interesting in New York because the properties are so valuable," says Lamb, who spent nearly two decades learning the ropes at firms including Itkowitz & Harwood, Rosenberg & Estis, PC, Fischbein Badillo Wagner Harding, LLP, and Hiscock & Barclay, LLP, before striking out on his own last year.
"Here, someone living in a rent-stabilized apartment can be spending $1,500 a month on a place that would be worth $7,000 a month on the open market. It makes a big difference for the tenant," says Lamb.
Here's Lamb's take on some of the most common landlord-tenant clashes:
Sublets: First off, it is unwise to sublet your apartment illegally. Lamb recommends always going through the proper channels. Second of all, in NYC, it's not legal to sublet your place for a term of less than 30 days. And collecting rent in excess of the legal regulated rent (assuming you live in a rent-regulated apartment) can expose you to fines or damages.

Getting your landlord to agree to a temporary sublet can save you a lot of trouble. Landlords have the right to refuse a proposed sublet with good reason—meaning the subletter is unemployed or has a poor credit history.

Should you still decide to sublet without the landlord's consent, you may find yourself on the receiving end of an eviction notice.

But don't panic, says Lamb. There are still ways to prevent you from losing the apartment.

"Residential tenants served with eviction notices for illegal sublets have the right to cure the default by starting eviction proceedings against the subtenant—even after the landlord takes them to court," says Lamb.
Primary residence issues in rent-regulated apartments: So you just bought a vacation home in the Catskills? Great! Just make sure to establish that you still actually live in your rent-regulated Manhattan apartment, or you might just lose it.

"Tenants lucky enough to have rent-stabilized or rent-controlled apartments must maintain those apartments as their primary residence," says Lamb, who notes that many a tenant has gotten into trouble by filing New York State income taxes listing his or her vacation home as their home address to avoid the NYC resident income taxes.

Then, when faced with eviction proceedings, the tax returns are used as the tenant's sworn statement that their primary residence is someplace other than NYC. "You never want to be asked under oath, 'Were you lying about your primary residence when you filed your tax return or are you lying now?'"

Lamb counsels clients to document through as much paperwork as possible where they're actually living, meaning they should continue to file taxes as NYC residents, to vote in NYC, and to keep a NYC address on their driver's licenses.
Repair issues: "It's the landlord's responsibility to provide habitable housing," says Lamb. But that doesn't mean that they always rise to the occasion.

"If the top floor of a co-op has a leak that would cost $150,000 to repair, and the board doesn't want to pay it, they might just do a patchwork repair to temporarily fix things," says Lamb.

And when those band-aids don't hold, tenants will oftentimes start litigation proceedings.

"Sometimes it's simply a process of educating a board that they're being penny-wise, but pound-foolish," he notes.
Succession: If the tenant-on-record dies or simply vacates his or her apartment, can anyone in the family move in? In a word, no.

Certain family members and long-term domestic partners can seek succession rights, but "you would need to prove primary residence in the apartment for two years before the tenant-of-record permanently vacated the apartment or died," says Lamb. The elderly or disabled need only prove one year of residence.
---
Check out The Real.Est. List, the ultimate real estate guide and resource directory for all those who buy, rent, sell or dwell in NYC. Want to get listed and put your business in the Spotlight Gallery? Click here to get started or email us.       
Brick Underground articles occasionally include the expertise of, or information about, advertising partners when relevant to the story. We will never promote an advertiser's product without making the relationship clear to our readers.