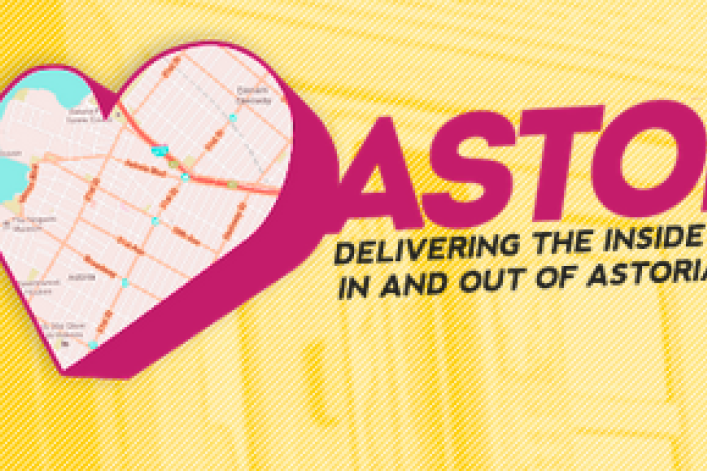 We Heart Astoria--the latest in BrickUnderground's Confessions of a Neighborhood Blogger series--was started in 2010 by three Astoria enthusiasts...Meg Cotner, Mackenzi Farquer and Judith Klein Rich.
Farquer is an interior design enthusiast who founded
SITE
, a design boutique and studio in Astoria--which is now in the process of relocating and rebranding. Farquer is renovating her new lifestyle store,
Lockwood Shop
(also in Astoria.) Rich, meanwhile, not only writes for
We Heart Astoria,
she is the creator/writer for the food-focused blog
Fooditka
. 
We Heart Astoria
focuses on hyperlocal Astoria news with an emphasis on food, culture and the arts as well as community events, local retail, real estate and city living. 
Here's what the three founders told us about living in Astoria.
1. What would you tell someone moving in?
Someone new to Astoria can expect a vibrant, friendly neighborhood filled with kind people, an unbelievably diverse food scene and always something fun happening on the weekends.  The neighborhood offers a mix of old and new, with residents who've lived here all their lives, in addition to new, younger residents who are making their mark by opening up new businesses that give Astoria a hip vibe. 
The most coveted location to live in Astoria is anywhere near Astoria Park, say We Heart Astoria's founders (pictured)
2. Where are the best deals in the neighborhood in terms of real estate?
A great deal on real estate in Astoria doesn't necessarily have to do with the area in which you live. It's more about the type of building in which you settle.
Two- or three-family house buildings owned by private landlords tend to offer better deals--they're more lenient in terms of letting you have pets and not raising the rent.  If you're looking for something more modern and sleek, you can get that too, but you'll certainly pay for it.
3. How abour in terms of dining/entertainment?
Not unlike the real estate situation, the best dining and entertainment deals can also be found in small, privately owned restaurants that can sometimes be a bit under the radar but are just as good (if not better) than all the well known establishments.
4. What's the most coveted location within the neighborhood to live?
The most coveted location to live in Astoria is anywhere near Astoria Park, as it offers the best city views, a lovely place to relax on the weekends and that much coveted escape from the concrete jungle.
Another popular area to live in is 36th Street between 30th and 31st Avenues, which is a tree-lined street with beautiful one to two family homes with a sprinkling of nicely designed front yards.
5. Is there a dream building in the neighborhood?
Even though it's not one of the new real estate developments,
Shore Towers
(25-40 Shore Blvd) offers a dream location, as it's across the street from Astoria Park and boasts some of the most amazing views of Queens and Manhattan.  Since it's close to the waterfront, it's a bit farther from the subway, but they provide all residents with a convenient, free shuttle to and from the Astoria Blvd subway stop.
6. Any buildings that feel out of place with the feel of the neighborhood?
Most buildings in Astoria are pretty traditional looking with a sturdy red brick exterior--there are lots of two-to-three-family homes or townhouses that have been converted into smaller apartment buildings.
7. Any real estate related controversy brewing or currently happening in the neighborhood?
8. How has the neighborhood changed in the past five years? Any projections on how it will change in the next five?
The neighborhood has changed a great deal in the last five years, in that it's acquired a lot of young residents including young families. There are also lots of young entrepreneurs starting new businesses such as privately owned boutiques, restaurants, yoga studios and various arts and culture institutions.
Some of our favorites include the
Astoria Performing Arts Center
(30-44 Crescent Street),
SITE
(35-11 34th Ave),
Loveday
31 (33-06 31st Street), Tone Pilates (36-19 Broadway),
Anthea Yoga
(34-01 45th Street),
The Queens Kickshaw
(40-17 Broadway) and others.  We expect this trend to continue (double time) in the next five years.  It's fun to watch the neighborhood grow before our eyes.
9. What do you think your "sister" neighborhood might be?
Besides Long Island City, our other sister neighborhood would be Sunnyside, Queens.  It feels a lot like Astoria used to five years ago, full of untapped gems that are on the brink of being uncovered.  Just wait and see.
10. Which neighborhood feels like the opposite of your neighborhood?
Williamsburg feels pretty different than Astoria, in that Astoria still has that underrated coolness about it, whereas in Williamsburg it's all about flaunting what you've got.  Astorians like to preserve that neighborhood uniqueness and unleash it to those they trust.  Keep that between us, of course.
11 Would you stay in this neighborhood forever if you could? 
Absolutely!
12. What is one of the biggest misconceptions about the neighborhood?
The biggest misconception is that Astoria is all Greek, which it isn't.  It certainly has one of the largest and most concentrated Greek populations in the country, but aside from that, you can find people from all pockets of the world including Eastern Europe, Latin America, the Middle East and parts of Asia.  It's one of the most diverse neighborhoods in the borough, and that's one of the best things about it.
Brick Underground articles occasionally include the expertise of, or information about, advertising partners when relevant to the story. We will never promote an advertiser's product without making the relationship clear to our readers.