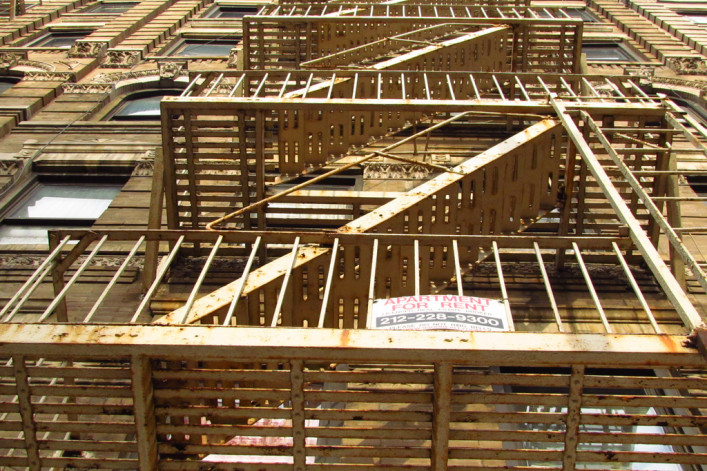 No-fee apartments in Manhattan are practically unicorns—highly sought-after and often the stuff of legend—which may explain why our post on the 8 best websites to find no-fee apartments in NYC is consistently one of our most popular. 
With high rental season upon us, BrickUnderground surveyed some New Yorker City renters to find out how they hunted down or happened upon their own fee-free flats. Steal their ideas to bypass the broker and grab one for  yourself.
On foot:
"Walk directly into a building you like and ask the doorman, the super, or even a random person. Even if a building has a broker's number on it chances are they have a management company that you can go through instead."—Jaime, Upper East Side
"The first place I found--a rental from a woman who owned the apartment--was simply by walking around the neighborhood and asking doormen if any apartments were available in the building. So pick a neighborhood or area you want to live and then just start walking around and talking to the doormen or supers or people who live in the building."—Katharine, Upper East Side
"Use cash. Tip the doorman for some inside info about who's leaving and what's available."—Yoni, Upper East Side 
"We walked around the neighborhood we wanted to live in and looked for rental signs on buildings and in windows. That's how we found our apartment on Seaman Avenue."—Melissa, Inwood
"Walk around the neighborhood you want to live in. See if anyone has a flyer up in a cafe."—Erin, Williamsburg, Brooklyn

Word-of-mouth:
"The brownstone I lived in was sold to a new landlord who was a real jerk who raised the rent and started renovations on his unit, sending dust up to my apartment. There was a fish market in my neighborhood I went to regularly and the owners knew and liked me. I was complaining to them about my situation one day, and they told me about their own brownstone just one street over from mine where they had a recently vacated apartment. They really liked me, so they gave me a great deal on the place. No fees and no moving expenses!" —David, Harlem
"I've always had the best results searching via email blasts to friends and family. When a rental opportunity comes from somebody you know and trust, there's a degree of security that it's a good situation—that it's not a dump or the building/landlords untrustworthy." —Jennifer, Midtown East
"I have never paid a fee. I always got apartments through friends. Just send out mass emails, take to social media."—Jason, Battery Park City
"My apartment was completely word-of-mouth. A friend's relative owned a building and happened to be looking for a new tenant. I got really lucky with that one. And it was rent-stabilized!"—Katharine, Upper East Side
"I was looking all over Murray Hill, and I got my apartment by putting something up on Facebook. A girl I knew had a dad who owned some small buildings in the city. I didn't have to use a broker at all. She showed me the apartment, I signed the lease, and paid the landlord. No rent change all four years I lived there."—Julie, Upper East Side
Through management companies:
"Go to the management companies directly. I was told that in the winter they give concessions to brokers and even then the apartments are without any fees. Closer to the spring, management often takes the concessions away because the market gets hotter and they know the brokers can find tenants who will pay a fee. In some parts of Manhattan like FiDi or Battery Park, a large percentage of buildings are rentals and you can simply go into the building and ask for a leasing office. They will rent to you for no fee and without the hassle of working with a broker." —Vlad, Upper West Side
"Just minutes after my mother and I met with my broker, I went onto NYBits to look at their list of rental buildings. I simply went down the list, calling each building and asking if they had a studio within my budget. I only got to the end of the buildings beginning with B before I found something in a building I've wanted to live in for a few years."—Natali, Upper West Side
"We wanted to move East.  So we asked the management company of our old rental if they managed any other buildings. Voila! They told us about the building we live in now in the Bronx." —Lee, Bronx
"Larger management companies like Archstone and Rockrose all have their own leasing offices on site so you don't need to go through a broker."—Cari, Battery Park City
Online:
"We have moved every 2.5 years since 2006. This past journey we used Trulia, which seemed to have the most 'truthful' active listings. We never had luck with Craigslist—it was always too spammy. We used StreetEasy another time and found our apartment on that."—Bob, Clinton Hill
"I totally just looked on Craigslist. My old roommate and I met the owner at the empty apartment. We looked at it and rented it the next day."—Jeffrey, Hoboken, NJ
"Craigslist is my go-to. There are horror stories, but I've had good luck so far. When I was searching for a place, I only looked at the ones that said 'pic' next to the listing. If it said 'img,' it was probably just some broker trying to lure me in with one no-fee apartment that wasn't even available anymore. After a while, I just looked at stuff under 'no-fee' and 'by owner.'" —Danny, Bushwick
Related:
8 best websites to find no-fee apartments in NYC
Moving to NYC? Here's a crash course in finding an apartment here
10 things to ask before renting that luxury apartment in NYC
Rent Coach: Is my broker entitled to a fee even though he didn't show me the apartment I'm taking?
Brick Underground articles occasionally include the expertise of, or information about, advertising partners when relevant to the story. We will never promote an advertiser's product without making the relationship clear to our readers.