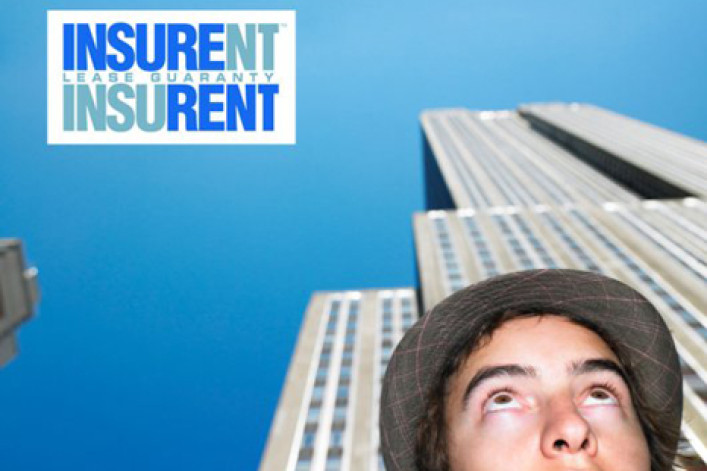 New York City's high rents aren't just hard to afford. They also make it tougher to meet the stringent income test imposed by New York City landlords.
Most want to see that you (or you and your roommates combined) earn an annual income of at least 40-45 times the monthly rent. On a $3,000/month apartment, that works out to $120,000-$135,000 in annual salary.
Some landlords will take a a super-sized security deposit instead. Others require a guarantor....someone who earns at least 80 times the monthly rent, lives in the Tri-State area, and is willing go on the hook for you if you fail to pay the rent.
Not possible?  For a fee of around a month's rent and as little paperwork as humanly possible, Insurent can quickly step in and act as your guarantor if you have good credit.    
Click here to see if your prospective building is among the thousands in New York and other major cities that accept Insurent.  And hear what renters are saying about Insurent:
"I used Insurent three months ago to get an incredible three bedroom apartment. It is the best option for recent college grads who are successful and don't want to use their parents as guarantors. The process was really easy and now I'm hopefully set for all future NYC apartments." --Zach J 
"After weeks of looking, I found the perfect place and applied, feeling relieved for the search to be over. That is, until my roommates and I were denied due to insufficient income. Our credit scores were excellent, but we could not get enough guarantor money together to secure the apartment. The apartment building manager then suggested Insurent. Within less than 2 days, we had our apartment. Insurent worked with us to fulfill the apt building's requirements, and even had people at the office in off-work hours to accept our paperwork. They are the perfect solution for a young professional moving into Manhattan." - Rebecca W.
"I just moved to NY from the West Coast. Even though my new job gave me a decent enough salary to pay for a place, I still couldn't apply for a place to live on my own because of the NY rule of having to make a salary of 40 TIMES the rent!!!! This was something new for me that I had never heard of. In less than half a day, Insurent checked my credit quickly and now I can proudly say I am living on my own!"-Carlos R. M. 
"I am an international undergraduate student and have two roommates but we had no guarantor based in the U.S. Well, we didn't feel that this was a good enough reason for us to keep living in our university dorms for the third year. And then we found Insurent who believed the same, and as soon as we fulfilled their requirements which were very clear and student-friendly, the papers were ready and the deal was done!" - Arjun P. 
"I applied in 7 minutes, and there was no cost to apply, and I was quickly qualified on a preliminary basis within 20 minutes. Insurent requested only a copy of my driver's license and some pay stubs which I immediately emailed back to them, and, a few minutes later, I was full qualified and landlord held the apartment for me. The next day I paid the guaranty fee to Insurent and will be moving into my apartment in a week." - Adrianna P.
"My roommates and I are 25 and it seems that what we make is never enough to qualify for a luxury building. As a two-time customer of Insurent, I can honestly say I've had the best experience working with the company. The team is personable, and they quickly qualify all applications. Sure, it's an added expense during a move, but it's completely worth it. The economic downturn left all our parents in a position where they could not financially qualify to guarantee our apartment, and my roommates and I are ready to be independent of our parents, and this lets us do that!" - Jennifer H.
"Even as a recent college graduate, Insurent helped me get the apartment I wanted. Their agents are incredibly professional. Emails were returned within minutes and they happily answered all my landlord's questions." - Gunner A.
'It's unfortunate credit history isn't transferred from Canada and with so many apartments needing credit history I had little chance without Insurent. Insurent helped take care of things quickly and made the whole thing a smooth process." - Spencer W.
"I needed to secure my apartment just before going on vacation, so time was not on my side. Thanks to the amazing team at Insurent (and my amazing broker) I was able to get the quick turn-around on the approval I needed." - Christopher D.
Click here to apply online and find out whether you're approved in about an hour; the guaranty is usually delivered to your landlord within 24 hours.
---
Insurent Lease Guaranty is the first and only institutional guarantor of residential leases in New York. To qualify and get the apartment you want, visit www.insurent.com or call 646-843-1712.
Also from Insurent: 
Rejected by a landlord lately? Want to get that apartment faster? Here's your secret weapon
Top 10 reasons to call Insurent when your landlord wants a guarantor
The Insurent Rental Index: 5 more (luxury) buildings that welcome the 99%
Why do New Yorkers love Insurent? Let us count the ways
Brick Underground articles occasionally include the expertise of, or information about, advertising partners when relevant to the story. We will never promote an advertiser's product without making the relationship clear to our readers.