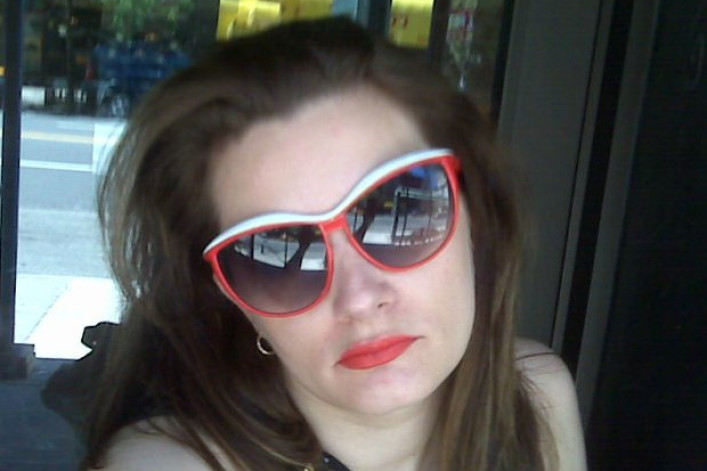 I firmly believe that there needs to be a category in the DSM-5 (fifth edition of the American Psychiatric Association's Diagnostic and Statistical Manual of Mental Disorders that launches this week) devoted specifically to disorders caused by NYC real estate.
Ah, the passion it can stir! Over the course of my life in NYC I have read articles about people literally killing for a rent-stabilized apartment or tenants disappearing from one because a landlord wanted charge market rates and could not legally evict them. People will come up with elaborate schemes to take hold of the Holy Grail--a rent-stabilized unit--or even stay married just to not lose an apartment.
The world of real estate can make one go mad in a very esoteric way.
If you doubt me, there are several Seinfeld episodes that deal with the craziness New Yorkers will go through in order to secure one. Check them out here and here.
Inevitably, while in a group of New Yorkers--say, at a brunch or dinner party (two things New Yorkers love)--you can quickly turn the talk to the one that got away--that one apartment that one lost. Whether you lost it in a bidding war, or were rejected by the board, or simply declined to buy at a price that would have turned you into a millionaire today, chances are you still feel the sting. And a feeling of loss and longing is like nothing else.
I am feeling it, in fact, as I type this, getting misty-eyed as I have been all week over the latest catch to slip the net.
Backstory: I have had a chronic illness for the last year that has gotten progressively worse and makes navigating stairs and carrying things difficult. I need to move to a building with an elevator and a laundry room in order to make things more bearable.
But it is not as easy as that in NYC. I have a fairly newly renovated, big apartment with a small bedroom turned into a closet for far below market rate in a great area.
The trade-off is that the inside of the building looks like a crack house, the rent-controlled tenants (of which I am not one) throw cigarettes in the hallways and condoms out of their windows into the airshaft, and it doesn't have any amenities like laundry, a sane Super, a doorman or even a dishwasher. 
Normally those sorts of things wouldn't bother me. I have always opted for bigger spaces in walkups that I can easily afford than those with more luxuries. NYC real estate, no matter how rich or poor one is, is about compromise. But I am working less and have huge medical bills. So moving to a much-needed elevator building in my neighborhood which is close to doctors I frequent is not as easy as one in another area might think.
There is, however, one building in Hell's Kitchen I have always loved. I used to live around the corner from it 15 years ago and then someone I dated about six years ago lived there. The studios are so big they are really like a junior four. In fact many people have put up a wall and make a huge one bedroom out of them.
Most are rent-stabilized, the building has a doorman, elevator and laundry. It is only a few blocks from where I am.
I have been stalking (surely apartment stalking has to be a category in the DSM-5!) an apartment in this building since I got sick.
At first I thought I could somehow wrangle a way to take over the rent-stabilized apartment of someone I know that lives there, but it was not to be. But that person gave me the heads up that he heard his neighbor was going to be leaving and the apartment would be completely renovated--with a dishwasher!--and would be on the market soon.
I called the management which has this sort of circular voicemail system that is the electronic equivalent of Dante's Inferno or at the very least a figurative version of Sisyphus' everlasting uphill trudge. There is no way to get a live person, the website one is directed to from the hellish automated teller didn't exist, and I felt like I had moved to a new place already, but instead of a luxury elevator building, it was more like the Twilight Zone...
To make a long story short, I finally saw the apartment with the building's broker two months later, and it would have been just perfect. It had four huge closets--including one walk-in--a dishwasher and everything was fully renovated to include new floors and all-stainless appliances--even that much-coveted dishwasher. It was sunny and huge and, with a wall, would have made for a very large one bedroom.
I fantasized about living there, beaming in the elevator, a load of laundry at my feet--the tenement-dweller's equivalent of fantasies about diamonds, fast cars and exotic trips.
Not so fast.  While showing me the apartment, the broker learned that I had a dog and said that the building had suddenly changed its formerly pet-friendly stance.
I explained it would not be a problem; I still wanted to apply and would find a home for the dog (with my illness, he'd already been boarding with friends quite a bit, and while obviously I didn't want to do it, it was something I was willing to do). 
But it was no use. After a full day, the broker texted saying management felt that I'd try to sneak the dog in and that anyway they would not want to rent to someone willing to get rid of a pet because they themselves were pet-lovers. He then pulled out some story about my tax returns (mind you, he had never seen them).
So now I'm broken-hearted in a way that no man could ever make me feel--unless that man was a nasty broker. The one thing that could have solved many problems and made me feel better at home was within my grasp and because of one person I was prevented from having it. 
The loss and longing is overwhelming, and each morning I obsess over this apartment, picturing lesser qualified tenants basking in the sunshine streaming through the windows onto the brand new floors and gleaming off the stainless steel fridge. All the while I step over cigarette butts on stairs that make my joints hurt.
---
More posts by Kelly Kreth:
My worst nightmare becomes reality: The arrival of (real) bed bugs
15 things I've learned from 'Million Dollar Listing NY' so far
The 20 deadly sins NYC rental agents should never commit (but do)
Escape from the UES: Goodbye douchebaggery, hello Hell's Kitchen
Dear Neighbor: I am your worst nightmare
Living next to a bridge & tunnel club: KY Jelly wrestling, all-night noise, no regrets
Brick Underground articles occasionally include the expertise of, or information about, advertising partners when relevant to the story. We will never promote an advertiser's product without making the relationship clear to our readers.