The Market
On Season Two of 'Million Dollar Listing New York,' more of everything, including money, nudity, models, and catfights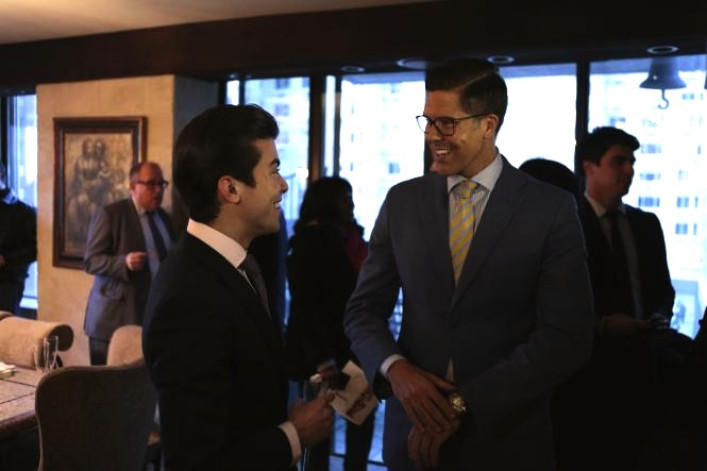 In previewing the first episode of the new season of Bravo's "Million Dollar Listing New York" (which debuts tonight), what struck me was that there was more of everything. 
Important note: More is not necessarily always better.
1. More cursing.
I counted 15 curses (including preview of the next episode) which would average one curse per  four minutes. Which is still less than the average cab ride, I suppose.
The takeaway: New York real estate is not all unicorns and rainbows. When this much money is at stake, conversation can get heated. In other words, don't take your kids along to see apartments.
2. More foreign accents.
The series introduces Luis, a new broker from Keller Williams (replacing Douglas Elliman's Michael Lorber). Luis's Puerto Rican accent even overpowers Fredrik Eklund's Swedish one. I found myself straining to listen really closely so I didn't miss anything.
The takeaway: New York has a lot of foreign buyers and a lot of foreign brokers to service them. In regards to the show, you may want to have Google Translate at the ready.
3. More music.
You know how when you click on a website and get audio-assaulted by the site's attempt at being a disco, and you frantically try to find the off button before your head explodes (or your boss notices )?
This is what happens every so often in the show when they are showing property shots.
The takeaway: New York properties are so sexy/enticing, they need their own soundtracks.
4. More money.
This year property prices seem to be way higher than last year. In this premiere episode we are shown some amazing places including a huge $17 million property (to be sold in an unfathomable 30 days!) and an odd Greenwich Village townhouse shown in an off-market deal.
Fredrik highlights this trend by saying something about how he was typically a top broker in the $5 million range but now it has increased to the $10 million range. Real estate porn at its best!
The takeaway: The old adage by way of Notorious B.I.G. goes Mo' Money Mo' Problems, so if you are working with a broker with big monied properties, be ready for big-assed attitude. 
5. More nudity.
And speaking of porn… It is no secret that Fredrik was formerly a gay pornstar, but it would appear Ryan Serhant is trying to rival him for skin shots. The show opens with Ryan in the shower. He peels off his shirt.  And he jumps into the pool at one of Fredrik's open houses to cuddle with a bikini-clad model.
Ryan continues on his flesh rampage by throwing a fetishy masquerade at one of his open houses which was more Agent Provocateur than Nestseekers, complete with garters and feathers.
The takeaway: Sex sells. But if your broker starts undressing, duck and cover (him). 
6. More romance.
Fredrik is newly engaged and comes home with flowers for his partner who is busy painting and cooking dinner. Not to be outdone, Ryan gives new meaning to the term "hit on women" when he instructs his driver to hit hot women with his Escalade in order to meet them.
The takeaway: Be sure to take out health insurance coverage, car insurance and home owners insurance if you plan to live in NYC.
7. More models.
Not only does Fredrik hire a model to freeze while swimming laps at an open house during wintertime, but Ryan hires a bunch to walk around in their panties at a masquerade.
Then Ryan takes it a step further and models himself in NY Fashion week. 
The takeaway: Beautiful people sell real estate best.
8. More contrived fights.
The show is clearly testosterone-driven—the three stars are  male, as are the co-brokers and most of the sellers, but there's a definite Real Housewife catfight vibe. Boys will be boys (when told to be by producers, it would appear) and get down and dirty in the most theatrical ways.
We are expected to believe Ryan would jump into a pool just to rile up Fredrik if no cameras were there to film? Likewise a man as busy as Fredrik claims to take the time out of his busy day to confront Ryan at his office to berate him for doing so. In previews of the upcoming season, we see Luis angrily jump around, curse and smash a glass. Ah, the [manufactured] drama!
The takeaway: Sometimes brokers aren't the most authentic.
Related posts:
In honor of the Oscars, some timeless flicks that capture the NYC real estate experience...starting with Rosemary's Baby
"666 Park Avenue" producer speaks: Diabolical building owner is "like Trump, but smart"
What I learned from going home with strangers
15 things I've learned from "Million Dollar Listing New York" so far
Brick Underground articles occasionally include the expertise of, or information about, advertising partners when relevant to the story. We will never promote an advertiser's product without making the relationship clear to our readers.