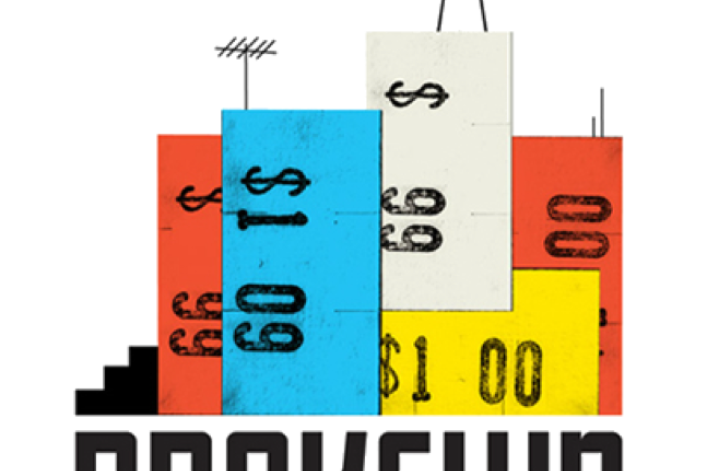 Brokelyn is a web mag founded in May 2009 about all things Brooklyn -- from hyper-local goings-on and stoop sales to cheap eats and real estate deal. The content is written by contributors who live and work all over Brooklyn. 
Since starting in 2009, the blog has exploded. We got a chance to hear from one of the site's editors, Dave Colon, who started as a contributor and is now the News Editor of Brokelyn. Dave is originally from Long Beach, and has been a resident of Bushwick for 5 years. 
Although Brokelyn covers all Brooklyn news in a broader sense, Colon was able to narrow the scope to his neighborhood: Bushwick. 
1. What would you tell someone moving in?
Welcome to Bushwick. Nice to meet you. Can I borrow some money?
Actually, I'd tell them Bushwick is a hell of a lot of fun and that they made a good choice. Also to buy a bike or learn the buses really well if you ever want to see your friends anywhere that's not off the G train.
2. Where are the best deals in the neighborhood in terms of real estate? What about in terms of dining/entertainment?
I kind of wish I knew the real estate deals actually, because I'm currently trying to move. The further east you go, the cheaper things get, but that's also because there are fewer bars and art galleries and what have you as you get east of Myrtle Avenue, but you're still close enough to everything I suppose.
The $3 PBR and shot special at the Gotham City Lounge is the best deal of any kind in Bushwick, possibly even all of Brooklyn.
Shows at Shea Stadium aren't expensive and sometimes a band like Titus Andronicus will play there. As for food, you can get a cheeseburger, fries and a beer for twelve bucks at The Anchored Inn during happy hour.
I guess some people would say those last two places are in East Williamsburg, but I don't give a shit, they've been annexed for Bushwick.
3. What's the most coveted location within the neighborhood to live?
I'd say anywhere on St. Nicholas Avenue, but that could just be me. I freaking love that block and have been trying to live there again since I moved off it. It's quiet and residential without feeling suburban, has a couple bars and is just one block north of Wyckoff Avenue, which is a little more lively.
People pay a premium to live in the area around the Morgan L stop, which has taken on the name Morgantown, and that's where Roberta's, Pine Box Rock Shop and a lot of the lofts are. Though that's also near giant warehouses full of garbage and a mack truck parking lot, so there are disadvantages.
4. Is there a dream building in the neighborhood?
The McKibbin Lofts! Oh god, just kidding. I did live there, for two years. They're somewhat well-known lofts (see: this ridiculous Wikipedia page) on McKibbin Street, famous for parties and bed bugs. Even though I never got bed bugs there. But I never knew anyone who was trying to actively move in to them, and they aren't really that nice or that notable except for the fact that the Times happened to write the buildings up once. I did a post about them for Brokelyn, too.
I think it depends on what you're looking for, because you can live in a nice walkup, or a crazy loft or even some boxy and ugly new luxury building.
I had a friend who lived in 538 Johnson, a big loft building on the corner of Johnson and Stewart. I always liked the huge windows and the roofs on that building.
5. Any buildings that feel out of place with the feel of the neighborhood?
Speaking of the ugly, boxy luxury buildings! Clearly that's a problem all over Brooklyn, but Jesus, when you're on a block that has a lot of row housing from the 70s or earlier and then you come across a pre-fab building with tacky fake balconies and reeking of the developer desperately trying to take advantage of rising rents, well, it's not a good feeling. 
6. Any real estate related controversy brewing or currently happening in the neighborhood? 
Speaking of developers trying to take advantage of rising rents! Bushwick is a neighborhood that's undergoing some pretty rapid gentrification, something made especially clear by the recent report that it was the only neighborhood in February to see rent prices spike.
It's well past the stage where the residents living here before artists moved in are getting priced-out, now even the previous wave of artists and layabouts and handsome lifestyle bloggers are starting to feel the pinch. 
7. How has the neighborhood changed in the past 5 years? Any projections on how it will change in the next 5?
Oh man, it's changed dramatically. The first time I came here, I was visiting a friend who'd moved here and a guy got shot on my friend's doorstep. Fast forward a couple years and [bar and restaurant]  Tandem opened up a block over on Troutman.
The areas around the Jefferson and DeKalb L stops especially have seen an explosion of bars and restaurants open. It used to be my friends would bitch about wanting to come out to Bushwick or acted like I lived really far away, but that's changed.
Bushwick is a neighborhood to keep an eye on in the future, because I'm really hoping all the talk about it being "the new Williamsburg" doesn't end up extending to gigantic luxury condos and chain stores and general air of money floating around. Though there are rumors of a mall opening up, so all may be lost already anyway.
8. What do you think your "sister" neighborhood might be? 
See, this question pre-supposes that you get along with your sister. Which makes the easy answer Williamsburg, but screw that. Those people are rich as hell.
I'm going to go out on a limb and say Crown Heights. They're getting their first taste of ugly luxury buildings and rising rents, but they also have good bars, a sweet DIY space in Brooklyn Launchpad and a mix of fresh-scrubbed ironic youth and people that have lived there forever.
9. Which neighborhood feels like the opposite of your neighborhood?
Ditmas Park. Not in a bad way. But I ride my bike through there and I forget that I'm in a city. It's very quaint, what with all the Victorian houses and lawns and families. Though I wish I could somehow move Sycamore from there to somewhere closer to me.
10. Would you stay in this neighborhood forever if you could?
Yeah, absolutely. I've lived other places in the city, but Bushwick is the only place in Brooklyn that I've lived. And I've been here because I like it, not because it's been the only place I can afford. Although, that's also usually been true.
11. If not, where would you want to go?
I really, really like Red Hook, but it's a little out of my price range. And last night, I was walking from here to Greenpoint and really liked the stretch of Morgan Avenue between Metropolitan and the BQE. Though that too is probably outside of my price range.
12. What is one of the biggest misconceptions about the neighborhood? 
I honestly don't know, but that's mostly because a lot of my friends either live in Bushwick or have been here enough times that they get what's up here. Do people think everyone that lives here lives in lofts with insane parties going on every night?
If anyone thinks that, that's definitely not true. We only do that four, five nights a week, tops.
---
See all Confessions of a Neighborhood Blogger
Related posts:
Moving to NYC? Here's a crash course in finding an apartment here
Williamsburgtopia: Hipsters like to party, make music, do art, look good. What the f*** is wrong with that?
A move-by-move neighborhood guide for the people, by the people
Yorkville to Ridgewood: Some conveniences are gone, but mom-and-pops (and space!) make up for it
Alphabet City to Williamsburg: An almost-substitute for the East Village, circa 2006
Brick Underground articles occasionally include the expertise of, or information about, advertising partners when relevant to the story. We will never promote an advertiser's product without making the relationship clear to our readers.