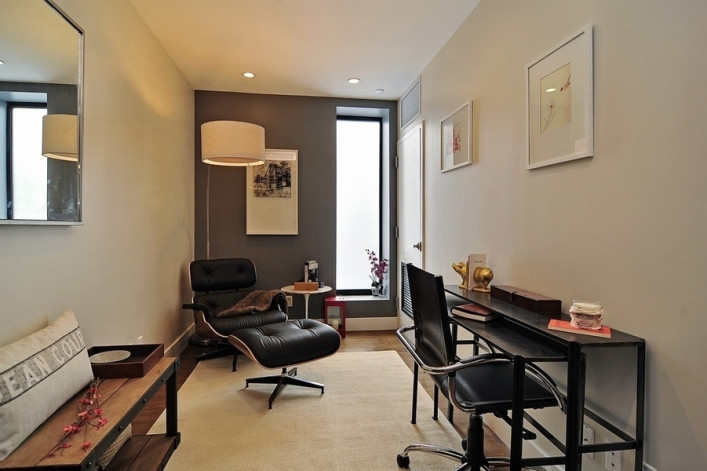 In the current real estate market, size matters when it comes to buying a co-op or condo.
A perfect storm of low mortgage rates, high rents and foreign investment has tightened inventory in almost all segments of the market--but especially so on opposite extremes of the spectrum, with starter apartments and large, family sized units in shortest supply, say the real estate brokers and market analysts we polled recently.
That means that if you're looking for a two bedroom, you may be in luck--or at least, enhanced luck--as compared to buyers hunter for bigger or smaller places.
For now.
Here's a quick segment-by-segment snapshot of how the real estate landscape looks right now.
1. Huge demand for starter apartments expected to continue
The entry level market--defiined as studios and one-bedrooms around $500,000--has been the busiest segment of the real estate market for the past year "in direct response to falling mortgage rates and rising rents," market analyst and appraiser Jonathan Miller of Miller Samuel tells BrickUnderground.
Real estate broker Ari Harkov of Halstead says he's seeing the same thing within an even more expansive definition "starter" apartments.
"With rents being what they are, there's been a big spike in demand for apartments in the $500k to $1 million range," he says. 
While it's true that in the past 90 days, the number of pending sales of under-$1 million apartments fell by 11.8 percent, that's likely a result of the slowing winter season and not necessarily a sign of a weak market, says Noah Rosenblatt, founder of Manhattan real estate analytics company UrbanDigs.
"Compared to a year ago, we're seeing a much more competitive market," with multiple bids and apartments moving quickly, says City Connections' Holly Sose, who sold four clients their first apartments in the last quarter of 2012--all studios and one-bedrooms.
2. Two-bedrooms: Here for now, gone tomorrow?
Two bedroom inventory hasn't tightened up as much as studios/1-beds or 3-bedrooms, says real estate broker Michael Signet of Bond New York.  But that's probably temporary.
Like the other we spoke with, Halstead's Harkov expects to see a shortage of two-bedrooms soon, primarily because many owners of two-bedrooms are being forced to stay put.
"The spread between two and three bedroom is too big for most buyers, so people are staying in their two bedrooms longer than they'd like to," he says.
"Once inventory dries up we'll see a similar situation to the smaller apartments," says Signet.
As the supply of true two-bedrooms dwindles, the "one-and-a-half bedroom"--a room with no windows legally marketed as a home office or den--may become the next hot commodity.
"There's a lot of value in that extra 'half bedroom,'" says City Connections' Sose, who has already noticed an uptick of interest in the "unofficial" two bedroom market. "You're seeing savings of about 20 percent compared to a two-bedroom, and in many cases you're getting just about the same amount of space."
In a soft market, a windowless room is worth about half as much as a legal bedroom of the same square footage,  Roberta Axelrod, a real estate broker and asset manager with Time Equities, told BrickUnderground recently.
"In a market where prices are rising quickly and there is limited availability," says Axelrod, "the discount may be as low as 30%."
3. Big game: Lack of three-plus bedrooms continues to taunt the wealthy
Even if you have a couple (or several) mil to spend on an apartment, you won't necessarily have an easy time finding one.
"This is the segment of the market that is probably the most starved for inventory," says Harkov. Perhaps that's why "New York City is one of the only places in the world where you pay more per square foot when you're buying a bigger place," he says.
As an example of the higher-per-square-foot prices, Harkov says, he recently sold a co-op in a building on 12th Street with very few large apartments. The three-bedroom, which needed a full renovation, sold for $1,300 per square foot, while the one-bedrooms generally go for about $1,100-$1,200 per square foot.

Tracie Hamersley of Citi Habitats reports that "some buyers I'm working with are looking for large spaces--5,000-6,000 square feet, and there's just nothing downtown with so many bedrooms."
She points to two luxury condominium buildings -- Manhattan House on the Upper East Side and The Apthorp on the Upper West Side -- that have reconfigured some of their apartments into larger units "because there's such a scarcity and demand."
UrbanDigs' Rosenblatt says that unlike the starter segement, a typically slower winter season doesn't isn't getting in the way of demand for huge abodes.
In the last 90 days, he says, the number of pending sales of apartments priced from $1 million to $2 million is up 2 percent; pending sales for apartments in the $2m-$5m range are up 5.3 percent, and apartments over $5 million are up 13.9 percent.
Those looking for larger apartments may find some solace in new developments.
"The [new development] market in general has over the past 10 years geared itself to the upper end of the market, which means building larger apartments to meet the demand created by a more international and affluent clientele who need more space," says new development marketer Steve Kliegerman of Terra Holdings.
Much of this inventory is in super luxury buildings with prices starting at over $3,000 per square foot.
The nosebleed pricing may wind up boosting values of large prewars, says Kliegerman.
"They have characteristics that many new construction buildings lack such as formal layouts with dining and maids rooms, moldings, inlaid floors, archways and other classic features," he says, and with prices below $2,500 per square foot, "older buildings with lesser amenities will be seen as a value at prices below say $2,500 per square foot."
Bond's Signet adds that bidding wars are most common when it comes to high-end apartments, thanks in large part to foreign buyers from Russia, China and Brazil, who often pay in cash. "Over $3 million apartments stay on the market for very little time," he says.
No matter what size apartment you're chasing, the good news is that while prices are getting higher, sellers are not generally getting more than asking price.
"We're seeing apartments going for ask, not generally above ask," says Chandra Cadogan of Miron Properties. "We're not there with boom-time prices yet, but it's pretty darn close."

Related:
Can't afford/find a two-bedroom apartment? The right one bedroom just might work 
Ask an Expert: Is it okay to put a kid in a windowless 'bedroom'?
Terrible or terrific twos? 8 things to find out before buying a condo in the toddler phase
Expecting some concesessions with your new condo? You may be unpleasantly surprised
BrickUnderground's 2013 Real Estate Forecast: The 9 biggest trends in NYC real estate this year
Brick Underground articles occasionally include the expertise of, or information about, advertising partners when relevant to the story. We will never promote an advertiser's product without making the relationship clear to our readers.