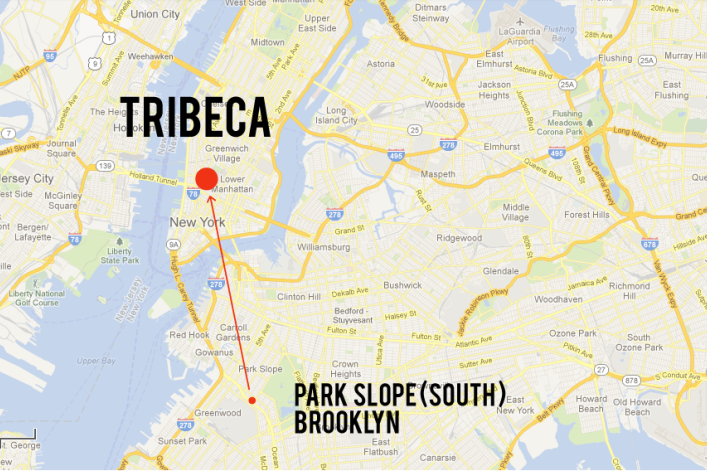 Transitions columns often chronicle New Yorkers' migration from Manhattan to the (somewhat) more affordable and family friendly outerboroughs, but this week's subjects --Rebecca and Frederick -- have done the reverse-move.
In December we moved from South Park Slope/Greenwood Heights, where we shared a $2,400 per month 2-bedroom with one other couple, to Fred's childhood apartment on Greenwich Street in TriBeCa.
We were able to mostly take over the spacious 3-bedroom, rent-stabilized apartment (mum's the word on the rent--we don't want any backlash...) but with this great deal come some occasional space-sharing issues with his middle-aged parents. (They mostly reside in their second home in the Long Island suburbs but come in to the city for meetings or visits.)
Back in Brooklyn, we both LOVED Prospect Park. The park itself is an extraordinarily special place, and ended up being the setting for so many great memories. No longer being a walk away from Prospect Park definitely feels like the end of an era. So far, the Hudson River doesn't compare.
But the Irish Hunger Memorial right off the river path is worth a visit. It is a great reminder that there still are strange, little-known nooks, even in such a densely populated, heavily traveled place as lower Manhattan.
Although the neighborhood has changed significantly since Fred grew up in TriBeCa in the 1980s and '90s, due to overpopulation and incredibly expensive rents [the median rent for an apartment in Tribeca is $7,500], it still feels like home to Fred and there are enough of the old neighborhood people around that you still get the old Tribeca vibes. Like Crazy John who plays Steely Dan on the portable radio outside the Duane Reade by Franklin Street. As long as he's here, it'll feel like home. 
We have come to terms with the fact that vegetarianism is no longer in vogue, so for us, there are generally fewer food-shopping options that offer an appealing meatless selection everywhere...especially in our old neighborhood. But in Tribeca, the main grocery store now is the Whole Foods on Chambers Street, and despite the hate it engenders from people who think it encapsulates all the gentrification of the area in one space, you can get a good deal on the basics and meatless options.
However, Tribeca is lacking real Mexican food—this is a big loss compared to South Slope because it was so close to Sunset Park, where authentic Mexican cuisine was easier to find...like Speedy's on 4th Avenue or El Dorado taco truck on 5th and around 37th across from the Jackie Gleason bus depot. Mexican food in Tribeca is really expensive for what seems like a plate of cheese.
There were also some neighborhood places in Brooklyn where you could just get a normal burger, like Korzo on 5th Ave and Bonnie's Grill—this is not something easy to find in Tribeca. 
We have a couple of Tribeca favorites, though. Max's for Italian and Bubby's for American fare (and a packed brunch spot…if you're into that). Other than that it is hard to find places that aren't too expensive and have decent food. 
For transportation, the Tribeca apartment is close to the A-C-E and 1-2-3 train lines and just a short walk to the 4-5-6 trains at City Hall. In South Slope the main line was the R-train or the B63 bus. It takes 30 minutes or less to get anywhere in Manhattan by train now, but in our old neighborhood in Brooklyn that time can double...especially on the weekends or if you have to take the bus.
On the fresh-air front, Tribeca is winning out, because in our old place there was a very distinctive chemical/rotting cheese smell that seemed to be emanating from Prospect and 5th Ave, extending for several blocks. And the old apartment was on a truck route from the BQE so there were literally semi-trailers spraying black clouds of gas all hours.
If we had to do it again we would, but we might not stay here forever. Queens piques our interest a bit. Perhaps we'll move farther away somewhere warm. As long as we're together anyplace will be fine (Aww...).   
---
Transitions highlights New Yorkers' first impressions as they transition from one neighborhood to another. Want to tell us your transition story? Drop us an email.
Related:
Moving to NYC? Here's a crash course in finding an apartment here
"Have you ever noticed that Tribeca has very few 20-somethings?"
BrickUnderground's 2013 Real Estate Forecast: The 9 biggest trends in NYC real estate this year
Top 10 misconceptions about Brooklyn (usually by Manhattanites)
An expat's view of 8 NYC neighborhoods (in 6 months)
Brick Underground articles occasionally include the expertise of, or information about, advertising partners when relevant to the story. We will never promote an advertiser's product without making the relationship clear to our readers.