Transitions
Upper West Side to Gramercy East: It hurts to lose Central Park, but my social life is downtown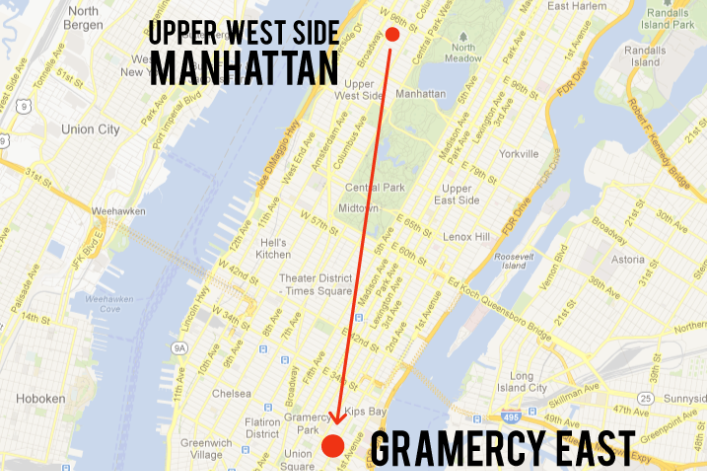 I grew up on the Upper West Side, on 90th and Central Park West,  and lived in an Upper West Side bubble. With my school only two blocks away, and my friends always coming to my house growing up, there was no reason to leave.
When I returned to New York from college, most of my college and work friends were living downtown. I lived at home with my parents for about six months. As much as I loved living at home and saving money, about a year ago my parents and I decided that it was time for me to leave the nest.
Just as I moved, the Upper West Side got a lot easier/better for people my age. Whereas before it felt like most restaurants and shops catered to older people or families, the neighborhood has recently welcomed some trendier places, like 16 Handles, Whole Foods, T.J. Maxx, and great restaurants like Haru, all within a 10-minute walk from my house.
The greatest advantage of the Upper West Side is close proximity to Central Park, and not just for the views. I loved going running around the Reservoir with all the other runners.
Now I live on East 23d street, across from Stuyvesant Town. I'm near the East River Park but I don't feel the same connection as I did to Central Park's continuous stream of Reservoir runners and I find myself running less. I don't like running in the streets and being the only person in running gear. I miss the Central Park pack.

On the other hand, I like my new neighborhood because of how convenient everything is. One night I needed to pick up a prescription at 2 in the morning, and I know that would have been difficult on the Upper West Side, where many places close by 10. Not, that I'm much of a night owl, but having a 24-hour CVS on my block makes me feel secure.

I also like being in such close proximity to the places I like to go at night. It's easier for me to get home and I like how convenient it is to be near my friends who live near Stuyvesant Town and in the East Village.
Though I work directly across town from where I live, getting to 11th Avenue in Chelsea is frustrating on the crosstown bus. Coming from the Upper West Side I knew that if I woke up and left at a specific time, I would arrive at a specific time. That is not the case with the crosstown bus. Sometimes I wait for 30 seconds for the bus, sometimes I wait for 14 minutes. When I leave my apartment, I have no idea what time I'll get to work.

Living near the Flatiron district certainly has its perks, too. Within only three blocks--on Fifth Avenue and 23rd--are my favorite stores: Zara, Joe Fresh, and H&M. I often go grocery shopping at Italian mega-market Eataly, which has delicious fresh foods. The new Fairway on 30th Street is another great new local option.

Though I spend most of my time downtown, I still consider the Upper West Side my home. It's where my family is, and where I retreated during the blackout and flooding that occurred in my neighborhood from Hurricane Sandy. I also miss the pace of the Upper West Side, which is a little slower and more residential. There aren't as many tourists and hospitals as there are down here.
Each neighborhood matches a different part of my personality: When I'm downtown I'm feeling fun and alive. When I'm on the Upper West Side, life slows down and I have the love of my family.
---
Transitions highlights New Yorkers' first impressions as they transition from one neighborhood to another. Want to tell us your transition story? Drop us an email.
Related posts:
From UWS to Yorkville: "If you want to live in Manhattan and you're not rich, you have to give some things up"
Gramercy to Williamsburg: Six months in, no looking back
Upper West Side to Brooklyn Heights: A neighborhood that feels more "us," with better parking
Upper West Side to Hudson Heights: A lot like the pre-condo-ized UWS, for under $3,000 a month
Upper West Side to Park Slope: Affordable outdoor space, fewer bankers and lawyers, and you can always see the sky
Upper West Side to Upper East Side: Less uppity — and further from the grocery store
A move-by-move neighborhood guide for the people, buy the people
How to find a rent stabilized apartment in NYC
8 best websites for finding a no-fee apartment in NYC
Brick Underground articles occasionally include the expertise of, or information about, advertising partners when relevant to the story. We will never promote an advertiser's product without making the relationship clear to our readers.