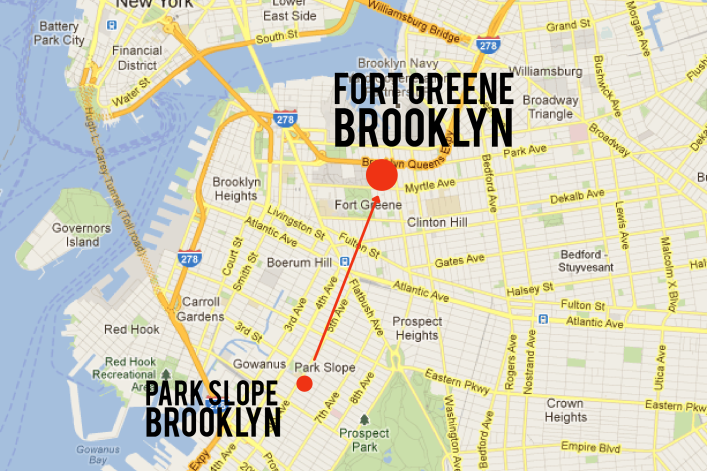 Before my boyfriend and I decided to move in together five months ago, I lived in a three-bedroom, one-tiny-bathroom apartment on Fifth Avenue in Park Slope. I was living with two roommates--one friend and one we met through Craigslist.
Our apartment was railroad style, so there was no hallway and the rooms were connected to each other. In total, our rent was $2,000 a month, but my roommates and I split it based on bedroom size.
The apartment was not well-maintained. For the most part, our landlords were absentee. They never proactively checked on the building, nor did they even cash our rent checks for weeks.  
My favorite hangouts were Stone Park Café, Bierkraft, and Rose Water. Our apartment was also very close to transportation--one block from the R train and a one-mile walk or bus to Atlantic Terminal. It was a relatively easy commute to my job in Bushwick.
The only aspect of the neighborhood that I disliked--specifically related to living on Fifth Avenue--was the noise. We constantly heard the bus, noisy drunks leaving the bars at night, and people blasting their car stereos. I guess that's a small price to pay to live near so many good bars and restaurants.
 I enjoyed Park Slope, which is why I stayed there for two years and only moved one neighborhood over to Fort Greene. My boyfriend and I looked in many other neighborhoods, including Greenpoint, Fort Greene and Windsor Terrace, the latter two containing the best quality apartments in our price range.
We ultimately choose Fort Greene because it was an easier commute to Manhattan and all other neighborhoods in Brooklyn.
Apartments in our price range in that area are leased quickly, so you must act fast. When we found a place we liked, we had to fill out the application on the spot in order to be the first applicants. 
In Fort Greene, my apartment is smaller (one-bedroom and one-bathroom), but I pay approximately the same amount--$1,800 a month. The living room, kitchen, and dining room are open, which is a nice change from railroad style. The bathroom is large enough to fit a queen-sized bed! The bedroom is definitely bigger than my old bedroom. 
Our apartment is on the fifth floor, but we have an elevator. The building is well-maintained by maintenance personnel who are very helpful and thorough. The only major con so far is that the laundry room hours are 8 a.m. to 4 p.m., so I have to be strategic about planning my laundry days.   
Fort Greene has been fantastic so far and it has many of the qualities I really enjoyed about Park Slope including proximity to transportation and my job. We live one block from the C train, three blocks to the G, and a quarter mile to Atlantic Terminal. We're able to access many of the train lines we could access in Park Slope.
Many of the streets are landmarked so there is beautiful old architecture everywhere. There is a small, diverse group of bars, restaurants, and wine bars. My favorite neighborhood spots, so far, are Olea, Graziella's, and Aita. I have also been taking advantage of living so close to the Brooklyn Academy of Music by going to the $7 movies and free concerts.
Our friends do not live in Fort Greene. However, people have come from Hoboken, Long Island, and Manhattan to visit and enjoy our neighborhood.
I have a car, and one thing that has been difficult about living in Fort Greene is the parking. In time I've learned the alternate side days and more vacant streets but it can be a hassle. I lived with a similar situation in Park Slope.
Despite the parking situation, simply put, I really love living here. I love my apartment, my living situation and the neighborhood. 
---
Transitions highlights New Yorkers' first impressions as they transition from one neighborhood to another. Want to tell us your transition story? Drop us an email.
Related posts:
Top 10 misconceptions about Brooklyn (usually by Manhattanites)
I find my "dream" apartment...in Ft. Greene
Bed-Stuy to Fort Greene: From an up-and-comer to already there
A move-by-move neighborhood guide for the people, by the people
Upper West Side to Park Slope: Affordable outdoor space, fewer bankers and lawyers, and you can always see the sky
Brick Underground articles occasionally include the expertise of, or information about, advertising partners when relevant to the story. We will never promote an advertiser's product without making the relationship clear to our readers.