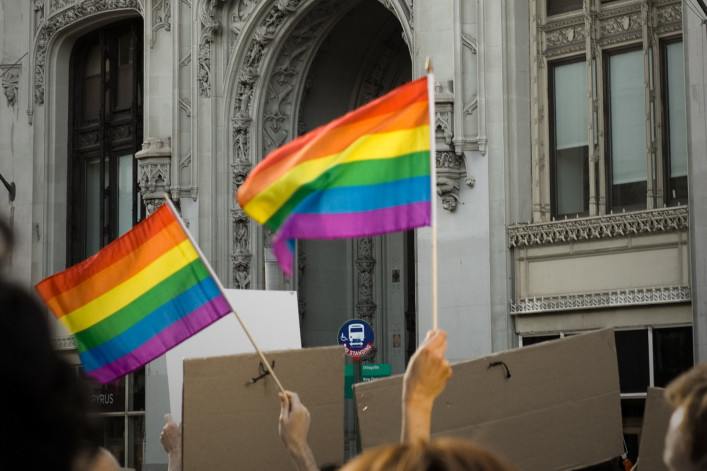 A recent article in The Village Voice confirmed what I already knew firsthand from living in Hell's Kitchen: I am going to be single forever.
According to the Voice's Michael Musto, the neighborhood of Clinton, a.k.a. "Hellsea," has the highest number of gay bars in NYC—13 to Chelsea's 7.    As a single straight woman--the unwanted meat in many a gay sandwich--this is not exactly a promising statistic for my social life.
But it's not all bad. Along with the drawbacks, there are some benefits too.
Upsides:
Coming home late at night I feel relatively safe because my walk from the subway leads me past mostly gay bars with men congregating outside who don't look twice at me no matter how short my skirt or high my heels.
The catcalls are still as frequent as other neighborhoods but of a different variety. The other day a gay man called across the street say, "Girl, that bag is beautiful…" and then added an obligatory "Just like you." I've also been stopped with compliments on my vintage dress and earrings.
While I often lament the fact that I'm no longer part of a couple and have no one to walk down the street holding hands with, at the very least I rarely see opposite sex couples doing so -- even on busy weekends.
My gay friends always want to visit or drop by when in the gayborhood--which is often.
The bars have the best names: Fairy Tail, Hard Ware, Bar-tini, Boxers (the bartenders are shirtless and in underwear!) and Flaming Saddles to name a few!
Downsides:
It is impossible to get a seat at brunch.
It is nearly as impossible to find a straight man to date/flirt with in a ten-block radius. Every man I pass on the street is more gorgeous than the last but none want to play on my team.
There are only a few straight bars and those tend to be frat-type ones. Sadly, I've been in every gay bar in the area with my friend David who visits often but doesn't like to go out alone to socialize. Great! At nearly 43 I'm officially a fag hag! (Not that there's anything wrong with it.)
Rents are going up because of the influx of people wanting to live here and with the increase of bars and nightclubs being built, most of which are geared towards gays.  To be fair, this downside would actually be an upside if I owned instead of rented.
This winter on the day of Santacon, I saw a shirtless Santa sporting nipple rings (luckily no ornaments hung from them) and wearing leather chaps.   'Nuff said.
---
Also by Kelly Kreth:
15 things I've learned from 'Million Dollar Listing NY' so far
The 20 deadly sins NYC rental agents should never commit (but do)
Escape from the UES: Goodbye douchebaggery, hello Hell's Kitchen
Dear Neighbor: I am your worst nightmare
Living next to a bridge & tunnel club: KY Jelly wrestling, all-night noise, no regrets
Brick Underground articles occasionally include the expertise of, or information about, advertising partners when relevant to the story. We will never promote an advertiser's product without making the relationship clear to our readers.