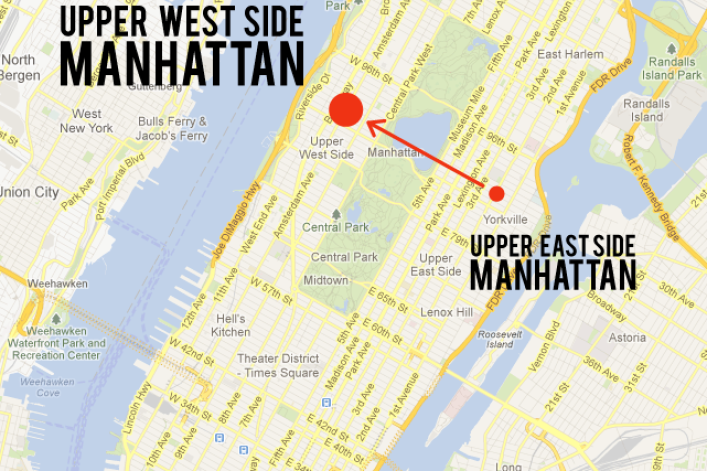 I recently moved from the Upper East Side (91st and Third) to the Upper West Side (87th and Central Park West to be exact).
Geographically, they are so close -- just across Central Park, and the neighborhoods are very similar in some respects such as the family environment, more residential feel and relative affordability compared to some more trendy neighborhoods.
But my living situation is a world of difference.
I had been living with a roommate in a tiny one-bedroom apartment that had been converted to two bedrooms on the Upper East Side. The apartment was in a no-frills walk-up building, but at $1,700 a month total, and with relatively easy access to the 6 train (it was about a six block walk), it was a good fit for my situation when I moved in two years ago. 
When I first moved to the Upper East Side, I really liked the area I lived in. There are a lot of young professionals and recent college graduates in and it was a good place for a young professional to find and apartment.
It also had a very different feeling from Midtown, where I worked at the time, and it was nice to leave the hustle and bustle at the end of the day to return to a more peaceful and residential place.  
There is also a lot to enjoy in the neighborhood including great restaurants such as Osso Buco (a great Italian spot),Café D'Alsace and Barking Dog Luncheonette, museums and Central Park.
However, in time, many of the pluses about the apartment and neighborhood weren't enough to make me want to stay there in the long-term. 
My roommate, who lived in the apartment for almost five years had taken over the lease from a friend she knew.  She did not have to go through a broker to rent it out and we didn't have to pay any of the usual fees associated with moving. Consequently, because the landlord never had to show the apartment to any new tenants, he never had to renovate it either. 
Our rent never increased, but the place was slowly falling apart. The kitchen and bathroom floor tiles came up when you walked over them, cabinets were coming apart and light fixtures didn't work. To top off the other problems, it was just very small. My bed touched three sides of my bedroom.
Though the Upper East Side has a lot of great bars and restaurants, it was like pulling teeth to get anyone to come uptown to enjoy them with me, and I found myself going downtown more often than not, to go out and visit friends in Murray Hill and the Village.
Finally, my boyfriend, who had moved to New York a few months earlier, had a temporary sublet that was about to expire, so we thought the timing was right to move in together. Even though I wanted to move sooner, I'm glad I waited to move in with him, which allowed me to save money to move into a nicer apartment.
In hindsight I should have moved out sooner, but it was the expectation of higher rents and moving fees that made me stay put.
About two months ago, my boyfriend and I moved into an approximately 700-squate-foot  one bedroom on the Upper West Side in an elevator building. Our rent is $2,550. The apartment has a sliding door in the living room that leads to a balcony, which overlooks the backyards of neighboring buildings. The apartment also has tons of storage including two large closets in the hallway, a linen closet and full closet in the bedroom.
There's also a dishwasher and good counter space – all things that are important to me because I love to cook and could not in my previous kitchen, which had less than a foot of counter space.
So far, I really love everything about our new neighborhood. One of the highlights is living a few steps away from Central Park. I can walk out my door and go running around the reservoir. There are great restaurants around my apartment too, and a few good bars on Amsterdam such as Good Enough to Eat, Dean's Pizzeria, Jacob's Pickles and Popover Café.
I'm only one block from the B/C train, so while we still have to go downtown most of the time to go out, I do not mind it as much because we're closer to the train than we were on the Upper East Side. Also, now that my apartment is much nicer, I can convince the occasional friend to come and visit. 
Overall, the Upper West Side does feel a little more down to earth and less uppity than the Upper East Side. One downside, however, is the distance to a supermarket. We are more than 10 blocks from Whole Foods and Fairway, and a subway ride from Trader Joe's, so we have to either pay delivery fees or lug groceries on our own, which is no fun especially if the weather is not ideal.
I am glad I moved. I'm really happy that I finally have a place to call home where I am not only proud to live, but am proud to have people visit (if they want to come uptown).
Both my apartment and the neighborhood feel a little more upscale and make me feel like I've made the transition from a post-college apartment and neighborhood to an adult apartment and neighborhood. 
---
Related posts:
From UWS to Yorkville: "If you want to live in Manhattan and you're not rich, you have to give some things up"
Upper West Side to Brooklyn Heights: A neighborhood that feels more "us," with better parking
Upper West Side to Hudson Heights: A lot like the pre-condo-ized UWS, for under $3,000 a month
Upper West Side to Park Slope: Affordable outdoor space, fewer bankers and lawyers, and you can always see the sky
Q & A with a serial mover: "It's the number one reason why I'm broke and have no savings"
A move-by-move neighborhood guide for the people, buy the people
How to find a rent stabilized apartment in NYC
8 best websites for finding a no-fee apartment in NYC
Rejected by a landlord lately? Want to get that apartment faster? Here's your secret weapon (Sponsored)
Brick Underground articles occasionally include the expertise of, or information about, advertising partners when relevant to the story. We will never promote an advertiser's product without making the relationship clear to our readers.