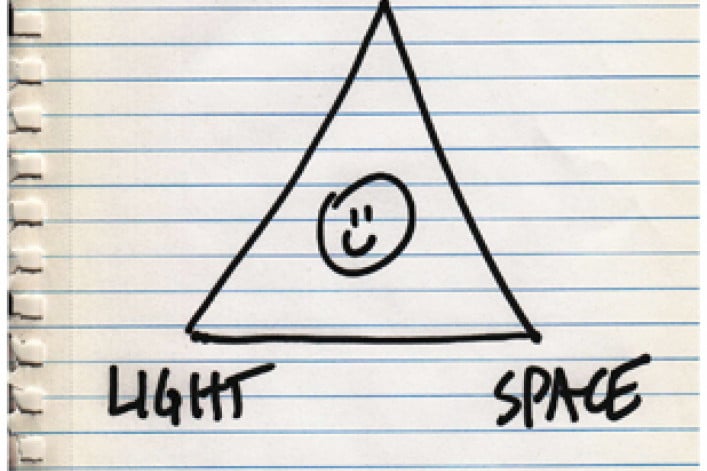 Between March and late fall of last year, most of my Sundays were consumed by open houses in Upper Manhattan, a parade of one-bedrooms with an assortment of ailments ranging from lack of space to lack of light.
By this time Sidney was my agent of record, and I noticed the listing prices started to creep over the $300,000 budget I'd set for myself. Sidney assured me I could offer within my range (which maxed out at $300k), but increasingly it seemed like an impossible equation where I had to assign value to the things I wanted, calculate their respective worth (would I pay $10,000 extra for good light or a good neighborhood?) and figure how much less I could offer.
I categorized according to priority. My list--and corresponding pricepoints--went something like this:
Home run: Nice lobby, light, top or high floor, neat interior details like light fixtures, at least three closets, 700-800 square feet, decent neighborhood, workable kitchen and bathroom. Will go over my $300k budget and tap the reserve money market account for an extra $25,000.
Charming quirks: These were strange, but potentially workable features such as oddly shaped rooms and irregular layouts, long hallways, windows with partial views. Will pay $300,000 if most fixes are feasible.
Minor problems: This included conditions less-than-ideal, but that could be addressed in some way or another, and included things like water leaks, outdated electric, bad kitchen/bathroom renovation, size, too few closets, subway more than 10 blocks away. Will go up to $275,000.
Dealbreakers: Dark, needs gut renovation, bad neighborhood, walkup, dishwashers not allowed, high maintenance fees, cheap construction. Will not pay more than $250,000, and will reject cheap construction. Period.
There were too many apartments in each category to describe in detail—and I never did see anything I could afford that met my Home Run criteria—but here are a few my friend, Chris, and I saw either at open houses or by appointment with Sidney. Each place helped me refine what I really wanted—or didn't.
Sidney called my attention to a two-bedroom pre-war co-op on Convent Avenue, a quirky apartment, he warned, but light-filled and immaculately renovated by its architect owners. Listed for $325,000, he thought I could offer $300,000, as the owners were already living in tight quarters with two children and were expecting a third. They needed to sell.
The kitchen was attractively renovated with walnut cabinets, a granite counter and high-end appliances. Each closet was custom-built.
I fell in love with details like the salvaged antique bathroom door and the molded fireplace in the front living room. But even though the apartment was 850 square feet, it was awkwardly split up so that the rooms were, at best, medium-sized with doorways or windows interrupting the space. The two largest rooms, both set up as living rooms, were at opposite ends of the apartment, strung together by a long, dark hallway and interrupted by two doors.
The living area at one end was dominated by the open kitchen—attractively renovated with walnut cabinets, a granite counter and stylish appliances. But I couldn't figure out if it was a dining room or a salon.  A long hallway led to a small bedroom (where, seemingly, the entire family slept) through which you'd walk to get to the street-facing living room with bay windows and a window seat. Or, was that another bedroom? Or, was that the home office?
I drew my own floor plan, trying to place my furniture here and there, reconfiguring the bedroom entry so it could be its own room. Quirky, but I thought it would work.
Loyal Chris, who never complained one iota on all these treks, and I returned for a second look with my sketch, made notes and left feeling this was my best option. I would call Sidney and offer $300,000.
Then we walked around the neighborhood. Though Convent Avenue is in a historic district—and true, the tree-lined street had a quiet grace—Amsterdam and St. Nicholas avenues on either side of the enclave were downtrodden.
Retail there consisted of a few shabby thrift stores, some cheap furniture stores and a couple of shadowy bodegas. I didn't know where to find a proper grocery store. I saw myself holed up in a charming turret but surrounded by a neighborhood in which I'd never feel completely comfortable. I took it off my list.
My minor problem child was a prewar coop (then $325,000; now $319,000) on West 147th, a beautiful tree-lined brownstone street in Hamilton Heights.
Light-filled and romantically funky, it reminded me of the beautiful wreck I'd fallen in love with 35 apartments ago: an adaptable space that was marketed as a two bedroom, but with a dining room that allowed for a home office.
But the building had a shabby feel to it that didn't quite jive with the high maintenance fee (Then $775 and now $840). The triangular-shaped kitchen was a series of awkward work spaces—small built-in cabinets and wheeled carts. It required an update, including a dishwasher, which the agent wasn't sure would be permitted.
Large leaks in a couple of the rooms worried me and the agent's ignorance about such details was a turn off. I reluctantly walked away.
My first dealbreaker included a new construction on 147 West 142nd St., which was spacious (733 square feet), had an intelligent layout and basement storage space. But when I leaned up against the breakfast bar, it detached from the wall!
I returned to solidly built prewars.
A 900-square-foot in Washington Heights (no listing available) was cheaper and larger than anything I had seen. It needed a complete renovation, but the gracious layout was loaded with pre-war charm: arched doorways, a bay-windowed living room, original light fixtures, moldings and in the kitchen, a tin ceiling.
But it was at the back of the building, and the apartment was so dark, the realtor had to use a flashlight to show me around. She didn't even attempt to try to talk me into it, and instead, sighed and offered me a piece of dusty Halloween candy from a bowl on a folding chair—the only structure in the otherwise empty apartment.  
My last dealbreaker: A large city regulated, income restricted HDFC apartment on Convent Avenue priced at $265,000. It was nicely renovated—another split dining/living room with French doors—but every window looked out onto either a brick wall or a penitentiary-style barb wire curl. It felt like I would live in a war zone.
After reviewing the floor plans I had collected that day and with Chris' input, tossing them in the trash, I drew a new sketch—a triangle of my three highest priorities: light, space, neighborhood. It seemed, at best, I would only ever get two of the three. 
Next up: Over budget, I head over the river. 
---
Elle Bee is a lifelong renter currently in the process of buying a Brooklyn apartment, recounted in her bi-weekly column, Diary of a First-Time Buyer.
Related posts:
My Big Fat Board Interview column
What I learned from 150 apartments before I finally bought one
Here are 7 things your lawyer should tell you when you buy a condo or co-op in NYC (sponsored)
A single guy reveals why he took the co-op plunge -- and how he basically lives for free
Unraveling NY real estate spin--one white lie at a time
To pass your co-op board interview, read this first
16 things I wish I knew before buying this place
A NYC real estate lawyer reveals the 14 biggest surprises for first-time buyers (sponsored)
Confessions of a preconstruction buyer
The 7 worst places to live in a building
Your next place: 9 questions that separate the New Yorkers from the rookies
Brick Underground articles occasionally include the expertise of, or information about, advertising partners when relevant to the story. We will never promote an advertiser's product without making the relationship clear to our readers.