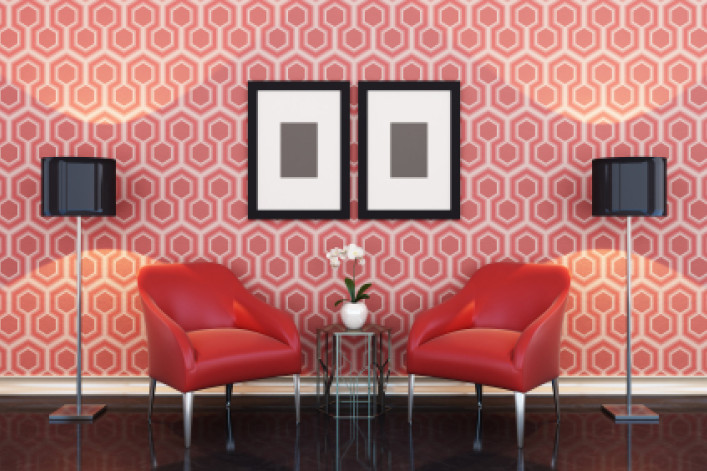 Q. I'm considering installing wallpaper in my apartment. Is it a good idea? What should I know?
A. Interior wall treatments go far beyond a gallon of paint, and it's a bright idea to think outside the box and consider an alternative like wall covering. With various options on the market such as papers, vinyls, silks, and grasscloths, know that you'll need to narrow down your selection before you take the plunge.
Do your research if you're not working with an interior designer, as not all wall coverings are appropriate for every space. Extremely wet bathrooms--a.k.a. the typical under-ventilated NYC bathroom--are better left unpapered, for example. If you must, stick with a heavy gauge vinyl, which will ward off moisture. 
Also bear in mind that you can paint certain papers. Paintable wall coverings such as the patterns from Anaglypta or Lincrusta will give you the flexibility to change colors. They can also be painted over and over again--good to keep in mind if you have small children or a tight or highly trafficked space more vulnerable to scuffing.
1. DIY vs hiring a pro
Since not all walls are created equal (see below)  you might want to consider hiring a professional wall covering installer to evaluate your walls prior to setting your heart on that 18th Century Scalamandre Chinoiserie for your kitchen.
A qualified installer can look at your samples and tell you "yay" or "nay," based on the space you're considering. Even though you may frown at the thought of forgoing paper-backed silk in your kitchen (silk doesn't mix with water or grease!), trust us, you'll be thankful later that you painted when your splattered wall warrants an easy paint touch-up.
When it comes to installation, the novice may feel up to the challenge of installing inexpensive, pre-pasted and pre-trimmed paper, but even those require a certain amount of skill and patience. If you're up to the task, give it a shot, but be prepared for a less-than-perfect job, and keep your credit card handy to order more material.
It's probably best, even if your wall covering is on the lower end of the scale, to hire a professional for a one-time-only install. Ask your local home improvement, paint, or wallpaper store for referrals if you're not working with an interior designer. Many paint contractors install wall covering as well as prep and paint.
2. Cost
Wall coverings can start as low as $40 per roll and go up to hundreds of dollars. Residential wallpapers are typically priced by the single roll, but packaged in double rolls.
Widths can vary depending on the product, but lengths are usually 11 yards or so in a double roll. Your wallpaper hanger can tell you how many rolls you'll need, and he or she will probably add on a little extra in case of damage down the road.
Like most any aspect of renovation, you'll get what you pay for.
"I would say you should expect someone in NYC to charge in the range of $450 to $650 to prep the walls of a 12X15 room and another $650 to $800 to install the wall covering,"  says NYC wallpaper installer Amir Hassan.
The costs can increase if the room is unusually large, or if the paper is particularly difficult to remove or work with.
"I generally charge by the room and usually request a site visit before submitting a quote. This is to ensure there aren't any unusual conditions to account for. The whole process of prepping and installing wall covering for a standard 12 X15 room should take about four days," explains Hassan.
3. Prep before you paper
"Generally, the walls should be as smooth and free of defects as possible," says Hassan.  Any nibs should be scraped off with a broad knife or spatula.
Depressions or cracks should be filled with spackle and sanded smooth. Lastly, a top coat of primer such as Zinsser should be applied to the wall surface (also referred to as "sizing the walls").
A lack of prep can cause wall covering to not adhere properly; it may peel back, seams could open later, and the overall look will not be as smooth and flawless as it should be.
4. Prewar vs. postwar issues
Plaster walls are common in pre-war apartments. Likely to have multiple coats of paint that can leave a dimpled texture on the walls, these less-than-perfect surfaces are also likely to be wavy and out of plumb. Smooth walls make for a better installation and a better end result, so usually prewar apartments require more pre-wallpaper prep than post-wars.
Postwar apartments are usually built with drywall (also called sheetrock), which tends to have a smooth, more flawless finish than plaster, so they don't have as many issues.
"Nonetheless, it's best to do what you can to fill in any voids or cracks so the surface is as smooth as possible before installing the wall covering," says Hassan. "If you're applying a fine wall covering, you might consider lining the walls with a paper liner first to smooth them out a bit."
In a case where the walls or ceilings are in really bad shape, you can fill cracks or holes as mentioned above, line with paper and then apply wallpaper. 
5. Good for funky walls
"Wallpaper can hide a lot of defects behind it --- such as the walls not being even," adds Shelli Scrimale, a broker with Stribling in New York City. This is a common issue in older buildings and separate from cracks or depressions, which can be repaired fairly easily. 
"Stay away from strong geometric patterns as they accentuate the 'unlevelness' of ceilings and corners. Go with more 'all-over' or random patterns," Hassan suggests. These will hide a multitude of construction sins, and even the sags common in old buildings.
You'll notice more flaws and snafus with stripes and linear patterns.
6. Upkeep
Many papers produced today are wipeable (you can wipe gently with a damp cloth without color transfer), but if you have small children or a small or heavily trafficked space susceptible to scuffing, you'll probably want a scrubbable option (a wall covering that you can wash with mild soap and water and scrub without color transfer). Always test first no matter what is recommended.
"Commercial vinyls are the most scuff-proof, but a coat or two of water-based polyurethane such as Varathane can help protect various other more delicate wall coverings," says Hassan. Also remember that "commercial" doesn't mean unattractive. Great looking patterns exist within the commercial-grade spectrum of wallpapers. Many commercial papers will be sold by the linear yard instead of the roll, and some manufacturers may have high minimums, so check for quantities. Others like Knoll and Brunschwig & Fils will not.
7. Resale and renting
"Generally speaking, I do feel most wallpaper decreases the value, but we are not talking thousands of dollars here," says Stribling's Scrimale. Buyers may perceive wall covering as more permanent and not as easy of a fix as paint.
"The value I am speaking of is what the buyer perceives when they walk through that door," says Scrimale. If buyers are inexperienced when it comes to the material, they won't understand that most wallpaper products can be removed without difficulty. 
The question you need to ask, according to Scrimale is, "Does the apartment have a clean look, is it well kept?" Just like paint, floors, kitchens, and any other elements in your apartment, wall covering will need to be in excellent condition and ultimately enhance the look of the room, rather then detract from it.
Make sure it's not scratched, scraped, torn or dirty and, ideally, in a neutral pattern or color. Just as you should avoid wild (and highly subjective) paint colors and tile patterns, avoid theme wallpapers or crazy motifs. 
If you're renting, you'll need to return those walls to their original painted white when you move out. In NYC, expect to pay in the range of $200 to $400 per room to strip wallcovering. The amount of prep necessary to repaint will vary on the condition of the walls underneath, but expect cost to be at least in the range of $450 to $600. Allow at last two days for removal and prep, and longer if the walls are in poor condition.
According to Scrimale, whose father was a painter, you can give removal a go yourself.
If it's a plaster wall, you can buy a wallpaper cutter (the one with lots of little teeth in it) and make tiny holes in the wallpaper. (Don't score too hard or you'll damage the wall.)
Next, spray a product like DIF (helps loosen the adhesive so it the paper strips easily) on it and let it set for 15-20 minutes. 
Then use a broad putty knife or wallpaper scraper with a 3 or 4-inch blade to gently remove the paper. (If this method doesn't work, you may need to rent a wallpaper steamer.)
Once the paper comes off, spray again, scrape, and sponge down walls with any remaining paste until they're clean. 
If needed, take 120 grit sandpaper to smooth out the wall (120 is the amount of roughness). You might not even need to use sandpaper though; it all depends on how the job was done, what type of wall it was put on, what type of adhesion and what kind of wallpaper was used.
Often you can remove it by hand and then it will come off in sheets. For your average size NYC bedroom, the whole process of removing should take about 4-6 hours.
__________________________________________________________________________________
Tracy Kaler was a designer, decorator and renovator in her last life. Before working as a freelance writer, she held several furniture sales jobs in the Big Apple and purchased a new wardrobe. Now she works in her pajamas and commutes two feet to her desk each day. This is one of the few advantages of living in a New York apartment, and well, so much for that wardrobe.
Wondering about renovating? We want to answer your NYC Renovation Q's. Just send us an email!
Related posts:
A few things to consider before combining those apartments...
Ask an Expert: What's the best kitchen countertop material?
NYC renovation bloopers: 6 great ideas you'll regret having
Why is it so expensive to renovate in New York City? And what can I do about it?
Getting your developer to finish your punch list
Brick Underground articles occasionally include the expertise of, or information about, advertising partners when relevant to the story. We will never promote an advertiser's product without making the relationship clear to our readers.