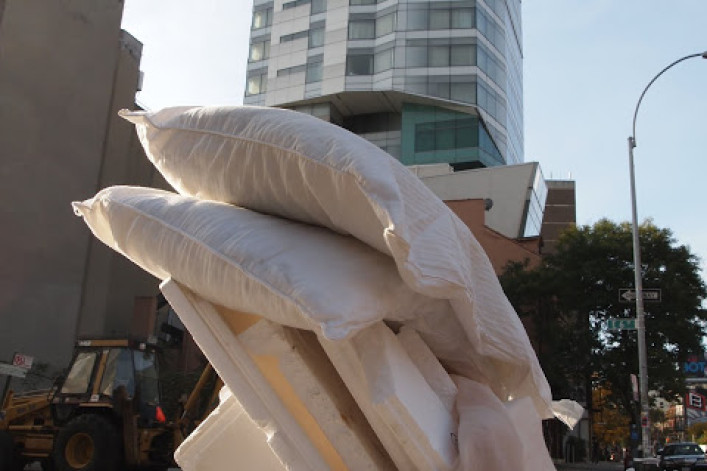 The founder of EV Grieve was tired of the condo-fication, bank-branch-fication, and Duane-Reade-fication of the neighborhood already. Then, in December 2007, The New York Post reported that two of the neighborhood's best bars, Mona's and Sophie's, were up for sale. That's when the idea for the site became a reality.
The site launched in 2007 to pay tribute to the neighborhood's bars and restaurants but eventually evolved into a space dedicated to news of the neighborhood. Only one administrator (who asked to remain anonymous) runs the site, but tips, photos, and stories come from East Village neighbors who are testy about the hyper-gentrification of the neighborhood. Stories range from restaurant openings or an answer to questions about a new empty lot. 
Five years later, Mona's and Sophie's are still in business--whether or not EV Grieve had anything to do with that--and the award-winning neighborhood blog has gone from 50 monthly pageviews to about 350,000 (not that EV pays too close attention to analytics since it's still 100 percent ad-free).
We caught up with EV Grieve for the inside scoop on the East Village.

1. What would you tell someone moving in?
Do some research on the landlord. Does he or she pop up on any "Worst Landlords In the City" listicle? As for the apartment, check the Bedbug Registry. Try to figure out who your neighbors are. Are there 74 NYU students living upstairs? Are the neighbors longtime residents or transient thrill-seekers? Are there businesses on the ground floor? If so, what kind? Is there a bar with an outdoor space behind your building?
Also, check out the area around the apartment at night. Some streets can be tranquil during the day, only to turn into Mardi Gras at night, a main drag for the stretch Hummers carting in the "woo-wooers" for the night.
And lastly, don't get stuck in a lousy situation just because you're desperate to move and the market is limited.

2. Where are the best deals in the neighborhood?
I'm not aware of any deals, to be honest with you. The average one-bedroom apartment is running about $2,700. In general, the apartment prices go down a bit the farther east you get in the neighborhood.
Housing aside, there are plenty of places for inexpensive quality food. My favorites include the burritos from Zaragoza, a tiny grocery on Avenue A with a kitchenette on the counter, and The Odessa, a diner on Avenue A where you can find huge portions of food, such as turkey and mashed potatoes, for around $10.

3. What's your favorite location within the neighborhood to live?
I've always liked anything facing Tompkins Square Park. The Park offers the perfect barometer of the changing seasons. Plus, I enjoy hearing the soundtrack coming from within, sounds of children playing or the drum circles rising up through the trees. I always find the park soothing. (Mostly.)

4. Do you have a dream building in your neighborhood?
21 E. Sixth St. It was a Con Edison substation built in the 1920s. Artist/sculptor Walter De Maria has lived there since the 1980s. NY Songlines describes it as looking like "a giant robot factory." It is a huge building without any windows on the lower levels. I've never met anyone who has been inside. I'm not sure if any photos exist of the interior. So there's this mysterious "Willy Wonka and the Chocolate Factory" element about it. What is the artist doing with all that space? I bet he has more than two feet of closet space like I do.

5. Any buildings that feel out of place in the neighborhood?
Oh, my — where to begin? The Cooper Square Hotel, which is now the Standard East Village, might top the list. In July 2009, Frank Bruni from the New York Times said of the building, it doesn't "just stick out among the nearby tenements but more or less taunts them." That really sums it up perfectly. It's completely out of scale with its neighbors. The Copper Building on Avenue B and East 13th Street, featuring a zen garden and million-dollar condos, sits directly next to a public housing complex. It's a gratuitous display of wealth.

6. Any real estate related controversy brewing or currently happening in your neighborhood?
Horror stories abound. Pick any block, and you'll find residents dealing with a predatory landlord, or a developer who is ready to gut and renovate an old building, or a non-market rate tenant who won't take a buyout and will face months of teeth-rattling construction.
Many residents were upset to see that the Cabrini Center for Nursing and Rehabilitation on East Fifth Street at Avenue B was sold, and the new owner is converting it to high-end housing.
In general, people seem to be tired of franchises taking over storefronts in the neighborhood, though this development isn't unique to the East Village. It's a city-wide epidemic. Four 7-Elevens have opened in the East Village in the last year, and there's a new one on the way at Avenue A and East 11th Street, at the former home of Bar on A, a decent neighborhood spot that featured the occasional live music or poetry reading.
7. What do you think your "sister" neighborhood might be?
People always say Williamsburg, particularly as an older neighborhood facing similarly rapid changes in demographics and development, although at different time periods. I know a few people who moved to Williamsburg in the late 90s, when they thought the East Village was "over," and are now desperate to return in order to shorten their commutes.

8. Which neighborhood feels like the opposite of your neighborhood?
Any neighborhood with a diversified retail environment featuring plentiful mom-and-pop stores that don't cater to the fratty Thursday-Saturday Bud Light warriors. I'm sure that exists somewhere in the five boroughs.

9. Would you stay in this neighborhood forever if you could?
Yes — especially if I'm roaming inside 421 E. Sixth St.

10. What are some common misconceptions about the neighborhood?
That it's some kind of year-round Spring Break destination for the "wooo" crowd. It's not. It's a neighborhood where thousands of people live and work, and are oh-so-tired of the weekend partygoers who arrive and trash the place and head back to wherever they came from.
See all Confessions of a Neighborhood Blogger.
Related posts:
Welcome to the Upper West Side. Now get to know your neighbors (and your doormen)
Confessions of a Neighborhood Blogger: First stop, Greenpoint
Confessions of a Neigborhood Blogger: "Have you ever noticed that Tribeca has very few 20-somethings?"
A move-by-move neighborhood guide for the people, by the people
Brick Underground articles occasionally include the expertise of, or information about, advertising partners when relevant to the story. We will never promote an advertiser's product without making the relationship clear to our readers.