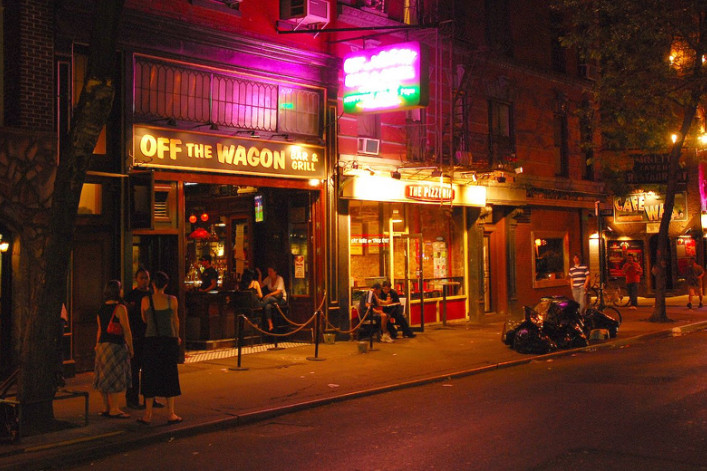 I am no stranger to living by a loud annoying bar/club. So when I noticed a bar next to my new apartment building I didn't balk. However, it would seem that dealing loud, trashy bars is my karma.
This one is even worse than the last  -- which was named Saloon -- because Saloon was only open late on Friday and Saturday nights. I would have to keep my a/c on those nights or my windows tightly closed with a sound machine on to drown out the noise.
However this one is open until 4 a.m. nightly. Also when it is warm the front of the bar is completely open so I can hear the awful music wafting upstairs. There's nothing like being awakened at 2 a.m. to Call Me Maybe. Still, I understand this is one of the perils of living on a major avenue and I sucked it up.
That was until the club's own male employees (bouncers, I'm guessing) started standing next to the bar, literally under my window, gabbing all night. To keep from boredom, their hours-long conversations would meander from talking about women (a.k.a. bitches)  to friends to music.
Their voices—thick New York accents—would be grating even in the daylight, but became more so at the witching hour.
I'd find myself starting to dream about what they were saying. One night as annoying bar employee number one said, "I'd put a cap in his ass…" I began dreaming I was on a subway that was being held up by two warring gangs. I shivered in my seat trying not to get caught in the crossfire. As the shots rang out (I'm sure in reality it was the sound of a truck barreling down Tenth Avenue…) I woke.
I got out of bed and stood at my window (my fire escape prevents me from looking down to see the culprits) and in my sleep deprived delirium I thought about shouting down, "Shut the fuck up or I'll put a cap in both of your asses."
But then I thought better of it. I then thought of pouring a pail of water on both and ducking inside as if I were living a sitcom. Isn't that what Lucille Ball would do if Ricky was out on tour?  I did neither and got back into bed now listening to them talk about the asses on some bitches. I drifted off into another feverish sleep sure I was thrust into a rap video.
The next morning, still not refreshed, I Googled the bar to see if there was anything interesting I should know or if there was any mention of noise complaints. I quickly saw there was a place to email an anonymous comment to the bar.
I wrote one explaining I have lived in NYC for 15 years and am no stranger to noise and have even lived by a loud bar before. I understood there was no way to control drunken patrons from gathering outside to smoke or chat.
However, what I could not abide by was that the patrons were relatively respectful and quiet, their voices nothing more than a dull mumbling most nights that I could easily mentally drown out, but the bar's own employees were the ones causing the most ruckus.
Surely they were getting paid to keep their eyes on the sometimes rowdy patrons and not talk for hours straight about big bootied females and gun culture. The topper is they were not standing in front of the bar—they had been standing to the side of it, directly under my window.
I got a quick, very nice response from a woman who works at the bar which said they would be spoken to and advised to refrain from standing under my building's windows and to also speak in low tones if they had time to kill.
It worked! The next night it was blissfully quiet aside from the occasional smoker's cough or drunken girl squealing for a cab.
Then summer came and the a/c blocked out any noises.
But it is now too cold for the a/c and too hot to keep the windows sealed and the bouncers have begun verbally bouncing once again. It is driving me mad and it may be time, once again, to write a harshly worded STFU letter.
---
Kelly Kreth, recently returned to Hell's Kitchen, chronicles her misadventures in her tenement-style walk-up in this bi-weekly BrickUnderground column, Hell's Bitchen. 
Also by Kelly Kreth:
A brief break from bitchin': 9 seriously awesome things about Hell's Kitchen

Hell's Bitchen: I vow never to move again
15 things I've learned from 'Million Dollar Listing NY' so far
The 20 deadly sins NYC rental agents should never commit (but do)
Escape from the UES: Goodbye douchebaggery, hello Hell's Kitchen
Dear Neighbor: I am your worst nightmare
Living next to a bridge & tunnel club: KY Jelly wrestling, all-night noise, no regrets
Brick Underground articles occasionally include the expertise of, or information about, advertising partners when relevant to the story. We will never promote an advertiser's product without making the relationship clear to our readers.