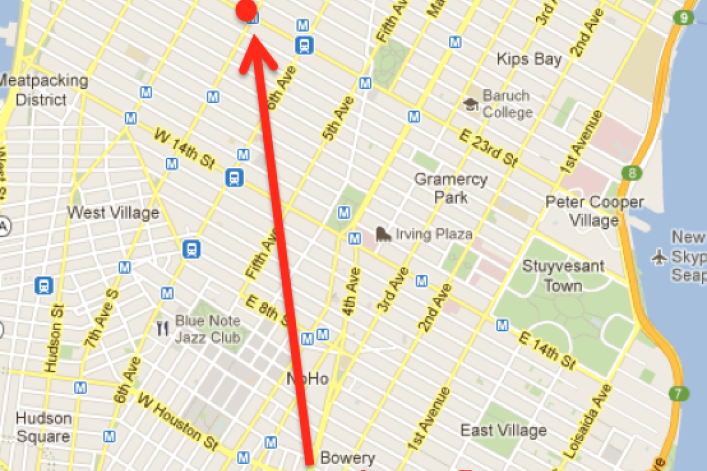 I lived at a new, large luxury rental building on the Lower East Side — at Bowery and Chrystie — for a year before moving to my Chelsea condo late last year.

One problem with my Lower East Side apartment was that you could feel the B,D, F and V subway line roll underneath. I was on the third floor, so every 15 minutes there was a small rumble.

The apartment was an alcove studio, and the building had a doorman, an elevator, and a Whole Foods downstairs.

The set up was good because it was move-in ready, and when I came back from writing my book (in Tel Aviv, Vietnam and Paris), I was living with my parents in Greenwich Village, and wanted to have an easy move, in which I didn't want to pay a broker fee. I didn't have to, since thebuilding's management company handles rentals.

I knew that after my lease was up I wanted to buy something, since I figured I'd be staying in the city for a while while. I grew up in New York City, my parents are here. It just made the most sense.

I knew I wanted to be downtown somewhere, probably between 28th  Street and Canal Street. I wanted a one-bedroom that was relatively move-in ready and I wanted a condo -- mostly because I didn't want to deal with the stress of the co-op board approval.
I looked for probably three months. Then I found a small one bedroom in a 1970s mid-rise, six-floor doorman building at 23rd and Seventh Avenue -- this time it was right above Garden of Eden. It's one block away from three subway lines, but I don't feel the subway, thankfully.

The Lower East Side was really convenient for nightlife and restaurants. Also, I was working as a restaurant critic at the Village Voice at the time, so it was only a 10-minute walk to work.

In many ways it's livelier downtown. But you definitely get the sense that there are a lot of renters, people are always moving in and out -- nothing's constant.

You make slightly more of an effort to know your neighbors here in Chelsea.

Down there, especially on Houston Street, it'd be loud at all hours, and you would hear taxis all the time — up here it feels there's more of a late-20s vibe rather than an early-20s vibe.

Weekend nights are not as loud — you don't have drunken girls in high heels clacking around the street. It feels more chill in that sense.

Up here, I've found some restaurants that are great, like Co., a pizza place on Ninth Avenue and 24th Street. There's also a bakery on 23rd street, La Maison du Macaron, and I think their croissants, brioche, and baked goods are some of the best in the city (though funny enough I don't love their macarons).

I like Legend Sichuan, too, on 15th and Seventh. It's also nice having Eataly nearby. It's nice to pick up a bit of cheese or some over-priced fruit every once in a while.

Living on such a busy corner is convenient because everything you're looking for is there -- there's the grocery store and coffee place right near by. There's not a whole lot of greenery, but the Highline's not that far.

I think it's comparable to Houston Street in terms of noise. I can still hear buses outside sometimes.

Generally speaking, I like the neighborhood. I probably wouldn't have bought on the Lower East Side. Partly, it's because I like the housing stock better in Chelsea. I didn't want to be in a massive impersonal building -- my rental had about 300 apartments.

I think in terms of where I'd prefer to be for five years or so, I wanted something that felt slightly more neighborhoody. I wanted to be around some more adult stuff  -- like cool furniture stores and upscale markets -- rather than just newest watering hole.

The chain stores that dot Sixth and Seventh Avenues don't make for the most scenic background, but I like to explore Western Chelsea, the area around the Highline.

I think it's a good neighborhood for young professionals; obviously it's also great if you're a gay man. Maybe not so much for single lades like me.

But I do feel like I'm surrounded by neighbors who are a bit more mature. It feels like I live around people who've grown up but are not yet ready for that Classic 5 or 6.
---
Transitions highlights New Yorkers' first impressions as they transition from one neighborhood to another. Want to tell us your transition story? Drop us an email.
Related posts:
From the East Village to Chelsea: Regrets only

From the Lower East Side to Brooklyn Heights: No sleep 'till Brooklyn 
A move-by-move neighborhood guide for the people, buy the people

A single guy reveals why he took the co-op plunge — and how he basically lives for free
What I wish I'd known before buying
How to find a rent stabilized apartment in NYC
8 best websites for finding a no-fee apartment in NYC
Rejected by a landlord lately? Want to get that apartment faster? Here's your secret weapon (Sponsored)
Brick Underground articles occasionally include the expertise of, or information about, advertising partners when relevant to the story. We will never promote an advertiser's product without making the relationship clear to our readers.