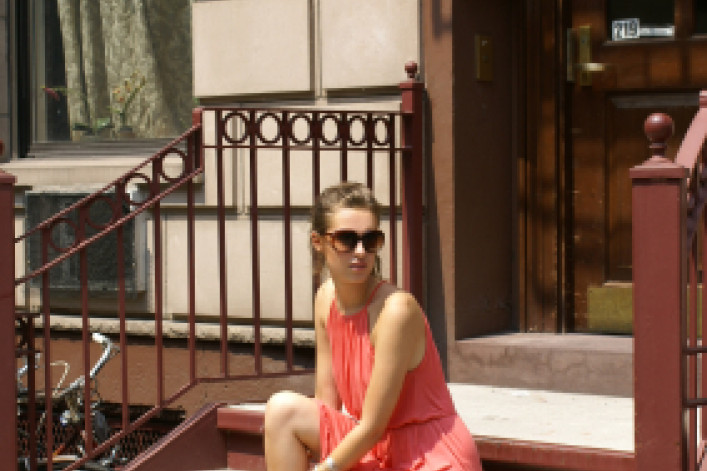 Wednesday night in Fort Greene, Brooklyn. I'm sitting not at a hip bistro but in a fluorescent-lit basement room at the head of a U-shaped table with two thoughts running through my head:
This is a long way from a Riverside Drive prewar
Within 30 seconds, I can tell we don't like each other. How can I throw this interview?
Welcome to the schizophrenic world of first-time homeownership in NYC, a path I've been on for nearly two years and one that has me wilting under the glare of 11 members of the co-op board, where I'm applying to buy a 750-square-foot one-bedroom apartment in the building above this basement. 
I'm at my moment of truth—almost nine months to the day since I made an offer on the apartment here--and all I'm thinking is  "how did I get here and how do I get out?"
My apartment odyssey started in March 2010 the way many others do: weariness-slash-indignation over yearly lease negotiations wherein I try to convince my landlord I cannot pay Manhattan prices for an apartment in Astoria. 
I moved to Astoria in 2005 after my rent in Chelsea jumped to $2,600 for a shoebox-sized one-bedroom (all of 500 square feet). So, over the river I went.
My new, huge prewar one-bedroom (900 square feet) started out at $1,300 per month, with tenable increases over four years. 
Not only was the space a bonus, but the affordable rent allowed me to quit my job and start a freelance writing career—a dream always out of reach each time I wrote a rent check in Manhattan.
Then Astoria started getting hot, and at my last two lease renewals, the landlord asked $500 a month more. I negotiated back to $100 increase the first time, but the second time I decided to see what my money could buy. 

After looking at my financials, my credit union's loan officer qualified me for a mortgage on a place costing up to $300,000, with me putting down 20 percent. I was relieved not to get laughed out of the door, and then elated to find several listings in my price range.
 
I decided to look in Upper Manhattan, which I'd heard was the last affordable frontier. 

My best friend, Chris, and I struck out one Sunday, targeting an open house in a prewar building on Riverside Drive that was converting from rentals to condos. Whatever THAT meant. I had stars in my eyes and hope in my heart. 

We arrived at a large brick apartment building with a courtyard entrance and marble lobby. Good sign. I turned to Chris, skipped a couple of steps, and said, "I'm going to live here." 

Victoria, the agent, met us downstairs and gave us a short tour pointing out marble this and terracotta that, alabaster dome lights and charming carved details. Then she opened the door to the advertised apartment.

It was a hole. Literally. The apartment was one ugly gash, nothing but the jagged remains of wooden lathes where the crowbars bust through the plaster walls. I identified the bathroom only by the oval and square holes in the floor where a toilet and tub had been. Otherwise, I would have mistaken it for a closet. 

"We can renovate this to your liking," Victoria said quickly. I looked at the sale sheet: $300,000 as delivered. Before I could ask what THAT meant, Victoria answered a call on her mobile.

Without the presence or even outline of closets, we couldn't tell the difference between the bedroom and the living room. We guessed the living room had the street view of Riverside Drive slivered between two brick walls. 

The bedroom looked out over a patchwork of backyards full of long-abandoned junk. Victoria was still pattering away in rapid Spanish into the open palm of her hand.

Chris was in the midst of a kitchen and bathroom renovation in her Upper East Side classic six.
"How much do you think it will cost me to renovate this myself?" I asked her, figuring quickly that the agent's contractors, like this apartment, would be no bargain.

She shrugged and figured $25K minimum just for materials.
"OK, so I'm looking at $325,000 for a gutted apartment, some boxes of tiles, cans of paint and new appliances," I said. "And a toilet and tub." I chewed my thumb.

"And cabinets," Chris said. I felt a small rise of hope. 
"But you'll have to redo the wiring," she continued. "And get permits. Lots of permits."
Hope dashed. 

We turned to leave, and Victoria covered her phone for a minute to call out, "I have another unit coming up on the sixth floor, would you like to see that?"

We opened the door to see a few people examining the sell sheet taped to the wall outside. 

"Should we warn them?" I asked Chris.

"Nah, let them find out for themselves."

We shuffled past the line, not knowing then that we'd see a few of these faces again over the next week as we all competed for sunny 1BRw/vu; nr subway, asks $300K. 
Next up: Open house, commando style
---
Elle Bee is a lifelong renter currently in the process of buying a Brooklyn apartment. She'll take us behind the drama in her new bi-weekly column, Diary of a First-time Buyer.
Related posts:
My Big Fat Board Interview column
What I learned from 150 apartments before I finally bought one
Here are 7 things your lawyer should tell you when you buy a condo or co-op in NYC (sponsored)
A single guy reveals why he took the co-op plunge -- and how he basically lives for free
Unraveling NY real estate spin--one white lie at a time
To pass your co-op board interview, read this first
16 things I wish I knew before buying this place
A NYC real estate lawyer reveals the 14 biggest surprises for first-time buyers (sponsored)
Confessions of a preconstruction buyer
The 7 worst places to live in a building
Your next place: 9 questions that separate the New Yorkers from the rookies
Brick Underground articles occasionally include the expertise of, or information about, advertising partners when relevant to the story. We will never promote an advertiser's product without making the relationship clear to our readers.