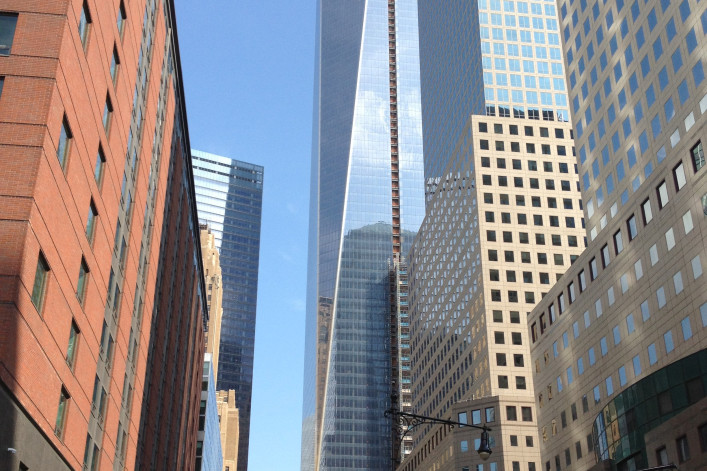 I grew up in the Independence Plaza on Greenwich Street in TriBeCa in the 1980s, back when the neighborhood was just called Downtown. Before Whole Foods and certainly before the Goldman Sachs takeover, it was a quiet area of hard working families and artists who enjoyed the sleepy evenings and weekends when the financial set punched out and went home. 
My view growing up on the 32nd floor was of the Twin Towers. They dominated our window space and were part of our home. I stared at them every morning and every night. If I close my eyes now I can still see the rows of lights stretching to the sky. 
In March 2000, I moved from my parents' apartment to a first-floor one-bedroom apartment of my own in a newly constructed building in Battery Park City. I still live in the same place, twelve years later. 
Downtown Manhattan was thriving back in 2000, especially the World Trade Center: there were concerts by the fountain, the concourse level had good shopping -- J. Crew, Coach, GAP, Cole Haan, Torneau... the restaurants and cafes were jammed during lunch and after work. 
Remember Moran's at the World Financial Center? That place was busting at the seams during happy hour on Thursday nights. But the weekends were still sleepy and calm with quiet streets and empty parks. Battery Park City was still a small isolated suburb of Manhattan that I never could have imagined would grow to the size it is today. 
On the morning of 9/11, I was in my apartment. It was my day off so I planned on spending it at Hudson River Park and to do some shopping at the WTC concourse. 
When my father called to tell me about the first plane, we figured it was an accident. My windows face south, so I didn't hear anything or notice a commotion. 
I went to the lobby of my building to find out more information from the doorman. Doormen always have the inside scoop. 
As I crossed the lobby, I heard the second plane hit. It took the air out of the room and I knew something was wrong. I ran back to my apartment to grab a few things just as my father called again. 
"Get to the house," was all he said and I hurried past my neighbors staring up at the flames, past the crowds forming on South End Avenue, through the World Financial Center and up the West Side Highway to my parents' apartment in TriBeCa. 
I wasn't scared. I was calm and focused on getting to the house. 
On my parents' terrace, a few short blocks from Ground Zero my family -- thankful we were all safe but horrified -- watched the view crumble in front of us.
We just watched from the windows until dusk. Firemen knocked on our door the following morning to inform us that our building was being evacuated. It didn't entirely hit me until we were driving out of the city to my grandmother's home in upstate New York. I could see the plume of smoke from the rear window of our car and I broke down. 
We returned two weeks later, greeted by a choking smoke smell, ID checkpoints, military personnel on every corner and a news-van encampment on Greenwich Street.
My father forgot his license and we had to leave him at the corner of Canal and Greenwich, and go home to retrieve his passport so they would let him through the checkpoint. It felt like a warzone. 
Even before,TriBeCa and Battery Park City had felt like close-knit communities because they were small and intimate. The early pioneers of Lower Manhattan were all still living there and their families, too. We grew up together, with the kids attending P. S. 234 when it was a small charter-like school in the Independence Plaza.
But the experience of 9/11, the disaster in OUR neighborhood, brought us even closer. In the months just after 9/11 we hugged tighter and chatted longer. We were all just glad to see each other. 
At the same time, Battery Park City felt even more isolated from the island after the attacks because the main arteries were shut down and the West Side Highway was covered in debris. 
Some residents relocated because of physical damage to their apartments but plenty were probably just scared away. My apartment was untouched. No smell, no ash inside. Just a bit of rotting food in the fridge to remove.
I didn't lose anyone or know anyone who did. There weren't notices of missing persons in my building and no one was hurt. Things slowed down for a while but it didn't last. 
Shortly after 9/11 the Lower Manhattan Development Corporation (LMDC) implemented programs and initiatives for developers as well as individuals to encourage growth in Lower Manhattan. 
Renters were eligible for grants if they signed two-year lease agreements. Depending on what zone you lived in (and your proximity to the WTC) the amount of the grant would change. 
Some residents received as much as $12,000 over two years.  Even then, under those circumstances, New Yorkers were so eager for a rent reductions that the vacancies filled up quickly and the cost of living south of Canal Street shot back up in record time. 
To give you some perspective, a one-bedroom in Battery Park was close to $1,900 per month before 9/11. These days one-bedroom apartments are renting for upwards of $4,000. Aside from the financial incentives for me to stay (a $150 per month break on rent), there was a very simple reason: Lower Manhattan was my home. I didn't want to eave. 
Meanwhile, the ensuing construction boom utterly changed the neighborhoods I had grown up with--perhaps even more than the tragedy that helped spur the boom.
Growth is inevitable in this city, but I think the dash to redevelop Lower Manhattan -- to bring it back so quickly after 9/11 -- created a fever that hasn't subsided. 
Save for the 9/11 Memorial and Freedom towers, whose birth drags on, construction projects in Lower Manhattan seem to be completed weekly. 
The aesthetic differences between old and new are clear, South End Avenue has the heavy cement and brick relics like the original Gateway Plaza buildings, where as on North End Avenue the architects are famous, the designs are sleek and sustainable, and the average tenant is affluent. 
Over the past 11 years the population of Battery Park City and TriBeCa has exploded and since everyone seems to be procreating in rapid succession, it will only get bigger. 
Luckily, the area has recently received some much-needed hospitality and culinary upgrades to match the influx of residents. The new Shake Shack is a nice fast food treat if you're not starving, but beware: the line can be lengthy. 
Also worth a try are Danny Meyer's other two hot spots,  Blue Smoke and North End Grill, both more on par with the Goldman Sachs set and the modern-day median income of the area.
The upscale Conrad Hotel replaced the Embassy Suites and added a bit of style to the block, and when they finally complete the Freedom Towers we will get all of those retail shops we've been waiting for. 
Unfortunately, the World Financial Center still reminds me of an airport, but hopefully when the new Brookfield's Food Market (à la Eataly or Grand Central Market) is completed that will change. And although the Hudson River Park may be unbearably crowded now, it is still one of the most beautiful parks in the city. 
Downtown is thriving again and I'm happy to see growth and progress but I don't think many of us pre-9/11 residents of Battery Park City or TriBeCa are thrilled with the deluge of tourists from the WTC site and the overflow of new residents. 
Our once-quiet community is congested and overrun. I don't think I'm alone when I say that I miss the old downtown weekends with quiet streets and empty parks. Maybe that Tuesday morning in September 2001 changed everything, or maybe it just accelerated the inevitable. 
Related posts: 
A reader speaks: 10 things that make a true New Yorker
15 ways to tell a real new yorker from a poser
Brick Underground articles occasionally include the expertise of, or information about, advertising partners when relevant to the story. We will never promote an advertiser's product without making the relationship clear to our readers.