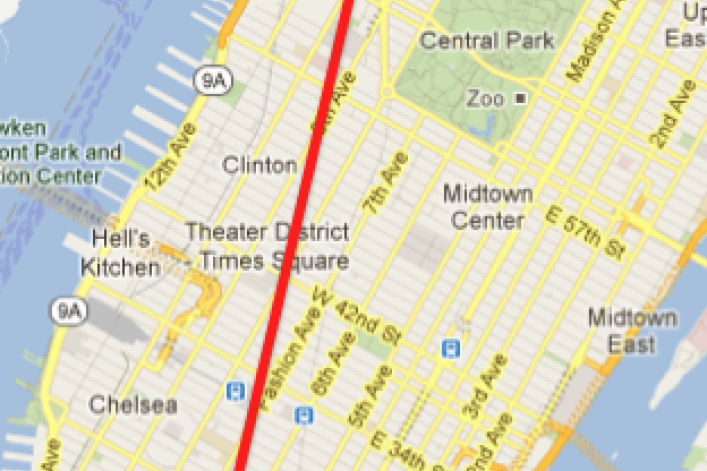 I lived in a one-bedroom rental on 13th Street between Fifth and Sixth Avenues for five years. When I got pregnant, my husband and I decided to move to the Upper West Side.
We wanted more space and wanted to be closer to my family, who live up here, so we wound up a renting a classic-six in a prewar building in the West 80s between Broadway and Amsterdam. 
Funny enough, our former next-door neighbors in the West Village --who we always thought were nice but never spoke to -- got pregnant around the same time as us and they also moved to the Upper West Side (she grew up here, too too). 
Coincidentally she ended up in a mom's group me uptown and now we're really friendly. It felt like they made the same pilgramage.
My husband and I loved our West Village neighborhood. Our only complaint was that the block was a little loud and there was a lot of construction because of the New School's expansion. 
Also, there were a lot of students around at night and it could be loud. That might have been annoying with a baby.
On the other hand, our area felt more like a small neighborhood than the Upper West Side does. I felt like the places we frequented were smaller, and people got to know you better. 
After eating dinner at home, we used to love to walk to Cones on Bleecker Street for gelato. (Their corn gelato with dusted cinnamon is amazing).
We were also regulars at Murray's Bagels (we'd order coffee and bagels on weekend mornings, even though we were around the corner!). That was our number one spot. 
Plus, further downtown, when you're off the grid, you can pleasantly wander around without a destination … it's a much prettier neighborhood to explore. We could also walk easily to the West Village, East Village, SoHo and Nolita.
One thing I miss on the Upper West Side is we don't have the mom-and-pop thing anymore. I grew up in the West 70s between Columbus and Central Park West, and that has more of a village-y feel, since the buildings aren't as tall, and there are fewer chain stores.
Up here in the 80s between Broadway and Amsterdam, it feels different. While it's very convienient, there are a ton of things to do with my toddler and there's great grocery shopping nearby (Fairway specifically), it's a lot less fun to do my errands in this neighborhood.
There are some restaurants like up here, but the criteria has changed. Now I'm looking for places that are kid-friendly. I love Insomnia Cookies on Amsterdam and 79th Street and Hampton Chutney on Amsterdam and 83rd Street is our favorite palce to go for lunch. They have a kid's corner with books. We'd actually been to the one in SoHo which we really liked anyway, and this one just happens to be good for kids, too. 
While I don't enjoy my Upper West Side neighborhood as much as I did the West Village, it is great with kids, and I like taking my son to some of the places I went to as a kid like the Museum of Natural History and West Side Kids toy store.
I also feel like our apartment -- a prewar classic six  -- wouldn't exist in the West Village. Or at least it would be harder to find and more expensive.
I remember that before we moved, we were talking to the owner of a brunch place we used to go to a lot. He was teasing us for getting old and moving up to the Upper West Side. Then at the end, he said, "Well, I hope you're at least getting one of those beautiful pre-war apartments." And we were.
I should also mention that the moms I met in a moms' group up here -- that was full of strangers -- were great. There was a nice mix of working and non-working moms, and the women just seemed open-minded, friendly and smart. I'm not sure if that's unique to the neighborhood, but something about it felt very Upper West Side-like.
---
Transitions highlights New Yorkers' first impressions as they transition from one neighborhood to another. Want to tell us your transition story? Drop us an email.
Related posts:
From Upper West Side to Yorkville: "If you want to live in Manhattan and you're not rich, you have to give some things up"
From the West Village to Prospect Heights: "I was Manhattan-ed out"
Prospect Heights to the Upper West Side: More families, less CSI
NYC kids want a doorman too but for the reason you think
Brick Underground articles occasionally include the expertise of, or information about, advertising partners when relevant to the story. We will never promote an advertiser's product without making the relationship clear to our readers.