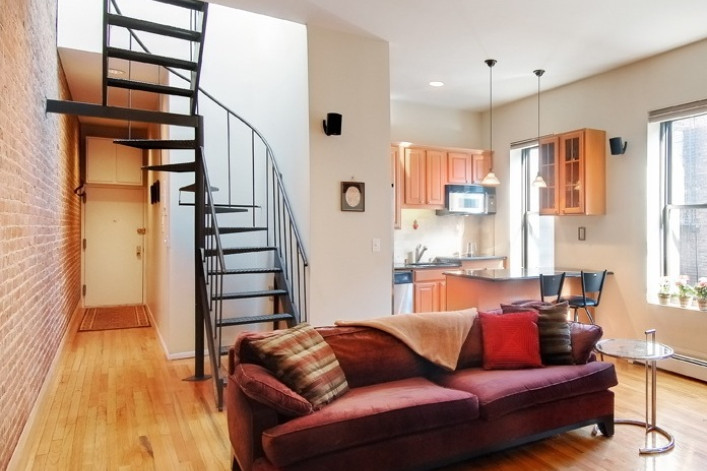 Emily Doran graduated from Syracuse University in May 2007 with a plan: Move to New York City. Her friends, then-boyfriend and her dreams were all here, but a job offer wasn't. 
She did a post-grad stint waitressing at home in Connecticut for six months, building a small nest egg and failing to find a job in the city. Six months later, she decided to move anyway.
No job or job offer meant she couldn't commit to a lease. A one-month sublet was the only option. With the guidance of her then-boyfriend, Emily scoured Craigslist for two weeks, then showed up at a stranger's door  with a rolling, carry-on-sized suitcase, a suit on a hanger and a check for a $1,000. It got her the key to a furnished bedroom in a three-bedroom share. The stranger didn't ask any additional questions and took off to Europe for a month, while Emily settled into her nook of the apartment on East 12th  Street and Avenue A. 
She lived out of a suitcase while she job-hunting with occasional input from her 30-day roommates.  A week before her sublet ended, Emily finished the final rounds of interviews for a marketing position at a department store and was verbally offered a job. 
The Friday before she was supposed to start work, she found another 30-day sublet -- from Craigslist again.  It was a $700 month-long share of a three-bedroom in Hamilton Heights near West 140th Street. 
The third roommate left for a month to do a play in Vermont or maybe the Renaissance Fair or maybe he was part of a traveling circus. (The details still remain a little fuzzy to Emily.) She paid for the month-long sublet that Friday, expecting to move in and start her new job on Monday.
Only one of those happened. She got a call with the news that her future employer wouldn't be, as the employment expense had been denied. 
Crushed, she moved into the Hamilton Heights apartment and began the job search again. By the end of the 30-day term, she got another job offer as an administrative assistant at a mergers & acquistions firm.
She scrambled for another sublet, and found it, yet again, on Craigslist. She moved back to the East Village—a four-bedroom share on Seventh Street and Avenue A right above Niagra bar, $1,100 for one month.  She lived with three other guys, while she looked for a longterm abode.
With the job hunt checked off her to-do list, she interviewed with prospective roommates from Craigslist and eventually found what she thought would be her permanent place. The Financial District apartment with three female roommates seemed perfect. Emily only met with one, the "lease lead," who showed her a spacious bedroom, talked about "wine nights" and cooking dinner, and even introduced an adorable Pomeranian, Rosco.
When Emily moved in, problems arose. The bills never got paid. Or, Rosco never got walked or bathed. Or, the "lease lead" would pass out in a drunken stupor on the bathroom floor. Or, the "lease lead" would start screaming fights on the phone. 
After one month, Emily had to move again (the nice thing about subletting is she could!).
She had developed a friendship with one of the other girls, and together, they interviewed and screened a third roommate for an apartment in Stuytown. Her name on a lease finally,  the three of them lived there for a whole, uninterrupted year.
After that, Emily and the friend she made from her final sublease moved into a two-bedroom together. They lived together until this past June, when she decided to live alone on the Upper East Side.
In total, Emily moved five different times in just half a year. Here is what she learned from the subletting experience:
1. A 30-day sublease is usually only a week away: "I kept pushing against my 30-day deadline to find a job," she says. "When I couldn't find a job, I stayed away from any sort of lease commitment. Luckily, any time I came close, I was always able to land a place to live in under a week. I only used Craigslist, and it was common practice then, but obviously, beware of ads that seem shady and make sure to meet the people in advance. Ask for references if possible."
2. Three's a magic number: Trilogies. Trifectas. The Holy Trinity. Allusions to perfection blossom around the number three, and Manhattan apartments are no different. If you want to keep your rent around $1,000, start with three-bedroom shares.  
3. Consider a sublease contract:.  "I never had a sublease contract. I handed money to a stranger without thinking, 'This person could take my money and change the locks the next day!' Now that I think about it, it might have been wise to get something in writing discussing how I'd live there for a month, what I'd pay, what I wouldn't pay, how to handle landlord issues, and utilities."  
4. Seriously, it's safe to take the subway at 2 a.m. above 100th street:  "I was poor and I hung out downtown. When it was time to make it back to Hamilton Heights, I rode the 2,3. My guy friends freaked, called me insane. But, I was so green, inexperienced. I also had no actual green for the hefty cab fare to travel over a 100 blocks. Would I take the subway home at 2 a.m. to Hamilton Heights now? Maybe not, but I'm also not trying to stretch $5 over a week.
"The Financial District actually made me more nervous. Maybe Hamilton Heights doesn't have the people you'd want to run into at 2 a.m., but it had people.  Rector Street would have NO ONE out and scaffolding everywhere." 
5. With each sublease, a collection of everything you-never-knew-you-needed-but-collected-anyways will grow: "I moved into a girl's room with a carryon-sized piece of luggage and a business suit on a hanger to interview. By my second sublet, I had to buy linens," she says. "Oh, and I also brought more clothes from home. By my third sublet, I had two suitcases, linens, a mirror and enough collectibles that I could no longer use the subway to move into a new apartment."
6. "Sloppy" will fail you: "To the first sublease, which I found through Craigslist, I just showed up with a check and my suitcase. The second one was the same situation. By the third and fourth, I had to actually 'interview' with the roommates staying at the apartment. Looking presentable worked to my advantage. I realized this when I was interviewing for my own roommate. Like anything else in life, it's better to be good-looking."
7. Your price range is everything: "Even when I was ready to sign a lease, my budget constraints still led to some questionable situations. I didn't have the right chemistry with the people I was moving in with, or I wouldn't be able to stand up straight in my own bedroom, or, in one instance, a man would want to 'sublet a bedroom' but he wasn't moving out of the bedroom.  Only in New York."
Related posts:
Rejected by a landlord lately? Want to get that apartment faster? Here's your secret weapon (Sponsored)
How to find a room/roommate on Craigslist (and avoid the freaks)
11 years, 17 shares: How to pick a roommate
Q & A with a serial mover: "It's the number one reason why I'm broke and have no savings"
Brick Underground articles occasionally include the expertise of, or information about, advertising partners when relevant to the story. We will never promote an advertiser's product without making the relationship clear to our readers.