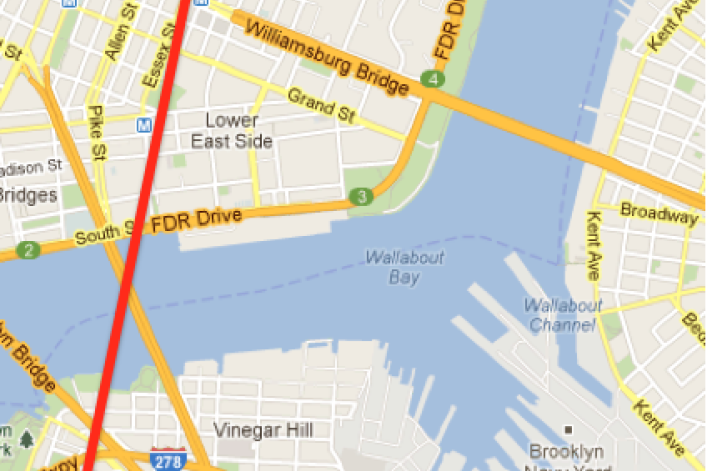 When I moved to New York from Seattle over a year ago, I came with few pieces of advice and even fewer dollars. When you first move to New York, you just want to live in Manhattan, so I did. 
This meant I settled into a windowless three-bedroom share on the Lower East Side -- on Essex between Stanton and Rivington -- across the street from restaurant-bar-lounge Beauty & Essex. Well, I shouldn't say it was completely windowless. I did have one window that looked into my roommate's bedroom.
I felt like I parachuted down into the middle of a partier's dream. No place in Manhattan is ever quiet, but Lower East Side noise is as if the loudness itself is having a going-away party with all its closest friends while simultaneously taking steroids and drinking vodka-Red Bulls. 
At any given hour, I could walk less than a block to anything from a speakeasy to meeting "Jersey Shore" wannabe's at a bridge-and-tunnel bar.
Except, I wasn't here for the party. I was here to work 18-hour days on movie sets as a production assistant. At 5 am, I wasn't drunkenly balancing between my high heels and my friends. I was fighting those exact drunk people for a cab to get to movie sets.
I tolerated it for awhile.
Sugar Sweet Sunshine bakery, uber candy store Economy Candy and jumbo-sized bags of foam earplugs helped balance out the Lower East Side's endless supply of party goers.
I didn't even make it a year before I moved. The same cheap rent haphazardly took me to a three-bedroom share in Brooklyn Heights. I took it as a sign that my new apartment was across the street from a Crumbs cupcake shop and that my new bedroom had natural light.
I'm not fighting for cabs with drunks these days. Part of the reason, to be clear, is that just a month after I moved into this apartment, I got a new job in the entertainment business where I don't have to work crazy hours and leave before sunrise.
I can choose from the 4,5,2,3 and R trains to get where I want to go, and, yes, cabs do come to Brooklyn, in case I want to take a cab. 
My street only stretches three blocks, but I'm near the Brooklyn Heights promenade, two grocery stores and a bubble tea place.
Brooklyn Heights is convenient, but my absolute favorite has to be that I can call Lucali's Pizza and during the time it takes to pick up some wine and walk to Carroll Gardens, they'll usually have a table ready and waiting for me.
I like living in Brooklyn Heights. I really do. But, sometimes I miss the noise. I more often miss Sugar Sweet Sunshine. Crumbs just isn't the same, so every once in a while, I will go back to the LES to get my cupcake fix. 
Maybe I'm being too harsh on the LES, but the bottom line is that I was living in the middle of the party when I wanted absolutely nothing to do with the party. 
---
Transitions highlights New Yorkers' first impressions as they transition from one neighborhood to another. Want to tell us your transition story? Drop us an email.
Related posts:
From the West Village to Prospect Heights: "I was Manhattan-ed out" 
Rent Coach: Best Brooklyn neighborhoods for a West Village refugee
Find an agent with BrickUnderground's Agent Referral Service
How to find a rent stabilized apartment in NYC
8 best websites for finding a no-fee apartment in NYC
Rejected by a landlord lately? Want to get that apartmetn faster? Here's your secret weapon (Sponsored)
Brick Underground articles occasionally include the expertise of, or information about, advertising partners when relevant to the story. We will never promote an advertiser's product without making the relationship clear to our readers.