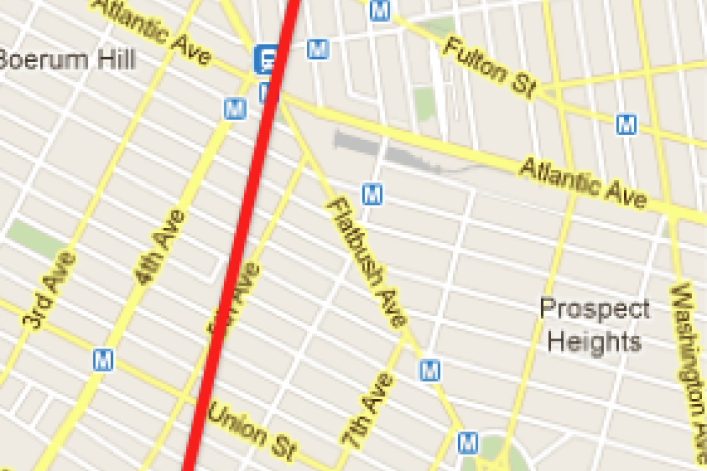 Babies are adorable, and I fully endorse anyone's decision to have a family.
But agressive moms who dominate the sidewalk with their strollers are annoying. And that was an annoyance I dealt with constantly during my two years in Park Slope. 
Park Slope is a great place to live if you have a family, or just like a super family-oriented, kids-running-around, moms-with-strollers kind of environment (yes, I've seen babies in bars there).
It also has some great restaurants -- like Song, one of my all-time favorite Thai eateries. 

Another problem was that my $1,800 two-bedroom in Park Slope may have been cheap, but it was also shitty. Then we found out that we -- and the whole building -- had bed bugs. We had to move.
Some friends of mine lived in Fort Greene and there was a vacant brownstone next to them.
My roommate and I decided to take the five bedroom brownstone for $2,400. It was incredibly cheap because... there was a rat problem. 
We knew about this before moving in (which was why it was so cheap!)  but we needed to find a new place fast, so we took it.
The rat problem never went away -- and it was certainly disconcerting to see a rat running across the bedroom floor from time to time-- but we sorta got used to it, and it was a lot better than having bed bugs. At least we didn't have to buy new furniture, or properly clean everything we had.

In the two years I lived in that apartment, we had about 10-12 different roommates. It was a hassle at times, but a lot of our friends lived in Fort Greene, so it was fun.

Aside from the financial, mental and physical hassle of moving (magnified by bed bugs, of course), I got used to the neighborhood right away.
I did have to be a bit more careful of my surroundings because it was pretty close to the more dangerous neighborhood of Bedford-Stuyvesant. I was never bothered (knock on wood), and it's gotten a lot better because I know my neighbors pretty well now.
Whereas Park Slope was predominantly white, with families outnumbering single people, Fort Greene has a younger, more diverse population.  It makes sense too because there are two colleges in the area -- Pratt University and St. Josephs College. 
There are fewer bars and restaurants in Fort Greene compared to Park Slope because Park Slope is much larger. But the selection is still great --The General Greene, Romans, Madiba Restaurant, and Moe's are my favorites. The Brooklyn Academy of Music is also in Fort Greene, which is great for shows.
Though Fort Greene is known for its beautiful brownstones (especially on South Portland between Dekalb and Lafayette), there are also different types of homes, all of them unique. 
I also love the history of this small neighborhood -- It's known for being an affluent black neighborhood where a lot of young black artists lived in the '80s and '90s -- people like Spike Lee and Rosie Perez. Chris Rock still has a brownstone in Fort Greene (though he doesn't live here).
The commute to downtown Manhattan, where I work, is also a lot shorter than it was from Park Slope. I'm two blocks from the G train, but I rarely use it. Instead, I like to walk an extra 15 minutes to the R, which gets me door-to-door from my apartment to my office near Whitehall in 25 minutes. (In Park Slope, my commute was 35 minutes.)
Two years after leaving Park Slope for Fort Greene, I moved into a new apartment in the neighborhood --that's how much I love it! 
I still go to Prospect Park a lot, though, because I love riding my bike there, chilling with my friends, and attending the free outdoor concerts over the summer.  Even though I'm not as close to the park as I was in Park Slope, at least I don't have to run into any strollers.
---
Transitions highlights New Yorkers' first impressions as they transition from one neighborhood to another.  Want to tell us your transition story? Drop us an email.
Related:
From the West Village to Prospect Heights: "I was Manhattan-ed out"
Is it a good idea to buy a co-op in a brownstone?
Rent Coach: Best Brooklyn neighborhoods for a West Village refugee
Find an agent with BrickUnderground's Agent Referral Service
4 reasons why a bad economy is good for Brooklyn real estate
BrickUnderground's Renter's Survival Kit
Brick Underground articles occasionally include the expertise of, or information about, advertising partners when relevant to the story. We will never promote an advertiser's product without making the relationship clear to our readers.