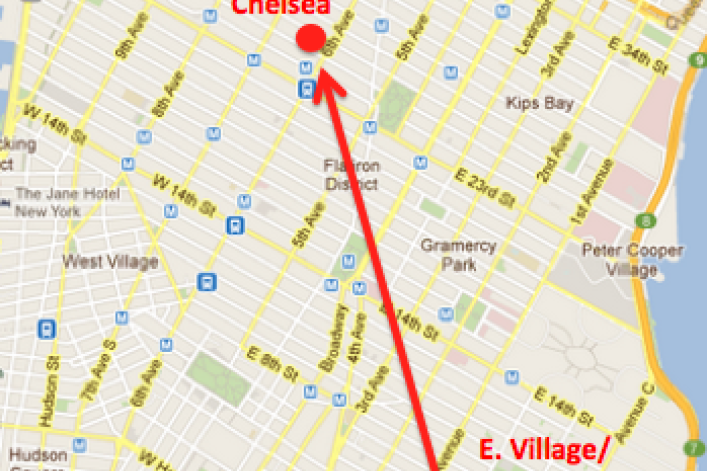 Before I moved to Chelsea, I was subletting a really tiny two bedroom in the East Village on the edge of Alphabet City. My apartment on East 7th Street between First Avenue and Avenue A was a walk-up, with no doorman or laundry in the basement. The super lived in the building, though, which was handy.
The buildings around me were pre-war, well-kept and the block I lived on was really well-maintained.
I was directly across the street from Tompkins Square Park which also included a dog park. My dog and I loved that convenience. 
Restaurants were plentiful, and delis and bodegas were on every block, but the prices for groceries were a bit too much for me. Instead, I took advantage of the eclectic eateries like Bar 7, Westville and Diablo Royale, and ate out most of the time. 

Since it was a temporary sublet, I moved to 25th and Sixth Avenue in Chelsea to live with a friend who, luckily, had a room open at the perfect time.

My current building in Chelsea is only three floors high. The apartments take up the entire floor so only three "families" -- or more accurately, roommates -- occupy each floor. It's significantly bigger since I have more roommates (there are four roommates in a four-bedroom apartment).

The super doesn't live in the building though and it's poorly maintained, so it's kind of a nightmare having anything fixed. Again, no doorman here either.

I have to say I don't eat out as much as I did when I was in the East Village because of the even more expensive restaurants. My apartment is just a block from a Whole Foods and two from Trader Joes so I have options for cooking at home, too.

What Chelsea lacks is the "neighborhoody" feel. Chelsea has more traffic/movement especially because my apartment is right next to Sixth Avenue. But  Chelsea's "traffic" is actual traffic of cars and commuters coming and going. 
My old neighborhood had a lot of movement too but in a better way, as in people walking their dogs or socializing at a restaurant. Chelsea also feels more transient, whereas people seem to set down roots where I was in the East Village.
A Friday night in my old neighborhood is vibrant: you'll see people outside having a drink, you can hear music playing in the streets and the energy is great. On a Friday night in Chelsea you'll see people scrambling along Sixth Avenue rushing home. 
There were practically no tourists near my old apartment, and it felt like you only saw residents. Every Sunday there was a farmer's market where you'd see the same people and run into the same vendors which felt really friendly.

The shops and restaurants there weren't chains -- rather, small mom-and-pop type places where you would see the same faces again and again. In my current apartment, the closest restaurants are Cosi and Chipotle. And all these larger chains and stores like American Apparel and Madewell just don't feel neighborhoody.
I definitely miss my old area. I was initially concerned that living in the Alphabet City vicinity would be dangerous, but my block always felt really safe. And since there are so many bars and restaurants, people are always around. 

I miss the energy, the cute stores, the hidden vintage stores, the authentic New York restaurants... basically everything. I can see myself moving back to there.
---
Transitions highlights New Yorkers' first impressions as they transition from one neighborhood to another.  Want to tell us your transition story? Drop us an email.
Related:
Transitions: From Manhattan Valley to the East Village
Tips from a Chelsea Doorman: Best parking, Chinese food
Rent Coach: Best Brooklyn neighborhoods for a West Village refugee
Find an agent with BrickUnderground's Agent Referral Service
Brick Underground articles occasionally include the expertise of, or information about, advertising partners when relevant to the story. We will never promote an advertiser's product without making the relationship clear to our readers.