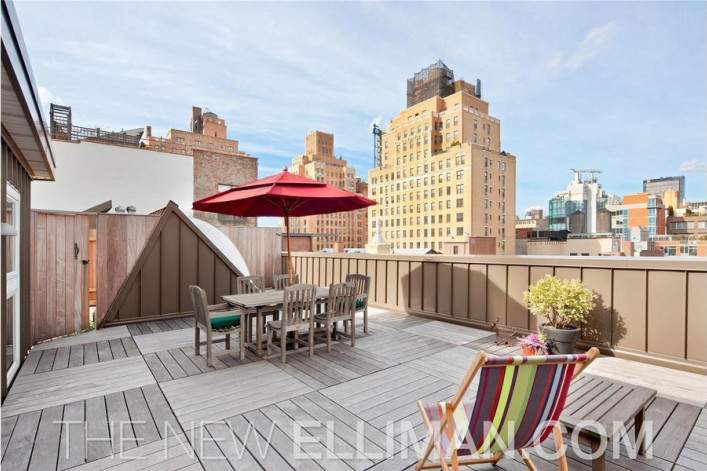 Everyone loves a nice view, and New Yorkers apparently especially like that view to include the Empire State Building. This week's Most Wanted—the ten apartments StreetEasy browsers saved more frequently than any others—includes three listings that boast views of the famous skyscraper.
Sure you can see the Empire State Building from this $699k one-bed co-op  on East 16th Street (which also made our Open House Scorecard on Monday), but the better view is of the lovely St. George's Church and Seminary, which can be seen from both the living room and bedroom. And if you want to experience the city, rather than just gazing at it, Stuyvesant Park is right outside your door.
The view isn't actually the most enticing aspect of the $2.195m six-room penthouse, on West 15th Street, pictured at left. The real draw may be the private roof deck and the beach house room with a full bath. The listing also notes that the unit is "pindrop quiet" — though with pets allowed, you never know when a not-so-pindrop-quiet puppy is going to break the silence.
This $475k one-bedroom condo on East 14th Street offers views from the Freedom Tower to the Empire State Building. The listing also mentions a "beautiful new planted roof deck" — which is good because at 510 square feet, this apartment could leave you looking for some fresh air.
As always, when you're tired of just flirting, visit BrickUnderground's free Agent Referral Service to find a real-estate guide. For a full list of the Most Saved Sales of the week, see below.

1. 155 West 15th Street- 6 room penthouse, $2.195m

2. 200 East 16th Street- 1 bed co-op, $699k

3. 322 West 72nd Street- 4 bed co-op, $995k

4. 151 West 86th Street- 6.5 room co-op, $2.495m

5. 76 Madison Avenue- 2 bed condo, $2.175m

6. 400 East 14th Street- 1 bed condo, $475k

7. 130 West 19th Street- 2 bed condo, $1.695m

8. 175 West 12th Street- 2 bed condo, $1.195m

9. 60 Gramercy Park N- 4 bed co-op, $1.995k

10. 301 Warren Street- 2 bed condo, $845k
Related posts:
Ask an Expert: Signs of a toxic co-op

The Haggle: A new sponsor an a big discount on a new condo
14 ways to get turned down before your co-op board interview
Brick Underground articles occasionally include the expertise of, or information about, advertising partners when relevant to the story. We will never promote an advertiser's product without making the relationship clear to our readers.