Live
10 Minutes with window treatment, glass and radiator-cover guy Lou Manganiello: Only fools take their own measurements (or buy online!)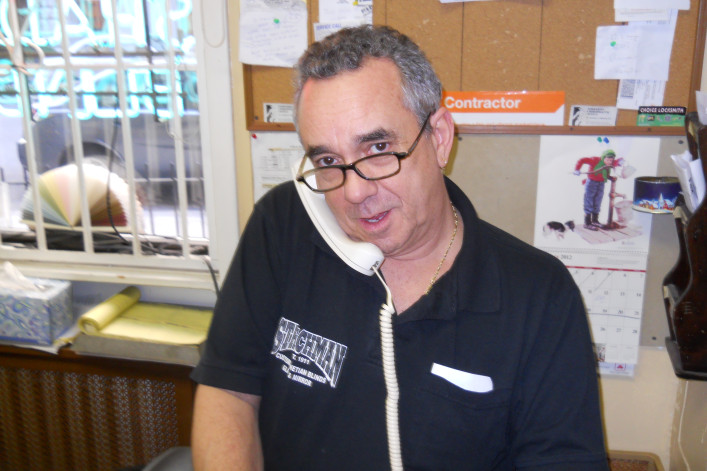 Lou Manganiello, owner of Strachman on the Upper West Side, is in the business of selling and installing window treatments, shower doors, mirrors, glass and radiator covers to New Yorkers.
On a busy Saturday morning, he fielded phone calls, waited on walk-in customers,  joked with neighbors and showed us photos of his days as a power lifter hoisting a 470 pound barbell.
Lou thinks there should be a sitcom made about him and his business. "So many things happen every day with the customers, the suppliers, the neighbors, the parking--it's always pretty amusing," he says. 
What are the most in-demand items now?

With window treatments, it's mostly blinds in neutral colors—the "ettes collections": silhouettes, duettes, luminettes and vignettes.

Lots of people are buying battery-operated, radio-frequency operated blinds. This isn't like a TV remote control because you don't need to point the controller at anything—you can be anywhere and adjust your blinds however you'd like. They're expensive -- the feature adds about $350 to the costs of blinds -- but really cool.

Frameless shower doors are popular now, too ... they're made with thin tempered safety glass and look as though they're floating in space.

What was the most unusual request you've ever had?

That would be from the owner of a $20 million SoHo apartment who wanted us to build a glass surround for his rooftop hot tub in order to cut the wind. The roof and hot tub were 11 stories up.
I didn't want to do it because we had to work on the edge of the roof with harnesses -- it was scary and we'd never done anything like that before -- but we did it. See these gray hairs and wrinkles? I didn't have them before we started that job.
What's your biggest complaint about customers?

First, people with attitude. And second, people who want to do their own measuring. Customers come in with measurements and want me to make blinds or a radiator cover or a shower door for them. I won't do it. I don't want to be there when it's time for installation and they don't  fit. 

What do you think of people ordering window treatments or radiator covers on the Internet to save money?

Big mistake. First, there's the measurement problem. Then for a radiator cover you have to assemble it, paint it, install it all yourself.  May cost less but are you kidding? Where are you going to paint it—on your fire escape?

Do you work with architects?

Yup. Architects draw a project on paper. On paper you can draw anything. We're the ones who know whether or not it will actually work.

We had an order once for a huge mirror . We told the architect that it wouldn't fit in the elevator but he wouldn't listen. We ended up having to have the mirror crated and delivered through the window with a crane—it cost thousands!
What would you like to tell customers?
Be patient. If there's a mistake made, and sometimes that happens, give us the chance to fix it.
We'll go back 2, 3 times—whatever it takes to get it right. Just please give us that chance.

Should customers tip your workers?

It's not required but my guys like to know that a customer is happy with the job they've done--$5 or $10 is a good tip.

Has the economy affected your business? 

Sure. I'm a luxury, not a necessity. You can do without a new shower door or new blinds when money is tight. 

What's the most annoying part of your business?

Parking. In front of my shop and out on the job. Lots of times we get to a job on time but don't get to the customer for a half hour while we try to find a place to put the van. It's $115 a pop.
Related posts:
Second looks, and thoughts, about motorized window shades
10 Minutes with Rose Praino, owner of Your Decor NYC
10 Minutes with John Rahat, handyman
10 Minutes with Noa Santos, Interior designer and stager
12 things to know before painting your aparment
Brick Underground articles occasionally include the expertise of, or information about, advertising partners when relevant to the story. We will never promote an advertiser's product without making the relationship clear to our readers.