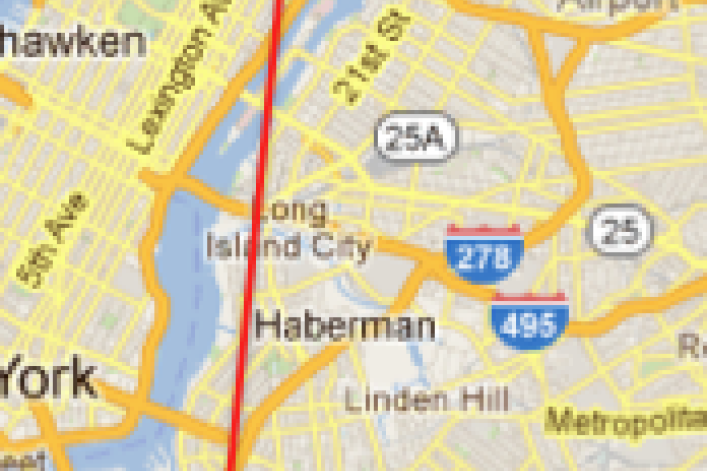 I was living with my parents in Midwood, Brooklyn to save some money. Then in November 2010 I got married and moved to Washington Heights.
The rent is cheaper in Brooklyn than in Manhattan, and in Brooklyn you definitely have more space to yourself than in the Heights, but we felt it was healthier to keep a distance from our respective homes (my wife is from New Rochelle). Washington Heights is a good middle spot that is geographically far but close enough to commute to home when needed. 
Washington Heights' strong Orthodox Jewish community is also a big draw for us.  Whereas back in Midwood the community was somewhat fragmented--you can have eight synagogues within a two block radius of your house, so you can go your whole life without knowing who lives down the block from you--the Heights is a much more welcoming community even though there are many synagogues.
There are a lot of events and different mediums for people to meet up, and a big Jewish singles scene. A lot of people can't afford to live on the Upper West Side [the other Manhattan neighborhood with a large Orthodox population], so Washington Heights is a low-cost substitute.
Depending on where you are in the Heights, you can feel extremely crowded, like everyone's on top of each other, but other spots feel completely open. Fort Tryon Park is a short walk away from us, and you can spend a few hours wandering through the whole thing.
The residential areas are not as pleasant to the eye as they are in Midwood, which has a lot of residential houses. The Heights consists mostly of mid-sized buildings built close to one another.
To find our apartment, we used all resources available. We got a listing of phone numbers of landlords in the area and avoided paying a broker fee. We took a day to look at three or four places, and we picked the best one, a $1,250 one-bedroom on 186th Street, between Bennett Avenue and Overlook Terrace, in an older six-floor building with an elevator.
It's a very convenient location. All the stores we need — like Key Foods and Staples  — are a block or so away along Broadway. The subway is a three-minute walk away.
We basically picked the place for the short term. It's a transient community. Within the Jewish community, when people get married they ordinarily move out to the suburbs or the outer boroughs' more suburban neighborhoods. The same thing applies when they have multiple children. There's a huge generational gap between people in their early 20s and then those in their 70s and 80s.
I still work in Brooklyn, so my commute went from 10 minutes to an hour and 15 or 20 minutes. Honestly, it's a hassle. I spend a lot more time on the train, and I have to take three trains.
It's not unbearable because I utilize my time well. I bring different books and newspapers to read on the train. At home there are so many distractions.
The trickiest thing is the morning. I have to wake up a lot earlier, because I go to prayer services. Before I could have gone to an 8 a.m. service and now I have to go to a 6:20 service.
In terms of crime, our three-block square radius in the Heights is a nice, quiet area. We're literally a five-minute walk to the police station on Broadway.
At the same time, we went to visit a couple who lived on Wadsworth Avenue, literally a three minute walk up the hill and their rent was 25-30 percent less than what we were paying and they said it was because they have drug dealers and weird stuff going on in their buildings.
The Heights is one of those interesting areas where you can walk a few blocks and you're in a completely different neighborhood.
Still, it's an underrated community in Manhattan. It offers the same qualities of city life, but the rent is significantly cheaper than other, more popular areas.
---
Transitions highlights New Yorkers' first impressions as they transition from one neighborhood to another.  Want to tell us your transition story? Drop us an email.
Related posts:
Transitions: East Williamsburg to Hell's Kitchen
Transitions: From Greenpoint, Brooklyn to Hudson Heights
Transitions: East Village to Midtown East
Living next to a grocery store: Convenience with a heavy dose of noise
 Find an agent with BrickUnderground's Agent Referral Service
Brick Underground articles occasionally include the expertise of, or information about, advertising partners when relevant to the story. We will never promote an advertiser's product without making the relationship clear to our readers.