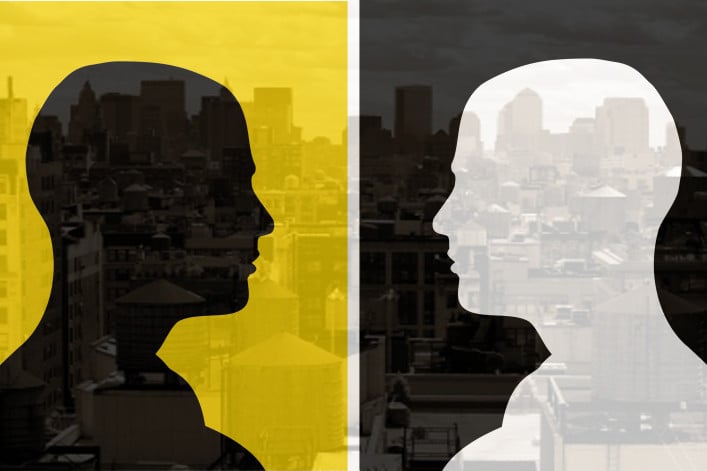 When I first rented my one-bedroom apartment in Hudson Heights five years ago, my favorite thing about it was the Art Deco design of the building and lobby.
When I walked into what was a work in progress--the management was renovating--I thought, "This is what a New York City apartment looks like!"
My apartment has a landing area, sunken living room and all original details like hardwood floors, moldings, built-ins and marble sills. Not to mention four huge closets! The bathroom was my least favorite thing about it because of the layout; it is the tighest room in the house. 
Now that I have lived here for some time, the thing I notice most and which makes me the happiest is the area. Going in and out of the subway entrance to Fort Tryon Park is honestly a joy---clean air, great scenery, and beautiful landscaping.
While my small bathroom is still irksome, something far worse has surpassed it as the most undesirable feature of living here: I believe both my upstairs and downstairs neighbors are in cahoots to drive me out of there with their incessant noise.
From below I'm assaulted with the sounds of a child who has literally cried everyday since he was born; he must be about four years old now. He also runs around and screams when he is not busy crying. I'm not an old fart but this kid is up until 1 or 2 a.m. every night.
As for the upstairs "friends", it is twofold. They have two cats who run around  like crazy, which I actually find funny because I can picture them racing around. The real problem is the owners. He is a 'heel walker' who you would think weighs a million pounds. She is a 'runner'. Both of these are weird behaviors for a 700 sq. ft. apartment. 
I have spoken to both and written them each a letter, after which they quieted down for about a month but then it built back up to its original resounding crescendo. The super advised me to give him the letter I sent so he could pass it to the landlord. That is my next resort. 
Noise aside, if I had to do it all over again, I would still rent this apartment.
---
Then & Now explores how time illuminates the pros and cons of an apartment--and how what draws people to a place isn't necessarily what keeps them there.
Related posts:
The 7 worst places to live in a building
Then & Now: I can't use my 43rd floor terrace, but the closets are divine
Then & Now: I still love my terrace. The layout and maintenance fees? Not so much.
Then & Now: I fell for the view, then shut the curtains
Then & Now: I adapt to my prewar 'charmer'
Brick Underground articles occasionally include the expertise of, or information about, advertising partners when relevant to the story. We will never promote an advertiser's product without making the relationship clear to our readers.