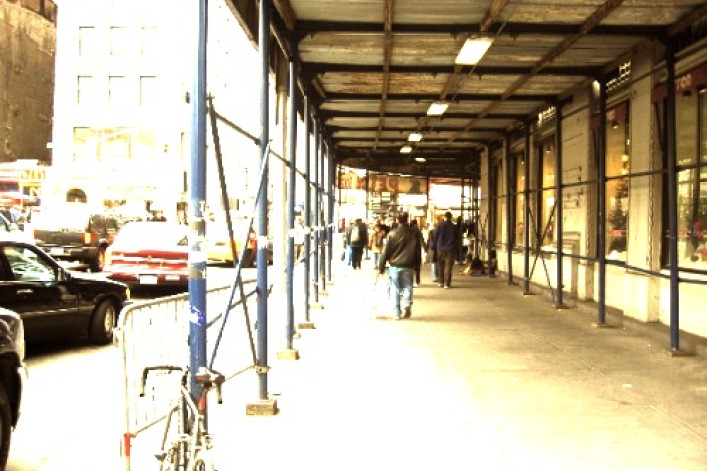 Over on StreetEasy.com, a renter with a lease up for renewal has just learned that scaffolding will be erected outside his first floor apartment, totally blocking the sunlight for 3-4 months.  Is it a move-worthy inconvenience? Or, at the very least, is a discount on the rent in order?
"I'd walk regardless," says one commenter. "Life is too short for me to live in such a setup 3-8 months...."
As for a rent reduction, says another, "You can certainly ask for a discount but you don't have any 'rights' to one. Facade work is required on buildings throughout the city and scaffolds are a necessary evil of that requirement. Your landlord does not owe you for what you perceive as an inconvenience; a scaffold outside the window does not affect the unit's habitability."
Others counsel asking for a 20% off--and, at a minimum, pushing back on a proposed rent increase.
We checked in with BrickUnderground's Rent Coach, Bruce Feldman.
As far as the existing lease, says Feldman, renters aren't entitled to any rent deductions or "to prevent the landlord from erecting scaffolding, billboards or anything that would obstruct the tenant's views--light and air--from their windows."
A lease renewal may be a different story from a practical standpoint, not a legal one.
"He or she can make a successful argument that the apartment's market value is diminished while the scaffolding is in place there, as new prospective tenants would likely pay less than they would if there was no scaffolding present," says Feldman. "But this difference is not much in a city where buildings routinely put up scaffolding and take them down every few years."
A word of warning, says Feldman: "The average time those scaffolds are in place can often be measured in years, not months, because if brick pointing work is necessary--which is usually the case--the job can take 1 to 2 years to complete--so beware to the tenant above who is renewing!"
(StreetEasy.com)
Related posts:
Introducing BrickUnderground's Renter Referral Program
BrickUnderground's Renter's Survival Guide
Rent Coach: What tenants want to know, and landlords aren't saying
NY Times names BrickUnderground a top resource for renters
Guerrilla Guide to Finding a No-Fee Apartment in NYC
Confessions of an on-site leasing agent
Brick Underground articles occasionally include the expertise of, or information about, advertising partners when relevant to the story. We will never promote an advertiser's product without making the relationship clear to our readers.