Improve
Q&A with celebrity chef Nikki Cascone: Lured to Red Hook by a balcony, grill, and washer-dryer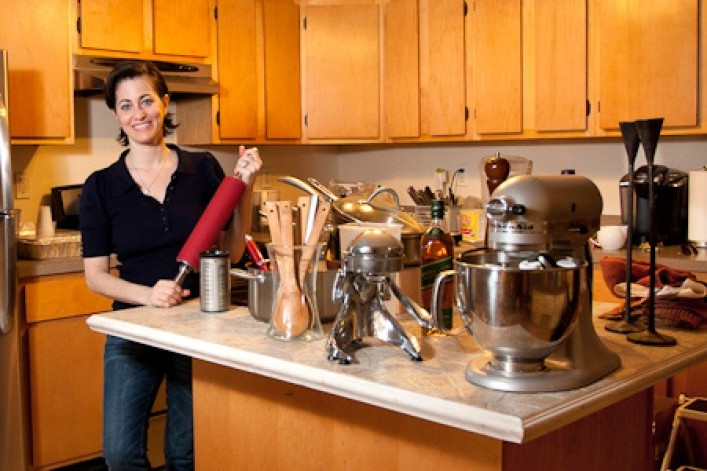 Nikki Cascone is a Season 4 Top Chef-testant who recently opened Octavia's Porch Restaurant on the Lower East Side. Born in Brooklyn and raised in Staten Island, Cascone just moved from Park Slope to Red Hook, Brooklyn with her husband, Brad, and four-month old son, Jax. Excerpts from BrickUnderground's recent interview with her follow.
You rented in Manhattan for years, and your new restaurant is on the Lower East Side, so why did you move to Brooklyn three years ago?
My husband and I loved Manhattan but found we could get more for our money in Brooklyn. So we initially moved to a three-bedroom, one-bath, loft-like open space in Park Slope on 19th Street and 4th Avenue for $2,350 per month. We just moved to Red Hook because it's all about our son, Jax. We are the first tenants in a brand new luxury building. Our new balcony is the width of our new apartment and can include  grill and provide us with outdoor dining. And I now have a laundry room IN MY APARTMENT! For this I would have to pay a few million in the city but in Brooklyn it is way more affordable.
How do Manhattan landlords compare to Brooklyn landlords?
This has come from multiple experiences: landlords in Manhattan are more professional and more regimented. Things are more uniform and you get a much better level of service when renting in Manhattan. In Brooklyn you get "Uncle Joe" renting his apartment to you or some dude who bought a building and thinks he can manage it himself. They try to get away with a lot more…
What are some of the best kid-related places in NYC ?
NY is actually a great place to have a kid because of culture and diversity; everything is easily accessible. When I get visitors from out of town that marvel at having a kid here but it is so easy. Brooklyn on a whole is made for the urban modern-day mom who juggles work and family life. It offers tons of support systems. Up until we moved to Red Hook, we lived in Park Slope which is 'mommy central' where you can find mommy-and-me yoga and breastfeeding classes  all over. Prospect Park is great and even has a zoo and the Botanical Gardens are close by. I can still do normal suburban things like take classes, go to the playground, but I also have access zoos, museums, great restaurants all of which are assessable by walking or public transportation.
A typical day for me is to head to the Fairway in Red Hook on the water. (There is also a ferry from NY to there.) I walk along the waterway with my son, marveling at all the new construction and little shops like Steve's Key Lime Pie. It's such a New York experience looking over at the city and the Statue of Liberty. There are so many places like this in NYC. I can't imagine raising Jax anywhere else. I grew up street-smart being raised here and that can't be taught.
What do you think is more important---size/space or neighborhood?
Size/space.  There's no train in Red Hook so you get great deals on spaces but you have to take the  ferry, get a car or get on the bus. Many people won't do that but what you do see is investors creating unbelievable spaces that are well-designed and built. And that is what we found. My living environment is very peaceful.
If you could have anything—what would your dream home be?
A modern farm. I plan on having that someday soon. I'd go about an hour and a half away from the City—maybe to the North Fork. I want to grow wild arugula and have sheep and goats, but have to be super close to the city. My husband would say he'd like a place on the beach. My love of food is key and I want to be sustainable off of my home.
I have read a lot about the urban farming movement in Brooklyn. This must be right up your alley.
We live that way in my family. I love the idea of urban farming. The woman downstairs from me has a garden and I want herbs on my balcony now. In Brooklyn I have the best of both worlds---great local food in an urban environment and there are many people in Brooklyn embracing sustainability. I think about this constantly especially being a mom. I eat organic and local and want to be in a place with people that value those things. 
What's the weirdest, funniest or scariest thing that has ever happened to you in NYC?
In the last restaurant I owned for about 5 years which we sold in June---24 Prince—that we sold in June but had it for five years, we had an array of uninvited animal visitors. Thankfully not rats, but birds, squirrels, cats---even a bat. Multiple squirrels have run in from outside. It was really odd and something I never experienced elsewhere.
That food must have smelled really good! Who knew Prince Street was zoolike?
I even tried to grow a garden back there but the animals would rip it out. I had a real Dr. Doolittle situation.
What's the one thing you'd change about living in NYC?
The noise.
What about transportation? Do you have a car? Ride the subway?
I have a car. And in Red Hook it can be needed. But I would love to have the 2ndAve. subway and hope it goes even further East. I have not taken my son on the subway yet, but consider myself a real New Yorker and you just can't be one without taking the subways. That's a fact! I think it's funny when people say they are New Yorkers and only take cabs. I didn't always have a car and because of environmental issues I don't use it unless absolutely necessary; public transportation tends to be faster in most cases anyway. 
As a chef, what makes food in NYC distinctive? What are some of your favorite food or eating-related places in NYC?
You have this major city and so much talent! A mecca for dining and having great food. As a chef you can purchase anything you could possible want right here. That is not always the case. When I'm in Middle America traveling and doing demos, I often can't find what I need. And I went to Jamaica last year and couldn't get an avocado. NYC has an amazing array of ethnic markets. And Fairway—I eat there a lot and it is a great market for fresh local. The farmers' market in Brooklyn in Grand Army Plaza is awesome. I love Brooklyn Flea—it is one of my favorite things to do—which has great food, stands, vendors and is the place to have a great Brooklyn moment.
I assume you also cook at home. What are some of your ideal kitchen characteristics -- layout/size/appliances and how does that compare to what you have?
I make homemade baby food and cook when I have company. I like to entertain so I can show off my skills and do what I love. I keep it simple at home creating easy and fresh meals. As a chef I'm all about a good gas range and fridge, but more than anything else, I need counter space.   
What's your home ventilation system like--open window, charcoal filter exhaust fan, a real exhaust fan that vents out the window? Do neighbors ever complain of cooking smells or that they get hungry smelling your cooking? 
This new apartment has a fan but the range has no hood; there are tons of windows though. No one has ever complained of the smell of my food!
More Q&A's on BrickUnderground:
Real Housewives' Countess LuAnn: Respect thy neighbor and drive a Smart car
Comedian Amy Schumer:  NYC is the only place I feel completely at home with the possibility of a stranger peeing on me
Kelly Cutrone: My elevator has a secret life
Author Julie Klam: Liberation is spelled washer dryer
Fox 5 Julie Chang's 5th floor walk-up: "I buy umbrellas like packs of gum"
NY1's Roger Clark: His heart belongs to Forest Hills, his rent check to Yorkville
I-Can't-Believe-I'm-Still-Single Eric Schaeffer: Chicks dig hammocks
Brick Underground articles occasionally include the expertise of, or information about, advertising partners when relevant to the story. We will never promote an advertiser's product without making the relationship clear to our readers.