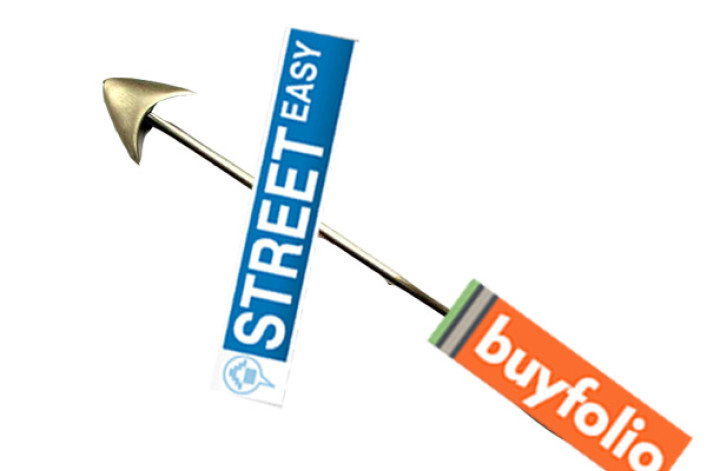 About a year ago, Buyfolio.comlaunched as a nifty online tool for NYC apartment buyers, enabling them to organize, annotate, and track sales listings, and even invite their brokers to collaborate.  
One thing BuyFolio didn't offer was the ability to conduct searches. Instead, buyers imported listings found elsewhere—such as on brokerage websites, the New York Times, and, not least, StreetEasy.com, the popular and game-changing listings site that aggregates listings and provides useful intelligence like changes in asking price, prices of past sales in the building and the listing at hand.
A longtime fan of StreetEasy, Buyfolio founder Matt Daimler says he had hoped to partner with the company.
"They weren't interested in partnerships, so we had to start building our own StreetEasy," he emailed BrickUnderground, adding elsewhere,   "I hope they hear our footsteps coming."
Pulling data from the Real Estate Board of New York's RealPlus database--which collects listings information from brokerages--it took Daimler and his team seven painstaking months to construct the Manhattan- and Brooklyn-centric apartment listings database Buyfolio launched last week.
At the same time, Buyfolio went a step further, poring through the listings information to create what Daimler contends is "the largest database of building information in NYC," enabling buyers to reliably search using criteria like whether buildings allows pets or has a part-time doorman.
"Brokers are very good about putting helpful information like 'full-time' doorman or 'doorman works from 8 to 5' or 'sorry no pets' in the multi paragraph listing description they create for each of their listings," explains Daimler. "But they are terrible at checking the boxes that should go along with the listing indicating the presence of a doorman, garage, gym or the pet policy.  So we used natural language search to analyze tens of thousands of listings, looking for similarities and inconsistencies. Over time we built a complete database of this information for over 8,000 multi-tenant buildings in NYC."
Though Buyfolio doesn't differentiate between 'security guard' and 'doorman,' says Daimler, "we know when a building has a full-time doorman, a part-time doorman or live-in super.  We're the first NYC listing search that allows you to search on that criteria."
Other new features include the ability organize search results by criteria including price per square foot, number of rooms, or total monthly charges; one-click access to a listing's floorplan, photos and a map without opening multiple tabs or windows; the ability to chat with everyone who has access to a particular portfolio—such as a broker, spouse, mother, etc.--in real-time online.
Buyfolio hopes to enhance collaboration between brokers and buyers, something Daimler says consumer-focused StreetEasy has never focused on or executed well.  He describes StreetEasy's newish search collaboration tool, called "Folders," as a "clunky" response to Buyfolio.  
"New companies enter this space all the time," StreetEasy CEO Michael Smith when we asked him to comment. "That's good for consumers as it pushes us all to make better products.  We are very proud of what we've built at StreetEasy. Matt is a smart guy and we wish him much success."
So from the perspective of a consumer, how much competition does Buyfolio 2.0 present?
BrickUnderground contributor and hardcore StreetEasy addict A. Ready took Buyfolio on a quick roadtest.  Here's her report:
I don't use StreetEasy to track listings that much, but from what I can see, Buyfolio is a very user-friendly system, once you figure out how to navigate. The 'Notes' feature IS easy, and the sorting ability, which lets you drag properties from 'like' to 'not like' etc is nifty. The listing information is more complete than StreetEasy's. For example, all the units I pulled listed minimum down and tax deductibility of maintenance. And you have a streamlined list of your saved properties that you can sort by many parameters quite easily, like type of air conditioner or price per bedroom or whether there's a dishwasher, though curiously there was no way sort by in-unit washer dryer.
I only pulled up a few units, but none had any prior asking price history, although the video tutorial says the info is there, so it might just be the units I selected.  Also, there's no way to search recorded sales. StreetEasy's interface with ACRIS public property records leaves a lot to be desired in terms of searching and sorting capacity, but it's a great tool nonetheless. While the folios are definitely more user-friendly than StreetEasy's folders, most people would likely find StreetEasy's sufficient. 
Overall, I think StreetEasy is a better tool for people who want to compare comps, look at entire history of buildings, compare prices against medians, etc.  Buyfolio is the better tool for putting together and monitoring a clean list of properties for an average buyer.  As a self-admitted do-it-yourself type, if I had to chose between the two I would pick StreetEasy. For me, easy access to pricing history in a building, neighborhood, unit, is invaluable information. For others, utilizing both resources might be a good option. 
Brick Underground articles occasionally include the expertise of, or information about, advertising partners when relevant to the story. We will never promote an advertiser's product without making the relationship clear to our readers.