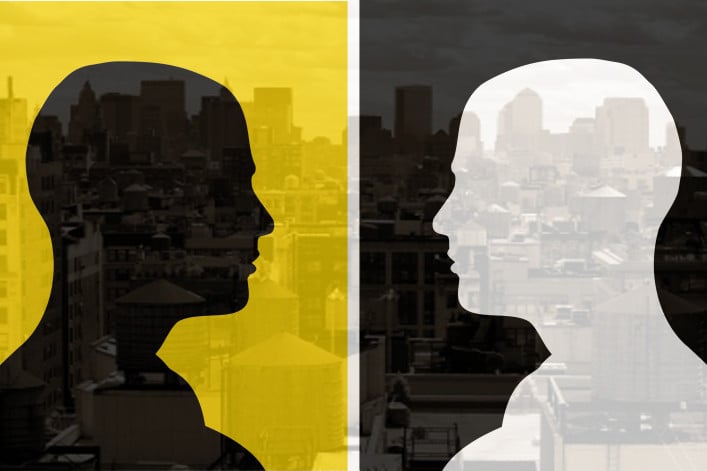 I rented a good sized, 550 square foot studio in a pre-war doorman building in Chelsea in 1988, before Chelsea was popular. What I loved most about my apartment then was its "good bones". It had a sunken "living room" and the kitchen, dining area, and dressing room were two steps up giving the apartment a feeling of space and separation.
Because of the two levels—if you count two steps as different levels—it felt so very different from other apartments. In addition, the dressing room gave it a feeling of it being a real home and not just a box.
The biggest downside was that although it faced south, there was some obstruction from another building in front of the window, which made the living area dark. The kitchen was quite dark too because it had an unusually tiny window.
A year later, the building went co-op, and I was fortunate to buy it at an insider price of approximately $80,000. When I got married a few years after that, the apartment was too small for two so I rented my studio out, while my husband and I moved to a larger rental in a luxury building in Midtown.
We always knew we wanted to be back in Chelsea though.  When my elderly next door neighbor in my old building died several years later I was able to buy her 550 square foot  studio.
With a minor renovation, we combined the apartments into a one-bedroom and moved back in. So I am happily back in my original apartment, and the darkness I hated so much is now my favorite thing because that area is our bedroom. That dark kitchen is now a closet so the lack of light is no issue at all.
However, the thing I dislike most now is that we got spoiled by having a fitness center in our luxury rental. Walking to the gym now seems like such a chore. But besides that, I absolutely made a great choice in my first and second purchases in this building both for aesthetic and financial reasons. I spent about $80K on the first studio and around $150K on the second, so for $230K plus a bit more for renovation, I now have a unit that is worth roughly $940K.  And that's worth a little inconvenience.
Related posts:
Then & Now: I adapt to my prewar 'charmer'
Then & Now: Goat heads don't ask, don't tell situation
Then & Now: I fell for the view, then shut the curtains
Then & Now: My apartment Thanksgiving
---
Then & Now explores how time illuminates the pros and cons of an apartment--and how what draws people to a place isn't necessarily what keeps them there.
Brick Underground articles occasionally include the expertise of, or information about, advertising partners when relevant to the story. We will never promote an advertiser's product without making the relationship clear to our readers.