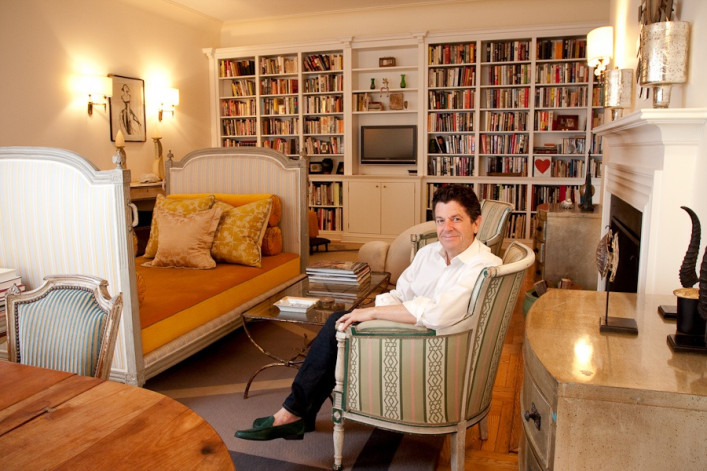 New York City-born author/editor/blogger Michael Gross first became interested in writing about real estate while driving down Fifth Avenue: Looking at the grand, manicured buildings, he realized that real estate was the perfect window into the lives and times of the powerful, rich and famous. That initial interest sparked the writing of his famed book, 740 Park: The Story of the World's Richest Apartment Building.  He is currently working on a follow-up set in and around Beverly Hills, California.
What was your first NYC apt? How did you find it?
My first apartment was on 13th Street between Seventh and Greenwich. The rental agent was named Selena Godeau and was very famous as the woman to see in the Village in the '70s. It was a parlor floor studio in a tiny, ivy-covered townhouse with a fireplace and a loft bed; the cost was $175 a month. I lived there a year. The landlord lived upstairs. I had to hand him the rent personally every week. It was less than half what I now pay for a parking spot.
What is a brief history of your NYC apartment dwelling?
I wrote an article about finding an apartment for the SoHo Weekly News and in the process found my second apartment at 52 Bond Street, just across the Bowery from CBGB, in 1975. It was a duplex, likely a former stable, tucked behind two buildings, with no windows on the street. It was about 1,600 square feet with walls so full of holes that the wind whistled through the apartment in winter.  It cost $225 a month when I moved in and only $250 a month when I moved out five years later when the lease-holder appeared on my doorstep--he'd been in Europe the whole time--and asked if I could move out immediately. About two years ago, I noticed it offered for rent at $5,000 a month.
Later, when my wife and I first moved to the Village, we bought our co-op because we enjoyed being surrounded by the creative types that lived there. Then the neighborhood started to change for the worse—by worse I mean there was an influx of trendy boutiques, tourists and 'hedge-fund hogs' that came with a sense of entitlement--and in 2006, we sold it to Mark Ronson.
We bought an estate wreck at Alwyn Court on Seventh Avenue just south of Central Park, which we renovated and have lived in ever since. It's a two bedroom co-op. I live with my wife and West Highland White Terrier, Calpurnia. Officially, it's in Midtown West, I guess, but I see it as a micro-neighborhood consisting of about ten awesome buildings (Alwyn Court, The Osborne, The Briarcliff, 200 West 58th Street, 200 Central Park South, Essex House, and Hampshire House) and a macro-neighborhood that a friend of mine named Vuitton (as opposed to—said with a thick French accent—oop-ton or dahn-ton) stretching in a mild diagonal slash from 15 CPW to Sutton Place in the '50s.
Why did you pick this building and this neighborhood?
Scale, mostly. It has graceful layout with public and private rooms, but it also has history. The building was constructed in 1909 as the most expensive rental building in Manhattan. It went broke during the Depression, was seized by a bank and remodeled, with each of the original two 14-room apartments per floor reconfigured into three (i.e. six per floor). But each retained elements of the earlier incarnation like high ceilings, gracious foyers, and one of the original public rooms. We got a ballroom. It doesn't suck.
What is the one thing you'd change about it?
I'd love one more room. The only other thing I miss is outdoor space, but I have Central Park a short block away, so it's hard to complain.

Any interesting stories relating to finding it or in living there?
Looking for a wreck with grace and scale, we found an ad for an apartment that wasn't in the multiple listing system for a variety of reasons, headlined "Above Petrossian." We knew the building, had driven by often, and had always said things like "Wouldn't it be awesome to live there?" It took some fancy dancing to get, but we finally managed. It turned out that it had been in one family—that of Fiorello LaGuardia's personal lawyer--from the '30s until the '00s, and then sat empty for half a dozen years.
How does it compare to your previous places?
Having lived mostly downtown for decades, and in neighborhoods thought of as "young," we wanted to move to a grown-up apartment in a grown-up neighborhood. We also vowed to never again live in a small co-op with only a few neighbors, so we wanted a large building with staff. I forgot to mention above that once, we spent several months in a sublet SoHo loft while renovating on Washington Square—and that experience cured us of ever wanting to live in a loft again. Living in a bowling alley with lights only at either end has its charms, I suppose, but we felt a few pins short. And the absence of light during the day and signs of visible life at night were both kind of depressing. So SoHo and Tribeca were out.
You are on your third co-op. Have you ever been on the board?
I was on the board and/or president of the board in the second one for most of my time there. I think I would prefer a sharp stick in the eye to ever serving on a board again.
What's the ideal apt. size/layout and how does yours compare?
Bigger is better. Wasted space strikes me as the ultimate luxury. My current apartment has that in spades. What I really want next, if there's a next, is a jewel box penthouse like John Thain's two-bedroom at 740 Park, only with terraces big enough for entertaining.
What's your building demographic? Do you know your neighbors?
The building is very artistic, with lots of folks in show business and the arts, none of whom would appreciate my naming them, so I won't. But I can tell you that Florine Stettheimer, Liam Neeson, Joan Didion and Louis Nizer used to live here! We also have lots of neighbors with other homes who use this as a pied-a-terre. We had more acquaintances in the building when we moved in than we had left in the Village when we moved out, and found that the micro-neighborhood was more like the Village of old than the Village itself is today. Alwyn Court is not Melrose Place, thank goodness. Neither is it 740 Park or 834 Fifth. It is as unique as each of its residents.

Do you have apt. envy?
Often. But I know others who have it when they walk into mine. Real estate isn't fair!
What has writing about New York City real estate taught you?
Writing 740 Park taught me a lot about the inherent investment value of Manhattan real estate. It also taught me why I like co-ops more than condos. I like everything some people detest about co-ops—mostly the fact that the shareholders not only own but run the building, decide who can buy in, and decide how the building will be run. Sure, co-op boards can be tyrannies and rules can be restricting, but better that than an upstairs neighbor throwing nightly after-hours parties or a revolving cast of next-door subletters who don't give a damn about their building or their neighbors. Also, most of the fine, historic, beautifully built apartment buildings in Manhattan are co-ops, and their charms, to me, are eternal style compared to the passing fashion of the latest condo. But most importantly, the experience of writing 740 Park and learning about life there, made me want to try living in a well-designed, grown-up apartment in a full-service building. Finally, the fact that 740 Park was so successful was and remains a source of satisfaction—and also a source of the funds I need to pay my maintenance!
If you could choose between an apartment at the infamous 740 Park or a $20m home in Los Angeles—I know you are currently working on a book about that area—which would you prefer?
If I could choose I wouldn't have to, and here's why: To be accepted into 740, I would have to have $100 million liquid, i.e. in the bank, and if I did, I'd be able to afford staff and at the very least a Netjets share, and with all that in mind, I think I'd buy something less ostentatious here (people write books about the kind of folks who live in 740 Park, for God's sake!), a house on the Med, and use the change to stay in great hotels when I took my jet to L.A.
---

Michael Gross is the author of Rogues' Gallery, 740 Park and other books.
Brick Underground articles occasionally include the expertise of, or information about, advertising partners when relevant to the story. We will never promote an advertiser's product without making the relationship clear to our readers.