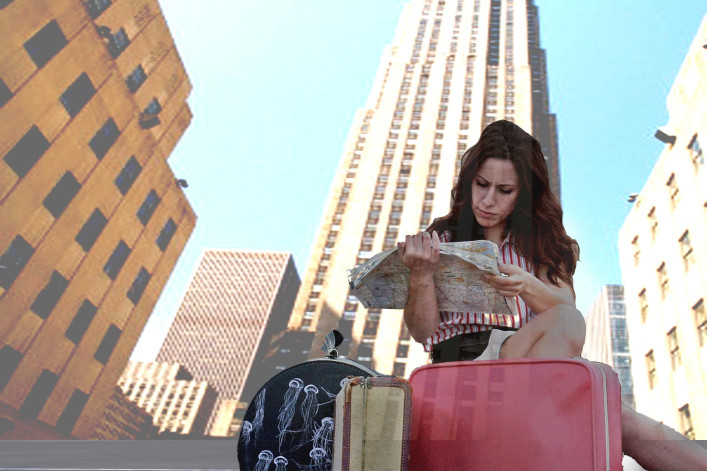 One of the downsides of living in a walk-up is the lack of a doorman. In NYC, where it's not safe to leave packages outside your front door, the absence of someone to accept them can make deliveries a virtual nightmare.
I started to realize the scope of the problem when the first two of my mother's care packages were held hostage at the post office about 10 blocks north. Normally, walking a box 10 blocks would be no big deal, but with my roommate moving in, the number of packages waiting at the post office/UPS/Fed Ex office (my roommate and I had agreed to share the pickup duties) were mounting.
Still, a fortunate aspect of living on the Upper West Side is that UPS, FedEx and the post office are somewhat close by, which meant picking up the concert tickets I ordered from StubHub.com wasn't going to make me miss the show. But it was annoying to have to leave class or my internship early to run to the post office (and then find out it had close an hour earlier that day).
Since our building was rather small – we only had 12 units – we didn't require a live in super. (Nor was he much help: It took us over two weeks to finally get someone to look at our clogged bathtub, and that was only because it had started leaking onto the ground floor.) The one neighbor I had befriended was a student as well, so we both had unpredictable schedules.
It never occurred to me at the time to ask the local deli or drycleaner to accept our packages for a small fee or tip. I would have asked if I had thought of it. Instead, I befriended the UPS and mail carriers to figure out what time exactly mail would be delivered.
Being nice went a long way.
The UPS driver said he always stopped by my place between after 2 PM to 5PM. It made scheduling easier, and my roommate and I took turns waiting during that window instead of having to hang around all day. Also, because my roommate didn't typically work Mondays and I had class off on Friday, we tried to tell people to ship stuff so it would get to our place on those days.
I also found out that tipping two or three dollars each time the UPS or FedEx guy brought a package up a flight of stairs helped out. After I started doing that, the UPS guy would always made the extra effort to find a way up and knock on my door just in case I didn't hear the buzzer. (It probably also helped that I lived on the second floor so he didn't mind carrying the relatively light packages up one flight of stairs.)
After our mailbox lock broke for the last time  (it took so long to get anything fixed that we just gave up complaining ), the mailman slipped our mail under our door to protect it. He didn't really have to do that – everyone in our building was relatively nice, and I wasn't afraid that they would steal one of my notices of mounting debt – but the extra effort was appreciated. Giving him a gift around the holidays also helped too (cookies or candy, but never fruitcake!). It was always a tradition of my mom's to give our mailperson a Christmas card or at least a small gift, and I tried to keep that up in NYC.
Kindness and generosity paid off with my packages, but getting the attention of those in charge of the apartment itself was a different story. Next up: Supers who don't fix your plumbing and a management company that thinks your ratty building is just one in a million.
---
Michelle Castillo moved to Manhattan last fall to attend Columbia University's Journalism School. She has covered arts and entertainment for The Los Angeles Times, Billboard.com, Hollywood Reporter, MSNBC.com and EW.com, and she currently writes about geek culture for Time.com's Techland. Rental Rookie is a twice-monthly column chronicling her first year as a renter in NYC.
See all Rental Rookie columns here. 
Brick Underground articles occasionally include the expertise of, or information about, advertising partners when relevant to the story. We will never promote an advertiser's product without making the relationship clear to our readers.