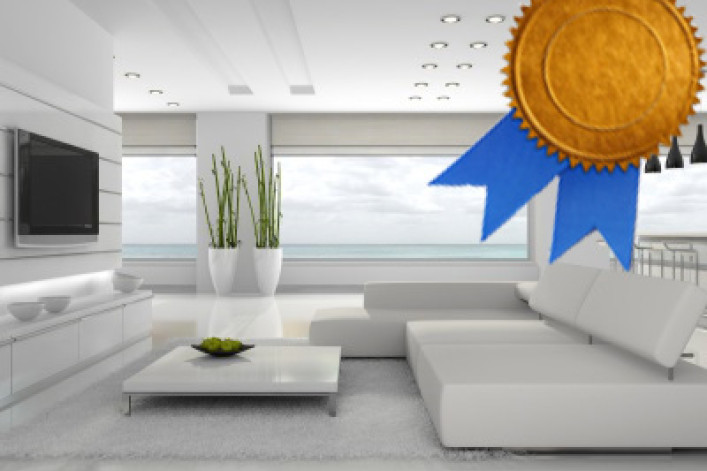 When we asked him how to avoid being bamboozled by a rendering, new development marketer Stephen Kliegerman seemed to pull no punches.
So it occurred to us that having consulted on around 150 condo projects as Halstead Property's executive director of development, Kliegerman knows where the design skeletons are buried and can see past the distractions of Carrera marble and bamboo floors to what really matters.
Here's his take on The Perfect Condo. (Spoiler alert: Rainhead showerheads and low-riding electrical outlets need not apply.)
Bathroom
No rain-head style showerheads ("They dump water down on you and you can't get out of the way.")
Dual temperature and water pressure control valves that allow you to preset the water pressure on one control and the temperature on another.
Good medicine cabinet, such as a six-foot high glass medicine cabinet that also functions as full length mirror.
Separate shower and tub, but dual sinks are overrated
Heating & cooling
A four-pipe heating and cooling system (central air) that allows the individual apartment owner to control temperature 365-days a year. (This means you can use the a/c on a 90 degree March day, then put the heat back on when the temperature drops down to 45 two days later.)
Radiant heating in all floors, or at least the bathroom. ("It's the most efficient way to heat an apartment.")
Floors
Durable.  If it's bamboo, make sure it's the harder variety and highly rated.
No floor saddles interrupting the flow of the floor from room to room.
Kitchen
Outside-vented hood over stove, and good overall ventilation in kitchen.
Separate cooktop and range ("a cleaner aesthetic").  Cooktop should be gas ("gas is still the best for sautéing and controlling heat").  Dual oven with convection should be electric to provide a constant temperature ideal for baking.
Nice stone or tile backsplashes (not sheetrock, which can get wet and mildewed) stretching up to the cabinetry. Grout should be "tight," ie narrow lines so the  grout doesn't get mildewed. 
Undermounted sink (sinks with lips on top of counter are less attractive and catch crumbs).
A great refrigerator/freezer with water and icemaker.  
A microwave drawer to hide the microwave.
Garbage disposal, though they take up a lot of room underneath the sink.
Modern European-laquered cabinetry that pulls open (no hardware) and reaches all the way to the ceiling for maximum storage.  Self-closing drawers.
Undercabinet lighting.
An island if it's functional—like one that contains a sink or stove, or can be used as a breakfast bar or seating area.
Open kitchen
Preference for granite countertops though a lot of Caesarstone and quartz products are more durable.

Miscellaneous
Washer-dryer: Outside-vented dryer works faster and doesn't recirculate hot air into the apartment. A gas dryer is more efficient and faster.  
Closets that work: A walk-in closet in the master bedroom and generous closet space in each bedroom, plus a nice sized coat closet in the entry foyer as well as a linen closet. 
Doors that swing open without banging into other doors.
Doorstops.
Central vacuum system
Cable and electric outlets in the right place.  For example, in the bedroom, it's usually obvious which wall the bed goes along, and the cable and electric should not only be in the opposite wall, but high enough so that you don't need to open up the wall to wire a wall-mounted flat screen television.
If there's outdoor space it shouldn't be situated off of a bedroom, because when you're entertaining don't want people walking through a bedroom
Good light and air especially in the living room, then the den and master bedroom.
Minimum ceiling height of 9 feet, preference of 10 feet.

Amenities: Only the important ones and not overdone, to keep common charges down
A functional gym but not so elaborate that it replaces a gym (most owners keep their gym memberships if they're serious about working out) because it costs a lot to maintain the equipment.
A large flexible amenity space that residents can decide how to use (eg playroom, media room, party room) after the building is sold out.  ("As marketers, we all have an opinion and do studies to predict how people will want to use the space, but the bottom line is you never know completely until you start selling.") In a large building, the area should be at least 14 x 20 feet; basement location is fine.
A common roof deck;  outdoor kitchen, bathroom, wetbar, nice lounge chairs, and outdoor shower preferred.
On-site parking is a huge plus.
Individual storage for each apartment at least 4' x 5' wide and 7' high.  
Bike storage.
Lobby attended by doorman or virtual doorman.
Building Link computerized communication system.
Related stories:
Actual ceilings are lower than they may appear (How to analyze a rendering)
Defensive buying: 7 questions to ask before it's too late
Fed up condo owners flock to Midtown war room
Brick Underground articles occasionally include the expertise of, or information about, advertising partners when relevant to the story. We will never promote an advertiser's product without making the relationship clear to our readers.