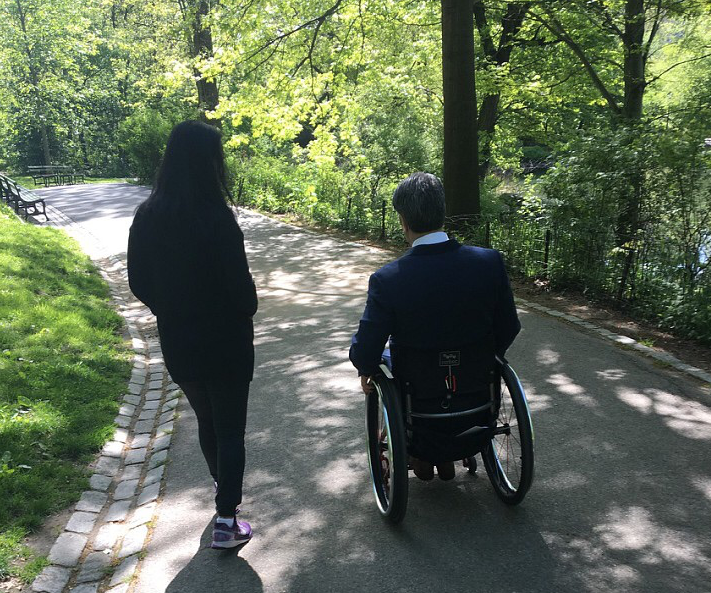 Living in NYC with a disability
Jhoanna Robledo speaks to Victor Calise, commissioner in the Mayor's Office for People with Disabilities, about how people with disabilities navigate New York City.
What's it like to navigate New York City in a wheelchair? And what are the challenges for New Yorkers living with disabilities?
Brick Underground's podcast host Jhoanna Robledo asked these questions in an interview with Victor Calise, New York's Commissioner of the Mayor's Office for People with Disabilities.  It turned out to be the last episode Jhoanna recorded before she passed away in July, and we're releasing it now.
Commissioner Calise, who has served in the Bloomberg and the de Blasio administrations, has used a wheelchair to get around since he was hurt in a mountain bike accident in 1996. He sees transportation as one of the biggest challenges for New Yorkers with disabilities.
He declined to comment on two class action lawsuits filed in April, alleging that the Metropolitan Transit Authority discriminates against people with disabilities because of a widespread shortage of elevators in the subway system, but he acknowledged, "Transportation does have its issues. We're an older system and it doesn't function the way it should for people with disabilities."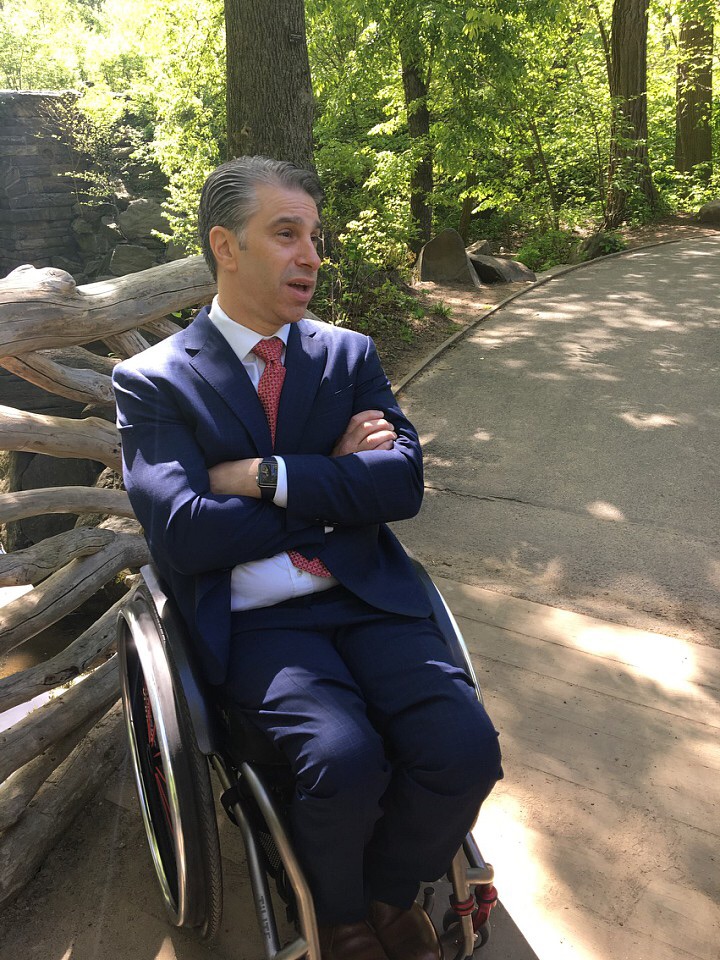 As Commissioner, Calise sets disability policy, advises the mayor and city agencies, and works as an advocate to increase access to all areas of New York City life.
He says tackling inequality in the workplace and addressing a lack of knowledge about people with disabilities top his list of priorities. Old storefronts and the overall age of New York City's physical structures make accessibility difficult here, but he says, "My goal is to make New York the most accessible city in the world."
The commissioner lives on the Upper West Side and says there's nowhere in the city he cannot go, but sometimes, he acknowledges, has to use creative means to get there.
"We have our challenges," he says, when it comes to making New York more navigable for everyone.
Calise points out that at some point in most people's lives they'll either become disabled—temporarily or permanently—or know someone who is.
"It's not until then," he says, "that you realize how important accessibility is." 
Brick Underground articles occasionally include the expertise of, or information about, advertising partners when relevant to the story. We will never promote an advertiser's product without making the relationship clear to our readers.
Subscribe to the podcast via the links above and please do leave us a rating or review. We'd love to hear your feedback on this or any of our other episodes. Send us AN EMAIL, sign up for our newsletter and follow us on SOCIAL MEDIA.
MORE FROM THE PODCAST 
...
Tenant attorney Sam Himmelstein, a partner at Himmelstein McConnell Gribben & Joseph and a long time sponsor of Brick Underground sits down for the first live Brick Underground Office Hours to answer your renter's rights questions.
In a conversation on the Brick Underground podcast with Jonathan Miller, president and CEO of appraisal firm Miller Samuel, he says racial bias in appraisals is probably as prevalent in NYC as it is in rest of the U.S. and blames the lack of diversity in the appraisal business. 
In this episode of the podcast, appraiser Jonathan Miller, president and CEO of Miller Samuel, joins host Emily Myers to discuss what buyers, sellers, and renters in New York City can take away from the real estate data as we head into 2023.