Design + Architecture
Here's how long it takes to renovate a Brooklyn brownstone—and build a two-story addition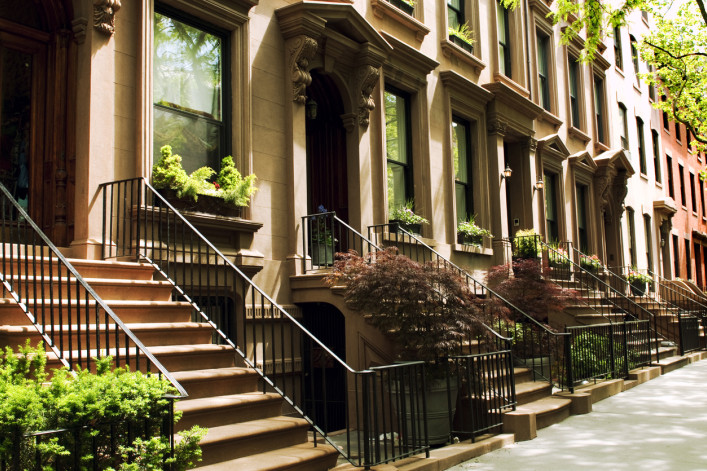 For many New York City brownstone owners, investing in a major renovation—one that overhauls layouts, plumbing, electric, fittings and fixtures to create a home more conducive to modern urban living—is only part of the dream.  The other part is generously expanding the space itself by building a one-, two- or even three-story addition.
"If you are fortunate enough to have a brownstone and the means to renovate it, you have a really great opportunity to open up at the back, because if the circumstances are right you can have a very nice and fun indoor-outdoor space," says Anna Karp, the co-founder of Bolster, a New York City company that empowers homeowners to control their major renovation by delivering industry-leading expertise and a radically transparent online platform.
"As they evaluate their options as part of a gut renovation," she says, "many of our homeowners find that a two-story addition is a better value than a one or three-story project. They wind up with twice the space of a single level project, without the extra structural costs typically involved in shoring up a three-story addition where they might have had to dig down to the cellar level, or remove the entire rear façade."
Of course, a renovation project this transformative doesn't happen overnight.
"On average at Bolster, the gut renovation of a brownstone that also includes a two-story brownstone addition—and does not involve any major landmarks or permitting issues—takes about 6 months from our initial meeting with a homeowner for construction work to start, and another 7 to 9 months to complete," says Anna.
"Bolster's design-build process emphasizes planning and due diligence before breaking ground and eliminates most of the inefficiencies and surprises from major projects like these. We provide you with the right team of experts from the get-go: contractor, architect, and engineer," explains Anna.
By contrast, the same project using the traditional design-bid-build renovation model—where an owner first hires an architect and engineer to design and then bids the project out to contractors—can take 8 to 9 months to break ground and another 9 to 12 months to complete.
Here's a step by step timeline of a Bolster two-story addition and interior renovation project:
Step 1: Sketches, Scope & Pre-Estimate [3 Weeks]
Within two days of receiving your request, Bolster hand-picks your home renovation team based on the type of property, neighborhood and your design style. A Bolster architect, contractor and specialist will meet with you onsite to assess your space, learn more about your motivation for renovating and understand your vision thus far.
"It's very important to note that rather than taking a 'starchitect' approach, our architects see themselves as a conduit for owners' vision to become reality—they're facilitating the creation of a vision, not handing it down off a mountaintop," says Anna. "And of course, if the vision is high design, we facilitate that too."
If you decide to move forward, your Bolster architect will produce three sets of layouts for a flat fee of $3,000 for brownstones. Layouts, or sketches, show different schematic options for the home.
"Under the traditional design-bid-build renovation model, you typically either get a very rough sketch from the architect that isn't very developed and doesn't show their best ideas, because they don't want to give them away for free, or you sign a long-term contract that may involve paying them 20 percent or more of your total construction costs," says Anna. 
"By contrast," explains Anna, "the $3,000 fee charged by Bolster for layouts makes it easy for homeowners to assess the chemistry of their relationship with the Bolster architect, as well as the quality of their work, without making a large upfront investment." 
"The first layout Bolster provides is based on what you have said that you want," says Anna.  "The second is what the architect recommends based on your budget and their professional expertise including their knowledge of building codes, known as Code. The third shows what you can do if you won the lottery and could do absolutely everything."
That third layout is important because you need to know what you're not doing and why. 
"Most people end up taking a little bit from that one and incorporating it into their final schematic, and that's what we price with the pre-estimate," says Anna. "At the end of the $3,000 process, homeowners know what they want to build, how much it costs, and how long it will take."
For a current client planning to renovate their 2,800 square foot Clinton Hill brownstone, the first layout showed a major renovation that would not expand the footprint, with a pre-estimate of $800,000 all-in (e.g. compliance, design and build cost); the second included a two-story addition with a $1,000,000 pre-estimate; and the third "win the lottery" version showed a three-story addition pre-estimated to come in at $1,400,000+. (Click here to view layouts.) 
The client chose the second version, which "opens up the back wall at both the parlor and garden levels. The design allows for high ceilings throughout and gives them a much better master suite," says Bolster Architect and brownstone renovation expert Paul Capece. Although the existing brownstone is spacious, "the way it is laid out is not efficient. We came up with the best possible layout for the space," including moving the kitchen from the third floor to the parlor level, and making it spacious enough to fit a dining room table that was a family heirloom. The garden level will be a family room space.
A mood board is also included with the first set of sketches. The mood board is a first pass at interiors, which helps clients visualize in 3D what the plans cannot convey in 2D.  
"At the end of this process, homeowners have a very accurate idea of the range of cost for their renovation, and they can confidently make a decision for their home" says Anna.
Step 2:  Design Development & DOB Estimate [Approximately 2-3 Months]
Only after you approve your layout and pre-estimate, you'll sign a design & build contract.
"Unlike architects in the traditional design-bid-build renovation model, Bolster design fees are about 15% of the value of the construction," says Anna. "The design contract is totally transparent and puts you in full control over how many hours your architect will spend and on what. For example, if you are very decisive, you can say that you don't want your architect to spend 10-15 hours showing you around kitchen showrooms—all you need is a list and you'll do it yourself."
Under the design & build contract, the first thing your architect will do is a survey of the property so that the next phase of layouts is based on the real dimensions of the property. 
"Structural work might be required for design or compliance reasons, so we make engineers and contractors available now to figure out exactly what the challenges may be and how to solve them," says Anna.
"It's important that the up-front planning work is done by qualified architects and engineers with deep experience in the type of project and property," agrees Bolster contractor Chris Amplo.
Next, a set of plans is pulled together and sent to the Department of Buildings (read more on the approvals/compliance process below).
Then you'll start working on specifications, choosing fixtures, appliances, millwork and countertops. "That's the fun part," says Anna. This stage of the process can move as quickly or as slowly as you like, and we usually see lag times where families take more time to think about design."
After the Department of Buildings approves your project, "Bolster does another cost-check to make sure the design is still within budget, and this is when you get a second estimate.  Any large cost increases from here are the result of scope changes—meaning you change your mind about custom built-ins, for instance, or decide to expand that bathroom after all."
Step 3: Compliance, Construction Documentation, and Final Estimate [1 Week-1 Year]
If your brownstone is in a landmarked district, like approximately 60% of Brooklyn brownstones, you'll need your project approved by the Landmarks Preservation Commission in addition to the Department of Buildings.
Department of Buildings  [1-8 weeks for routine approval, 4-8 months for Certificate of Occupancy change]
The DOB approval process is fairly routine, as long as you're not changing the Certificate of Occupancy and your renovation complies with zoning requirements. "In that case," says Bolster architect Paul, "approval typically takes about 1 week if your architect chooses to self-certify the project, and 6-8 weeks if the DOB is asked to certify."
Changing the Certificate of Occupancy—for example, converting a two-family brownstone into a one-family—could add 4-8 months. 
Additions can also run afoul of zoning requirements: "Someone might try to build a street wall that's too high, or propose an addition that's too big or deep, or covers more than the allowable percentage of the lot," says Paul. "A lot of times you might comply with height and floor area coverage but not lot coverage."
There's no process to resolve zoning issues; instead your plans will need to be redesigned to bring them into compliance.
Landmarks [6-10 Weeks for Staff Level review; 6-12 months if a full hearing is required]
"If your brownstone is landmarked, approvals can take as little as 6-10 weeks if you are lucky enough to receive a routine "staff level" review, or as long as 6-12 months if Landmarks decides your project needs to go through a hearings process," says Paul. (Both of those time frames include the 2-4 weeks it will take for Landmarks to tell you whether they require staff level review or full blown hearings.)
"If your addition is visible from the street or an alley, you will almost always have to go to hearings, which include a presentation to the local community board," says Paul.  "Approval by the community board will depend on whatever the hot button issues in the neighborhood are.  There are very different types of community resistance in Tribeca versus Park Slope versus the Bronx."
Once the project has all the approvals and you have made all of your materials selections, your Bolster architect will produce the final Construction Documentation Set.
"This will include all the plans and all the specifications for the project," says Paul. "It's everything required for the contractor to build the project—plans, sections, details, elevations, all the product specifications and any specifications regarding installing products and appliances."
Bolster then produces a final iteration of the estimate which evolves during this phase into a fixed price contract.
"Families are encouraged to review and modify their final plans and its cost at this stage, which is important because it's the last pass at figuring out exactly what will be built and why—on pen and paper," says Anna. "At this point there's a minimum level of unknowns with regards to compliance and design--in fact, as minimum as possible—and families and our team are able to press the green button with certainty."
Step 4:  Construction [7-9 Months]
After all details are finalized and approvals are secured, construction can start within a couple of weeks. If you're working with Bolster, and bearing in mind that every project is unique, you can expect your project to take another 7-9 months to complete, versus 9-12 months under the traditional design-bid-build model.
"With the extreme level of transparency in the pricing and due diligence conducted in the planning stage of every Bolster project, there remain very few issues that have the potential to cause delays," says Chris, who has renovated dozens of Brooklyn brownstones.
"Under a typical design-bid-build process, you tend to have more surprises all along the way during the construction phase, which creates pauses." says Chris. "Architects and contractors sometimes overpromise and underestimate the cost because they want the project to move forward, while other architects only pay attention to their part of the job—the cost of the addition only—and don't plan for how the addition will affect the rest of the building.  I've seen plenty of timelines get messed up because they have to go back and amend drawings and change things."
Meanwhile, he says, clients may not have the money to do the extra work, and incur extra carrying costs caused by delays.
By contrast, he says, "working with Bolster, we do so much heavy lifting up front, it's practically impossible to mess up the timeline."
Project closing
It takes about 2-4 weeks to obtain DOB signoffs if the Certificate of Occupancy is not being changed, says Paul. If it is, expect an addition 2-3 months for signoffs and an inspection.    
You will also have punch list, which is comprised of outstanding renovation details to be completed, and certain punch list items may evolve over time.
"A house is alive, meaning things will settle and you might get cracks," says Anna. "All Bolster projects come with a one-year warranty to resolve any post-construction warranty issues that may arise." 
---
Every year, New Yorkers waste over $700M following the usual renovation process.
Bolster has uncovered the drivers behind these inefficiencies and has developed a proprietary solution that applies to every home renovation project. Bolster is the first company to bring radical transparency, analytics, and accountability to the entire process. They promise that every project is thoughtfully designed and beautifully delivered for a fair price, on time, and on budget. To start your major home renovation project, visit bolster.us 
Brick Underground articles occasionally include the expertise of, or information about, advertising partners when relevant to the story. We will never promote an advertiser's product without making the relationship clear to our readers.