Boards & Buildings
>
Boards
[ SPONSORED ]
Hochul approves a replacement for the J-51 tax abatement that could help condo and co-op buildings fund upgrades
Hochul signed a trio of bills meant to spur affordable housing development and preservation
The new J-51 tax abatement would cover construction completed mid-2022 through mid-2026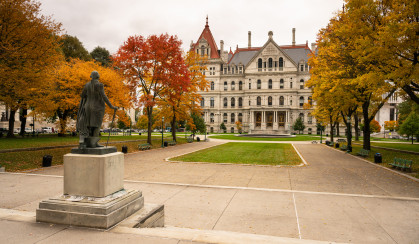 Governor Kathy Hochul signed a slate of bills Monday that could help fund repairs for co-op and condo buildings and boost affordable housing development after the collapse of her previous housing plan during state budget negotiations earlier this year.
One of the bills will replace the J-51 tax abatement program, which trimmed tax bills for developers that renovated multifamily buildings before it expired last year. The new abatement, dubbed the Affordable Housing Rehabilitation Program, targets affordable rentals and lower-value cooperatives and condo buildings. 
If approved by the New York City Council, the tax abatement would apply to construction completed between June 29th, 2022 and June 30th, 2026. 
How the new abatement would work
The new abatement comes with a handful of changes. While the previous J-51 program authorized tax exemptions for 14 or 34 years on construction costs and increases in a building's assessed value—a percentage of a property's market value—the new abatement is capped at 20 years. 
It also has a more narrow set of eligible properties: only condo and co-op buildings with an assessed value of less than $45,000 per apartment would qualify, unless they are a form of affordable housing known as Mitchell-Lama buildings. The new abatement is intended to help middle class homeowners keep up with rising building maintenance costs, said Democratic State Senator Toby Ann Stavisky, who co-sponsored the bill. 
"This legislation will allow more middle class co-ops and condos to make capital improvement upgrades ranging from heating systems and plumbing, to windows, elevators and more," Stavisky said in a statement. "With the cost of living on the rise, it is critical that we make sure our working middle class families can live in affordable housing."
The new J-51 program should help owners "navigate the high construction costs in New York," said Brian Sampson, the president of the Empire State Chapter of the construction trade group Associated Builders & Contractors. And it will "definitely [be] beneficial to those who qualify," said Mary Ann Rothman, the secretary for the Council of New York Cooperatives & Condominiums.
"Any way to defray costs of capital improvements is helpful, and the J-51 program has been doing that for decades," Rothman said.
On the rental side, only rental properties that either receive "substantial government assistance," are part of the Mitchell-Lama program, or have mostly affordable units could benefit from the new J-51 program. In exchange for an abatement of up to 70 percent of the cost of the renovation, capped at 8.3 percent each year, a rental building's units must be rent-stabilized for at least 15 years, according to the bill. 
Boosting affordable housing
Meanwhile, Hochul signed two other bills to help boost affordable housing development. One gives NYC more flexibility in providing loans for affordable housing construction, maintenance, and energy efficiency upgrades, while the other would increase the availability of municipal housing bonds to fund affordable development and preservation.
The trio of bills represent a step towards creating more affordable housing, though it's far from Hochul's ambitious plans at the start of the year. Hochul initially proposed building 800,000 new homes over the next decade through housing targets in communities including NYC. But the plan was scrapped after holding up budget talks for weeks.