Boards & Buildings
>
Boards
[ SPONSORED ]
Switching to hybrid annual meetings? Here are three steps to avoid common pitfalls
Do a test run of the annual meeting to ensure that your audio and visual equipment works correctly
Decide in advance how online participants will be able to ask questions during the meeting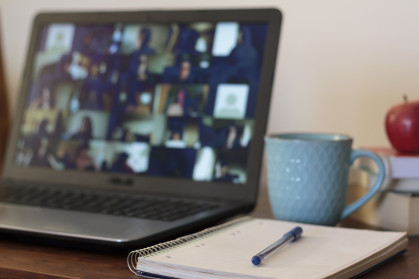 During the pandemic, your condo or co-op board likely held its annual meeting online to keep residents informed (at a safe distance). Some boards have stuck with that model, switched back to meeting in person, or taken a middle approach through hybrid annual meetings.
It's rarer for boards to hold hybrid annual meetings instead of gathering completely online or in-person, and they require a little extra attention to run smoothly, says William McCracken, a partner at the law firm Moritt Hock & Hamroff. 
Even though state law permits online annual meetings, condo and co-op boards still need to check their bylaws to make sure their own rules approve of the practice, McCracken says. A board's bylaws could include a rule that an annual meeting needs to take place within a certain county or borough, so boards may want to amend their bylaws just to be safe. 
"Without looking at a specific bylaws provision, if it just says that the meeting has to be held within the borough of Manhattan, and you're having a hybrid meeting…I think that is broad enough that it could include an electronic or a hybrid element," McCracken says. "But I would always tell a client [to] amend the bylaws so that it's clear and there's no question."
Hybrid annual meetings also have logistical pitfalls. You have to make sure you have the internet connection and technology to broadcast the live portion of the meeting, determine how virtual attendees will be able to ask questions, and bear the cost of renting physical space. 
But a handful of boards have found that holding a hybrid annual meeting can create the community of an in-person meeting while giving residents a convenient option to join online, says Tina Larsson, co-founder of The Folson Group, a co-op and condo consultancy. 
"Having in-person meetings is a community building activity," Larsson says. "As opposed to just having Zoom, by having a hybrid [meeting] you can have those who choose to be there in person and then those who are somewhere else [can also join]. It also includes people who have a hard time getting to a meeting."
Read on for a list of three things to do before holding a hybrid annual meeting. 
Get comfortable with the tech 
The pandemic not only introduced boards to virtual annual meetings, it also introduced them to a whole host of technological annoyances. That's why it's crucial to make sure your board has the appropriate space and technology to facilitate its annual meeting.
"You must have stable internet," Will Kwan, a managing partner at third-party board election manager EZ Election Solutions. "If buildings don't have the location with internet stability, they can't really do the [online] video. You also have to have the acoustics, the right room, and the right equipment for that room."
If your board uses a space within its building to hold annual meetings, you'll want to ensure it has a strong enough wifi connection so that you can broadcast the meeting to hybrid participants. That will usually require having a computer with a built-in camera or external recording device, plus microphones so that virtual attendees can hear the discussion that happens during the meeting.
Some boards will rent a nearby community space—such as the basement of a temple, church, or mosque—to hold their annual meeting. These spaces may come with their own audio-visual equipment that can help broadcast a meeting, Larsson says.
"There are schools that have auditoriums, and those types of spaces are very often set up for hybrid meetings," Larsson says. "So the person who rents out the space, there's normally someone there who might be able to hook up whoever brings their laptop to their system."
Questions, comments, and answers
Your board should decide how online attendees can participate in the annual meeting ahead of time to avoid a chaotic start. 
Each meeting platform will have different options, so boards can choose if they want to keep participants muted throughout the presentations and unmute participants with questions during the question and answer session. Or, your board could take questions through a meeting's chat function and have a board member read them out in the in-person annual meeting. 
"You know how when people ask a question, they normally have a 10 minute statement before there's a question? You can eliminate all of that by taking questions in the Q&A section or in the chat section," Larsson says.
Your board may opt for a completely online annual meeting to keep chatter to a minimum and the cost of renting space down, but having both virtual and in-person participation options can make an annual meeting more accessible and help form your building's community, Larsson says.
Do a test run 
Whether you're having a hybrid annual meeting for the first time or the fourth, do a test run. It's the best way to confirm that your technology works ahead of the big day. 
Test runs also allow you to ask questions of the person you've rented the space from if you're hosting a meeting outside of your building.
"You have to do a test run, because you don't want to find out on the day of the event that this is not working, the internet's not working, the speaker is not clear enough, and the room is full of people," Kwan says. "You need to evaluate the location."