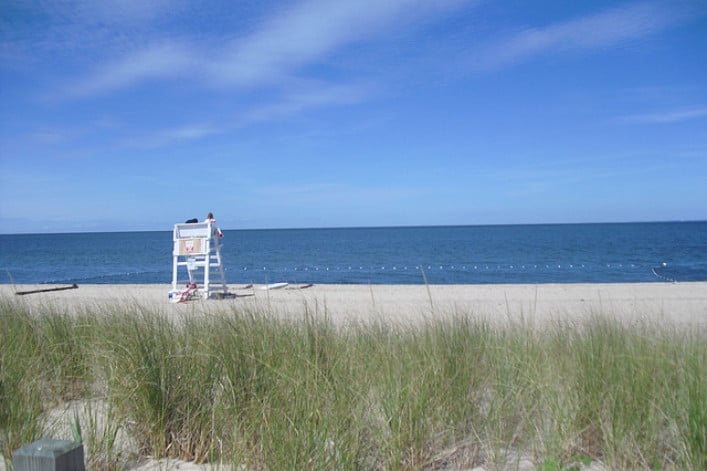 If the North and South Forks of Long Island were twins, the Hamptons (aka the South Fork) with its celebrity denizens, miles of sandy ocean beaches, expensive boutiques, trendy restaurants and clubs and unaffordable real estate would be the flamboyant, popular one, while the North Fork with its disparate bayfronts, sleepy towns and far less flashy visitors would be the shyer, more retiring sib. But with its growing number of vineyards and wineries, charming farm stand culture, numerous noteworthy restaurants and relatively — compared to the Hamptons — affordable real estate, the quiet NoFo, as it's been affectionately called (though some may bristle at the shorthand), is quickly becoming a destination in its own right.
The basics: For those unfamiliar with the geography of the area, the land at the eastern end of Long Island divides at the town of Riverhead into a pitchfork-like formation. The lower fork, from Westhampton to Montauk, is home to the Hamptons. The upper fork (aka North Fork) includes all of the villages and hamlets located within the towns of Riverhead (Aquebogue and Jamesport) and Southold (Laurel, Mattituck, New Suffolk, Cutchogue, Peconic, Southold, Greenport, East Marion and Orient).
Most of these villages and hamlets lie along route 25, the main drag that runs through the North Fork. Since the entire North Fork is only about 30 miles from end to end and eight miles across at its widest point, it's pretty easy to cover a lot of the area in a single weekend--not least because Hamptons-style summer traffic simply does not exist here (yet).
How to get there: The North Fork is 84 to 106 miles (depending on where you're heading) east of midtown Manhattan by car. The Hampton Jitney runs daily bus service from Manhattan to the North Fork for $21/each way. The Long Island Rail Road offers daily service between Penn Station, Atlantic Terminal and Jamaica and Mattituck, Southold and Greenport for $20.50 to $34 each way.
EAT, DRINK, DO
Visit a town or two: Most of the North Fork towns are short strips along route 25 that service the local population with schools, churches, delis, pizzerias and the occasional cute shop. Three villages in particular offer a bit more in the way of sightseeing: Mattituck's main street, Love Lane, is only a block long but has the gourmet shops (Love Lane Market, The Village Cheese Shop), eateries (Love Lane Kitchen) and boutiques (Mint clothing store,  Love Lane Toys) you dream of seeing in a picturesque seaside town.
The Village of Southold is home to the First Presbyterian Church, the oldest English church society in the state of New York, as well as a number of historic buildings and the Horton Point Lighthouse on the Sound side, a landmark since 1857. And Greenport, the North Fork's main port town, is bustling with an active waterfront scene. It's where you'll find your fresh clams and lobster, a vibrant food & drink scene  (including Noah's, The Frisky Oyster, American Beech, and hip basement speakeasy Brix & Rye), a vintage working carousel and more and more destination-type shops (like Calypso, Lido, One Love Beach).
Hit the beach: Like the Hamptons, the North Fork is almost entirely surrounded by water, but instead of the wide open Atlantic Ocean, you get Peconic and Gardiner Bays to its south and the Long Island Sound to its north. The sand may be pebblier than powder and the beaches less expansive, but the waters tend to be calmer and warmer than the ocean, making it a prime destination for beachgoers averse to rip tides and undertows endemic to the open water. Since the bay is calmer than the Atlantic, it's great for swimming, boating, stand up paddle boarding, fishing.
The sound side has a rockier shoreline, but some beautiful open water views. You need a permit — available from the Southold Town Clerk or one of the parking attendants at the beach for $25/day or $150/season — to park at a town beach. Some especially good spots to check out: New Suffolk Beach on Jackson Street in New Suffolk faces Robin's Island and has a lifeguard on duty from 11am-5pm. Nassau Point Beach in Cutchogue faces Little Peconic Bay and has picnic tables, a play ground, BBQ grills and lifeguards.
And for a more ocean beach experience on the sound, McCabe's Town Park on North Sea Road in Southold has few amenities but a long walkout beach and stunning views. The stunning local state park, Orient State Park, is at the end of route 25 and overlooks Gardiner's Bay with 45,000 feet of beach (plus playgrounds, picnic tables, nature trails and more). Though shorter, the drive through the park is reminiscent of the Florida Keys, a thin strip of land with water views on both sides. Parking costs $10/day.  
Visit a vineyard: Since the first vineyard was planted in Cutchogue in 1973, the North Fork has served as the center of Long Island wine country. Today, of the 48 wineries that make up the Long Island Wine Council, 44 operate tasting rooms on the North Fork—which means there are plenty of places where you can drop in, taste a flight and enjoy the vineyard views (and often some live music, too).
Bedell Cellars is family-owned and sustainably farmed. Their tasting room is located in an almost 100-year-old barn and hosts musical event throughout the summer. Owned by two former NYC-based restaurateurs (Barbara Shinn and David Page of Home and Drover's Tap Room), Shinn Estates Vineyards offers self-guided tours as well as a vineyard walk with Barbara and a winery and barrel cellar tour with David.
Farmer for a day: Farming is another major North Fork industry. Many of the farms supply NYC outdoor markets (and Fresh Direct) with their produce. A lot of them also welcome the public: Hit Wickham's Fruit Farm for pick your own cherries, blueberries, peaches and apples, Lavender by the Bay to check out one of the U.S.'s largest lavender farms (20 varieties planted on 17 acres of farmland) and Catapano Dairy Farm for goat milk cheese and skin care products. Sang Lee Farms, a family owned and operated organic vegetable farm, offers weekly 90-minute farm tours (including tastings!) throughout the summer.
Grab a bite:  A day at the beach followed by a few glasses of wine is bound to make a person hungry. For fresh fish and lobster, head to the Greenport waterfront where Claudio's operates three restaurants: Its namesake (for lobster, seafood and steak), Claudio's Clam Bar (for burgers, chowder and raw bar) and Crabby Jerry's (lobster in the rough).
For finer dining, check out Greenport's trendy upscale food scene (including Noah's, American Beech and The Frisky Oyster) as well as North Fork Table and Inn, Zagat's top rated restaurant on Long Island (PS, its sister mobile food truck serves local and seasonal fare from the Inn's parking lot—reservation-free!). And if you're in the mood for pizza, head to Grana Trattoria for artisanal pies.
STAY THE NIGHT
There's pretty much no way to stay cheaply on the East End of Long Island during the summer season when most hotels, motels, inns and B&Bs require three-night stays while charging peak season prices. If you do plan to stay awhile, AirBnB and VRBO are both popular options for home stays. (Ed's update 1/23/16: Due to recent changes in local ordinances, summer booking usually requires a two-week minimum stay. ) A search of Airbnb for a week in early August ranged from $950 for a one bedroom cottage that sleeps four in Mattituck to $7,000 for a five-bedroom modern home in Peconic that sleeps 12.  
For a more full-service experience, check out The Greenporter, a souped-up motel with chic (Frette sheets!) but spare décor ($199 to $399/night). And Harborfront Inn at Greenport offers rooms and suits (plus a pool and fitness center) overlooking the Greenport Harbor and adjacent Mitchell Park—a grassy area where you can wile away the hours watching the boats sail by ($309 to $349/night).  Nearby at simlar-to-higher rates, American Beech rents a handful of handsomely appointed rooms above its excellent restaurant. 
Related:
Is the North Fork still the affordable anti-Hampton's hot spot?
On this steamy NYC day, the North Fork is calling
How to hunt for a vacation home outside the city
Looking to buy a country home while still renting in the city? Read this first
Brick Underground articles occasionally include the expertise of, or information about, advertising partners when relevant to the story. We will never promote an advertiser's product without making the relationship clear to our readers.