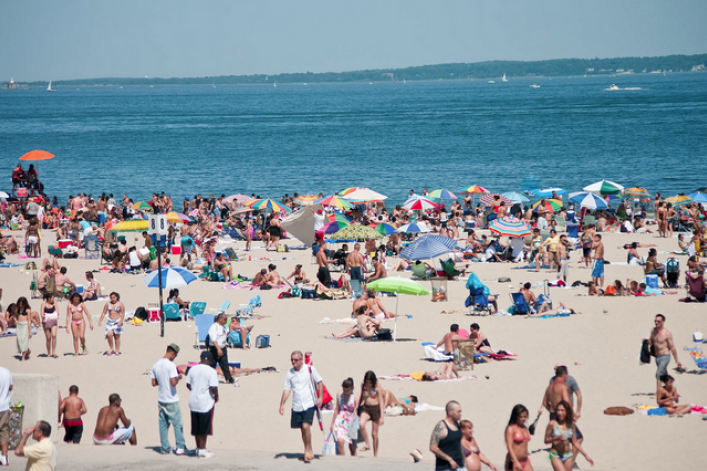 As the old saying goes, and if no one has yet to utter it, we're going for it: "Water, water everywhere, but nobody's got a car to get to it." At least that's how it feels given New York's beach situation: We're spoiled for choices, but in order to actually get to any of them, you've first got to endure an interminable subway or train ride, usually with a bunch of clunky (and on the way back, wet and sandy) bags in tow. 
Well, we can fix at least one of those problems. In the name of a more streamlined experience, here are eight beach essentials both lightweight and portable enough to take with you on the train:
Portabrella portable beach umbrella, $39.95
First things first: nobody wants to be the jerk on the train accidentally jabbing people with their unwieldy beach umbrella. But you also don't want to be stuck in glaring midday sun with no source of shade. Hence the genius of the Portabrella, a full-size, sun-block beach umbrella that folds up into a 24-inch, six-pound bundle, complete with carrying case. Having a pun in the name doesn't hurt, either.
MOCREO outdoor waterproof speakers, $39.99
If you don't want to get stuck listening to the heavy metal that your beach neighbors are blasting—and want a stereo option more advanced than the old iPhone-in-a-plastic-cup trick—spring for a set of waterproof speakers. This one's easy to carry (it weighs less than a pound and comes with a wrist strap), fully waterproof, Bluetooth-enabled, and has a battery that lasts up to eight hours.
3-in-1 Portable Beach Mat with Cooler and Storage Compartments, $23.50
As a rule, we don't really condone the use of beach chairs for a run-of-the-mill day trip to the beach. They're cumbersome, and why are you even at the beach, anyway, if not to splay on the sand? If you insist, you might as well make it a piece of portable furniture that multitasks. This one folds up into a padded tote that's got storage compartments for sunscreen, cell phonesand the like and insulated cooler space.
Wine2Go foldable wine bottle, $11.99
Everyone likes to drink wine on the beach (provided you're going to one of the ones where it's legal to do so), but glass bottles weigh down a beach bag fast. A friend of ours swears by these reusable, foldable containers—which hold an entire bottle of wine—and well, consider us converts.
One more important beverage storage option: the Freaker. These tiny little knit cozies come in a truly endless array of designs, and stretch to fit the size of most bottle, jar, can, or canteen sizes. Handy for keeping your water bottle cool or covering up the label of something more illicit, depending on the kind of beach day you're having.
Microfiber travel towel, $23.95
Insofar as a towel can be high-tech, we'd say this one qualifies: It's ultra-lightweight, fast-drying, and anti-bacterial. Maybe even more important for our purposes, it comes with its own mesh carrier, so you won't find yourself at the end of the day trying to cram a wet, sandy towel into your tote with the rest of your beach belongings.
Saltwater canvas mesh Whale Bag, $35.97
Yes, you've probably got a closet full of unused promotional tote bags at home, but believe us when we say it's worth springing for a beach-specific model. The Whale Bag is machine washable, mesh (and therefore sturdy but lightweight), and has nine different pockets (including a zippered one to shield your cell phone). The company claims it's large enough to hold six towels, too, and while we haven't tested out that specific metric, suffice it to say you can cram a lot of stuff into this thing.
Polar Bear 24 pack soft cooler, $61.99
We've all seen them, those giant groups who have really committed to their day at the Rockaways, complete with beach chairs, some kind of tent, inflatable palm trees (why not?), and several clunky red-and-white-coolers full of snacks and beverages. We're always jealous, sure, but baffled as to how anyone ever gets all that to the beach. To emulate their preparedness but not their cumbersome carrying options, opt for a soft cooler instead, like this heavy duty Polar Bear version, which can apparently keep ice intact for 24 hours in 100-degree heat. (Again, we haven't tested that one out.) The best part: When you can head home at the end of the day, you can fold the whole thing up and stuff it into your tote.
Related: 
Don't have an oceanside vacation home? Pick a beach club and gain a budget-friendly summer getaway
Vacation on a budget: The art of the summer share house
Your everything guide to finding a long-term Hamptons rental this summer
No pool? No problem: 6 places in the city worth diving into this summer
Brick Underground articles occasionally include the expertise of, or information about, advertising partners when relevant to the story. We will never promote an advertiser's product without making the relationship clear to our readers.