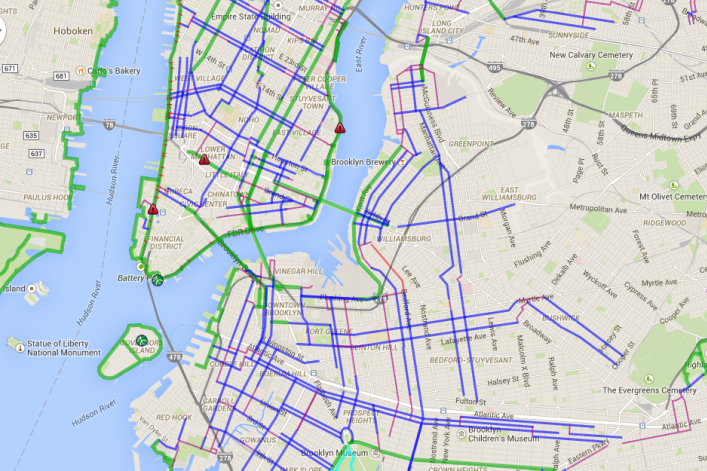 It's never been a better time to be a map geek, or to use maps to get the skinny on new neighborhoods (or dive deeper into your own). Information is power, and you never know, an area's preferred pet names could be the tiebreaker if you're deciding between places to live.
We've previously rounded up maps charting everything from rat complaints to crime rates to flood zones.  Here are 9 more to give you the scoop on a new neighborhood before you start packing up the moving truck:
1. AFFORDABILITY, IN 3D
If you're on the fence about where to move, consultant Constantine Valhouli's three-dimensional map of the city's sale prices per square foot provides an easy shorthand for the spread of housing costs across neighborhoods and boroughs. For newcomers, it's also a quick way to spot pockets of affordability (why hello there, Jersey City) and temper expectations of, say, a bargain basement downtown apartment. 
2. NOISE, PESTS AND MORE NEIGHBORHOOD WOES
Want to get an idea of the kind of problems plaguing a neighborhood? The city has an interactive map of  311 complaints which allows you to search by zip code, address, intersection, community board, or city council district. If your prospective nabe suffers from after-hours construction, noisy neighbors, or broken sidewalks, this way you can find out ahead of time. And for those of you specifically after some peace and quiet, the New Yorker recently had data blog I Quant NY chart the city's noisiest neighborhoods and most common noise complaints.
3. THE INTERACTIVE SUBWAY
The good 'ol MTA subway plan is arguably the most fundamental map around. But why stop there? With an app called Tunnel Vision, you can use your smartphone to hover over the official map, generating visualizations based on New York City data, and showing turnstile activity, incomes, rents, population density, and English-speaking households in a given area—a neat trick whether you're curious about the numbers or trying to get a sense of a new nabe.
Perhaps most importantly, the app is synced to the MTA schedule, and shows the estimated position (and arrival time) of every train in the system. WNYC also has an interactive map of subway stations currently equipped with WiFi, and for something a little more terrifying, scientists just finished an 18-month survey to create a map of the different strains of bacteria you'll find station-by-station. Lovely.
4. ALL THINGS BIKING
Want to make sure your new nabe is bike-friendly? Head over to NYC Bike Maps, which has visuals of bike lanes and paths, as well as suggested bike tours around the city. You can also use the mapping tool on Ride the City to plan out a route based on available bike lanes (and adjusting for your preferences, like speed versus safety), as well as see nearby bike repair shops and bike share docks. 
5. FUTURE CONSTRUCTION, FOR BETTER OR WORSE
Here's one for the buyers hoping to stay put long-term: if you check the "available air rights by parcel" option on Property Shark's map tool, you can see which building owners have sold off their "air rights," which developers buy to gain the right to build taller buildings. This can give you an idea of how much room there is for sky-high development down the road, and ultimately, if your sparkling view of the skyline might end up blocked by a glassy high-rise. (Or, conversely, if the area is poised for tons of development and, thus, offers a potentially smart investment.)
For renters, AddressReport will pull up data on the number of recent demolitions in your area—and therefore, the number of sites that are likely to turn into new construction—as well as scaffolding, which will give you a sense of current construction projects.
6. SNOW PLOW SCHEDULES
It's a sad, slushy necessity this time of year to keep track of your street's snow removal status. Enter PlowNYC, a city tool that lets you see whether your street (or your office's) has been plowed yet, and if it hasn't, its cleanup priority level. If you haven't moved yet, this can also give you an idea of what level of civic services you'll be getting in your new neighborhood.
7. GLOBAL CUISINE OPTIONS
The local food scene can make or break a neighborhood—who wants to live somewhere without a solid grocery store or Chinese delivery option? To dig a little deeper and get a sense of an area's identity (as well as its takeout situation), this cuisine map—created by Steven Melendez, a former member of WNYC's data team—is worth a cruise (though maybe don't do it on an empty stomach).
8. BEST BARS BY SUBWAY STOP
Service journalism at its finest: last year the editors at Thrillist took it upon themselves to map out the best bars off each subway stop in nearly every Brooklyn and Manhattan neighborhood. Useful if you're looking to grab a drink in a new spot, sure, but an area's nightlife is often key to its identity (and noise levels), so you'll want to have at least a baseline understanding of the bar scene. While you're at it, check out DNAinfo's map of green cab stops per neighborhood to see how likely you'll be to hail a ride home after a late night out at your local.
9. ARCHITECTURAL HISTORY, COLOR-CODED
Using data from the Department of City Planning and NYC building footprints, the architects at Morphocode created this color-coded Urban Layers map of Manhattan, which lets you drag a cursor over time periods to see when buildings across the city went up. If you slowly drag it all the way from 1770 to present day, it's like watching a colorful time lapse of the city's architectural history come to life. Also a handy, visual way to get a sense of your neighborhood's history, whether it's a 19th Century brownstone enclave, or a product of mid-century urban planning.
Related: 
7 maps you'll want to consult before you move (and two just for fun)
How safe is your area? Crime rankings in Manhattan, Brooklyn, and Queens
The fragrance files: New York's smelliest neighborhoods, from best to worst
Curious about your townhouse's (maybe sordid) history? Call in a detective
Brick Underground articles occasionally include the expertise of, or information about, advertising partners when relevant to the story. We will never promote an advertiser's product without making the relationship clear to our readers.