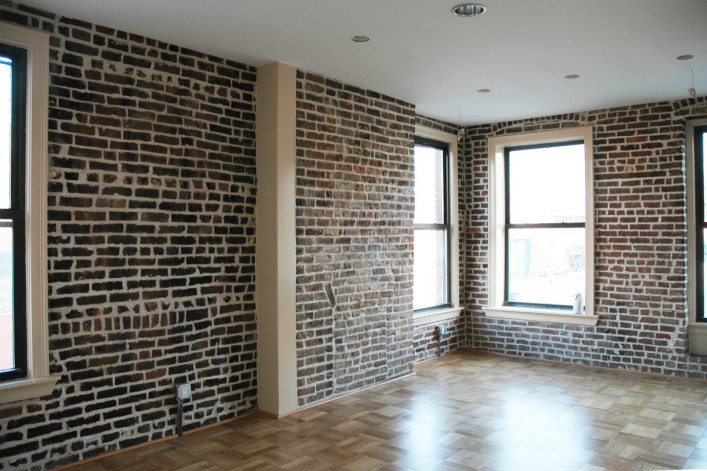 Before you even consider this Gowanus three-bedroom, one-bathroom, you better be sure you like exposed brick, which covers nearly all the walls of this place, listed for $3,000 a month. You better also take a look at this second-floor apartment with your own eyes because we see a red flag. 
First, the place was initially listed for $4,650 a month back in July. It's gone on and off the market since then, eventually with the owner relisting it (without a broker) at the beginning of December for $1,650 less than the original price. Why exactly has the rent been sliced so drastically? Is it just the slow winter season?  (The landlord did not respond to our request for a comment.)
That said, one benefit is that they're not charging a broker's fee (and only requiring you to pay for a credit check). Plus, the rental is advertised as having central air with temperature controls in the unit, and there's a washer/dryer hookup (though the landlord would require you to get renter's insurance). It's also close to the neighborhood's new Whole Foods. 
But is it worth the money? We asked our veteran renters, including RentHackr founder Zeb Dropkin, freelance writer Lambeth Hochwald, and myself, to weigh in for this week's Take It or Leave It.​
Size: 3-bed, 1-bath
Location: 285 Nevins Street (at Sackett)
Cost: $3,000/mo
Flexible Layout: No
Days on the market: 32 (at this price)
Subway: R to Union St; F, G to Carroll St.
Pros and Cons:
"The apartment appears to have a separate kitchen and lots of windows. But it looks like the one bedroom that's shown is tiny. Maybe that's why it's been on the market so long and the price was slashed. It may technically be a three-bedroom but those may not be very usable as bedrooms. Also the bathroom looks small, so if you're going to do this as a share prepare to add some shelving or keep  your toiletries in your possibly tiny room. " - Lucy
"There's good-looking exposed brick on this renovated apartment in Gowanus. But it's a three-bedroom, one-bath that's been listed at $4,650 before being reduced to $3,000—something's up with this place."- Zeb
"Bricklovers unite—there's a plethora of brick walls in this light-filled three-bedroom apartment located just one block from the Gowanus Canal, which could be a pro or a con depending on how you look at it. And, while the fact that the fridge is perched in the living room may seem strange, what's eerier is the fact that three people allegedly died in this building, one in 1894, another in 1901 and still a third in 1918. Could this be why this apartment has been lingering on the market?" - Lambeth​
Who would this apartment be perfect for?
"Three roommates on a budget who want to live near Whole Foods and want to try out the ever-gentrifying Gowanus neighborhood, while it's still much more affordable than its neighbors, Carroll Gardens and Park Slope." - Lucy
"Three roommates looking for a great deal in BK that are ok with dealing with some potential downsides, or two roommates with an office at home." - Zeb
"A tough-as-nails bunch of friends who are eager to try out Gowanus living and don't mind purchasing a washer and dryer. The hook up is ready to go in the apartment but you need machines and tenant insurance to avoid walking to the local coin-op." - Lambeth
The Verdict(s):
LEAVE IT "Too many potential red flags. But it may be worth checking out for yourself--for the price at least. " - Lucy
LEAVE IT "Unless this one fits your needs and you've figured out why this place has a reduced rent,  skip this apartment." - Zeb
LEAVE IT "Unless you're prepared for three ghost sightings!" - Lambeth
Ready to rent? Checkout our How To Rent Guide ...and if the apartment you like requires a guarantor that you don't have, see if the landlord accepts Insurent, a guarantor solution from one of BrickUnderground's sponsors.
Brick Underground articles occasionally include the expertise of, or information about, advertising partners when relevant to the story. We will never promote an advertiser's product without making the relationship clear to our readers.