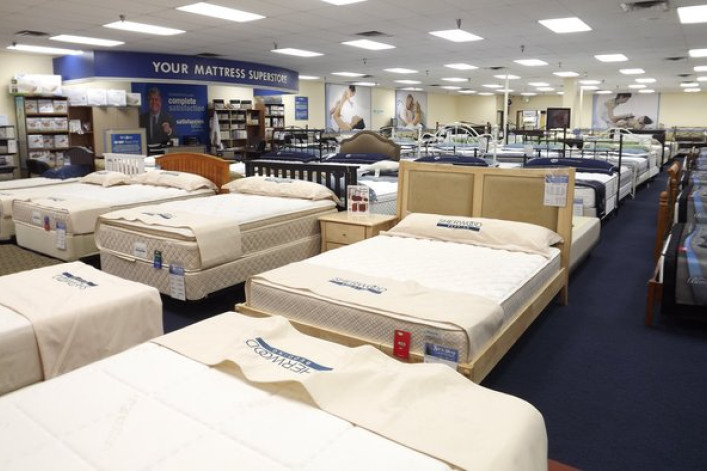 Few home purchases take up as much space in your apartment—or have such an impact on your quality of life—as a mattress, so the last thing you want to do is end up with the wrong one. But anyone who's ever set foot in a mattress store (or even browsed online) can tell you that the finding the right mattress can easily turn into a bizarre, overwhelming gauntlet. 
The New York Times has taken a very in-depth look at the Mattress Industrial Complex, and we've pulled some items on how to navigate the whole thing:
Limit the options. If you're walking into a mattress store, don't get caught up looking at every single model (after all, they're not really that different). A Simmons executive recommends having a staffer show you a maximum of three different options based on your price range, size, and taste (firm? memory foam?). Even with this self-imposed limit, "You'll be able to find a bed that is the right feel, will help solve sleep problems you're having and fit into a budget," the exec tells the paper. 
Go by feel (and forget about spring count). Mattress names are notoriously elaborate (a "Simmons Beautyrest Pemberton Plush" is one example) and often a little hard to decipher, especially since on the outside, all of them look more or less the same. As a rule, there are basically two different types of mattresses—those with inner-spring coils, which conform to your shape, and those without, including memory foam mattresses. But even this distinction is blurred by elaborate hybrid mattresses, and ultimately, it's wisest to focus on whether or not you'd want to sleep on something rather than its scientific bona fides. "One of the key points is that comfort is subjective," an editor of a furniture industry trade publication told the paper. With that in mind, keep your attention on the most important part of the search: "How does [the mattress] feel to you?"
Know your price range (and when to haggle). While you can easily spend a mint on a brand new mattress (and NYC in particular has plenty of high-end stores boasting research from "Swedish sleep labs" that'll help you do just that), Consumer Reports journalist Ed Perratore notes, "From the models that we've tested, they seem to start getting good in the $600 to $700 range," and that the typical buyer spends between $800 and $1,200 on a mattress. Another thing to keep in mind: while mattress stores seem to offer a never-ending stream of aggressive, heavily advertised sales, if you do find yourself shopping on a non-sale day, prices at these stores are so fluid that it can't hurt to try your hand at bargaining.
Skip the showroom entirely. There's a startup for absolutely everything these days, and naturally, mattress-buying is no exception. There's Casper, which carries a basic selection of mattresses ranging from $500 to $900, delivers them to your home in a tidy box, accepts returns no charge, and offers full refunds. (You can check out our review of the Casper mattress here.) There's also Tuft & Needle, a top-rated seller on Amazon that offers a similarly basic array of options, and is environmentally friendly to boot. Both offer a trial period in which you can decide if you like the product—100 days for Casper, 30 days for Tuft & Needle. 
Related:
Moving? This NYC startup wants to take the pain out of buying a mattress
3 keys to (successfully) buying home decor online
Forget the Murphy bed: behold this gravity-defying sleeping platform
How to split the cost of furniture with roommates—drama-free
Meet today's home furnishings store: cheaper, faster, and web-only
Brick Underground articles occasionally include the expertise of, or information about, advertising partners when relevant to the story. We will never promote an advertiser's product without making the relationship clear to our readers.