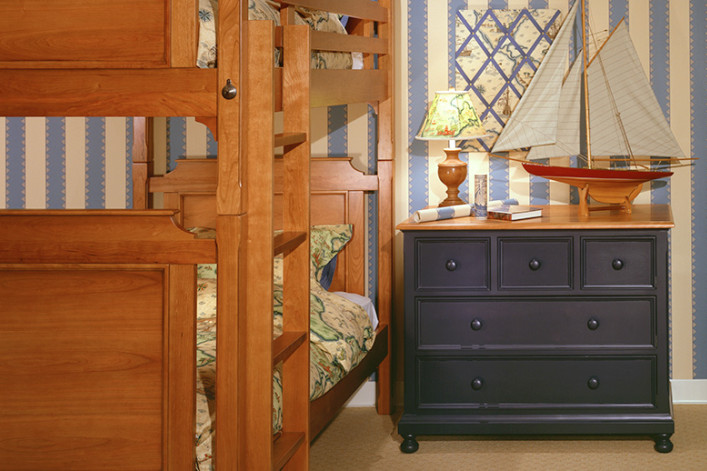 Small, dark rooms—​with miniscule windows and a view of the next-door building's wall—​are never ideal, and even less so when the space in question is a child's bedroom. On the bright side: There are some things you can do to liven up the darkest of spaces. Read on as Zoya Bograd, an interior designer at Manhattan's Rooms by ZoyaB who has been specializing in baby and children's rooms for the last 20 years, offers her eight tips to adding a little sunshine to the space: 
1. Get creative with stick-on decals.
If painting the space is too daunting (or you're not allowed to), consider using stick-on decals to brighten a space. "If you're going to use decals, stick with a theme," Bograd says. "There are so many: You can get a jungle theme, circus, trees and leaves. It's a quick and easy way to make the room cute and livable." Wall Candy Arts and Wall Pops are two online stores that offer kid-themed decals.
2. Don't ignore the window.
Just because your child's window faces a brick wall doesn't mean you can't maximize what little sunlight is available. Instead of curtains, opt for roman shades, some of which can be opened so that light comes in from either the top or bottom of the window. "Even in a dark room, you can usually see some sky," she says. "Curtains, even when they're opened, would cover that little bit of light."
3. Control the light.
If the room has an ugly ceiling fixture, ask a licensed electrician to help you install your own (though if you're in a rental, you'll want to get permission from your landlord first, and keep the existing fixture to swap it back in when you move out). If you can't change the overhead, keep it switched off and light the room with plug-in fixtures. "I like sturdy floor lamps or lamps with a table around it that are stable and offer a place to put a book or stack of games," Bograd says. "Swing arm lamps are another good option. Table lamps aren't as good since they can easily fall off, shatter or hurt a child."
4. Don't forget the floor.
Dark hardwood floors can amp up the cave-like feel of a kid's room. A cheery throw rug that's brightly striped or floral will not only feel good underfoot but will add a pop of color from the ground up, Bograd says.
5. Pick your palette.
If you're game to repaint the room, opt for lighter colors like blush pink, gold, soft greens or pumpkin since these colors add warmth and brightness to an otherwise dark room. "Light colors reflect more light," Bograd says. "What you want to avoid are primary colors," she says. "They're too busy." And don't feel constrained if you want to keep the white walls white (or your landlord says you can't paint your walls). "I love white, especially in the bedroom," she says. "A new trend in baby's rooms is to keep everything white and ivory."
6. Lighten the furniture.
To brighten a dark bedroom, keep the furniture light in color. Stained furniture in blonde woods, for example, will help keep the space feeling airy and light. "If all of your furniture is painted in dark woods, consider painting it a lighter shade," she says.
7. Eliminate clutter (as much as possible).
If your kid's room is punctuated with piles of papers or stacks of books that look disorderly, the room will feel darker than it is. "The use of shelving with closed doors or cubbies would help a lot," Bograd says.
8. Angle the bed.
Finally, feng shui 101 will help enhance a dark space. "The bed should be located at the further wall on a diagonal as you enter the room," Bograd says. "This is a universal rule, whether it's a bedroom for a baby, child or adult."
Related:
Hook-on high-chairs, convertible beds and 7 more essentials for the NYC kid
Raising kids in an apartment building: 7 classic dilemmas solved
Brick Underground articles occasionally include the expertise of, or information about, advertising partners when relevant to the story. We will never promote an advertiser's product without making the relationship clear to our readers.