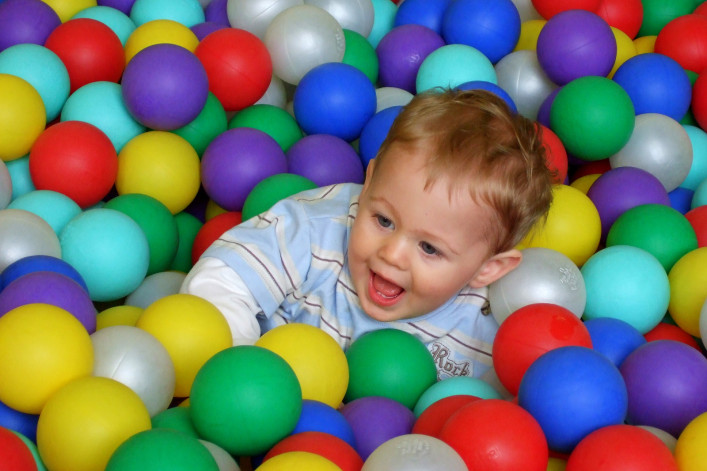 Being a parent comes with its own particular set of social dilemmas, but this is especially true in a city as dense as New York—where you're bringing up baby while sharing walls, hallways, elevators and building common areas with a small village of neighbors. What's the best way for children to use a communal playspace? How do you convince them to make nice when they share a bedroom? And where does the building staff come into all of this? For advice from the trenches, we spoke with NYC parents, brokers, and even a doorman for some practical dos and don'ts:
1. How do I make amends if my kids damages something in the building? 
"Normally buildings do have insurance policies and employees who help parents to solve kiddies' damages. Remember many doormen, concierges and porters are parents themselves and they've been in similar situations in their lives as well." - Elliot Bogod, NYC parent and  Broadway Realty agent
"The reality of something being broken in a common area—a light fixture, mirror, etc.—unfortunately would have to be brought up with the building's management company." - an Upper East Side doorman and columnist for A Doorman Speaks
"Apologize with the spoken word and in writing, pay, or both. If the child is old enough, have him or her apologize personally and in writing to offended parties." - Jamie Lauren Sutton, NYC parent and Miss Demeanor etiquette columnist
2. What's the going etiquette for shared building playrooms?
"Do not bring a sick child, do not play loud music, do not bring a group with more than two non-resident children unless the space has been reserved for your personal use.  Ensure your children are supervised appropriately." - Jamie Lauren Sutton
"The normal routine is to have kiddies take shoes off when entering playrooms, and no eating or drinking is permitted. But other than that, they can really do anything else: read, run, scream, jump, play tug of war." - Elliot Bogod
"If you're worried about the room being overcrowded, check it out at different times of day, and maybe take your kids there during off hours, when other children in the building might be having naptime, for instance. Playrooms are usually busier in the morning, and again in the afternoon post-nap-time and before dinner. But living in a crowded building is also kind of an advantage for children, and helps them learn at an early age to share their toys and be courteous to other kids."  - Victoria Rong Kennedy, NYC parent and agent at brokerage Citi Habitats ​
"It's the same etiquette as for a playdate—you need to keep an eye on your kid and make sure they're not getting into any trouble or doing something they shouldn't. And I think you should be sure to clean up everything before you leave so that other residents don't find a mess. Also, I think it would be a nice gesture to donate toys that are in good condition once you're finished using them. " - Lucy Cohen Blatter, NYC parent and BrickUnderground Senior Contributing Editor
3. What about other common areas, like roof decks or pools? Are there certain times of day that are less kid-friendly than others?
"There's a certain amount of common courtesy involved, and understanding that not everyone in the building has kids. For instance, we might not bring them up to the roof deck, say, at dinnertime when the weather's gorgeous. They'll be running around excited when people are trying to have a nice dinner and have wine glasses and other breakable things out and in use. Or if we do go up when someone is having a more adult dinner or event, we'll take the kids to the other side of the roof."- Victoria Rong
"Kids must be accompanied by adults. If you want the area to yourself or for a children's party, all buildings have party policies which restrict use of these areas and some rental fees often apply when areas are dedicated to a specific event." - Elliot Bogod
​"Most buildings have posted hours for adult-only swimming times. Respect those times. Right after school is a kid-friendly time, weekday mornings less so." - Jamie Lauren Sutton
4. Is there a right way to approach neighbors about playdates: knock on the door, call, email? How often is too often?
"Some buildings have a computer system where you can put on the community board if you want a playdate, which is especially helpful if you've just moved in and don't know anyone. If you see kids in the building with a nanny that are your children's age, you could also leave a note with the doorman for the parents suggesting that you all get together. Other than that, call or email— I don't knock on the door, I think that's a little intrusive. Especially in a building like mine where doormen usually announce visitors, if I get an unexpected knock, I think it's an emergency!" - Victoria Rong
"The answer to this depends a lot on how close you are to the parents, but it's something you should probably discuss with them. Usually, I'd say it's best to text parents before just dropping by, but some kids won't take no for an answer when they really want to see their friend. That said, you should probably set limits with your kids if they're old enough to understand—like, no visiting before 9 a.m. and no visiting more than once every couple of days." - Lucy Cohen Blatter
5. Is it ever okay to leave my stroller in the hallway? What are other storage options?
"In most buildings, you absolutely can't put the stroller in the hallway, usually because of the fire code. A few minutes in the hall might be OK if you're just stopping home for a minute of if the stroller got wet in the rain, but overnight or as a regular thing is inappropriate and disrespectful." - Victoria Rong
"The easily foldable ones—like the City Mini or the MacLaren—can be tucked away more easily." - Lucy Cohen Blatter
​Ed note: for more information on stroller etiquette (and building restrictions), check out our guide here.
6. Is it ever OK to ask the doorman to watch my child? If so, how much should I tip?
"It's normal for doormen to get attached to some children, and we look out for them. Taking queues from their parents, we can keep an eye out when they walk home from school by themselves or if left in the apartment by themselves for the very first time. As far as the teenage years, if a child gave the staff hell when they were younger, we're definitely telling on them when they've gotten older and throw a big party in the apartment without the parents knowing. Or if we see them walking the neighborhood, perhaps having cut from school, maybe even smelled cigarettes on them or, worse, weed or maybe even booze. Thankfully, I've never been asked to babysit for a night. The most I've been asked, and I'm assuming it's the same for many other doormen, is to watch a child for a few minutes or so. Perhaps a parent forgot something in the apartment and wanted to run back up without having to push a stroller around." - Upper East Side doorman 
"There is no particular obligation to children from doormen, which is different from their obligation to adult residents, but normally you can ask doormen to look after your kid for a minute or so when you run to the mailbox to drop your mail or if you run upstairs if you forgot something, provided your kid knows the doorman well and will not be crying. No tip is needed or expected in this case. You tip your building staff at the holiday season." - Elliot Bogod
"In general, it's not appropriate to ask the doorman to help out with your kid. Maybe once in a while if you have to get a taxi outside, you might ask the doorman to watch them for a minute. But if everyone asked the doorman for help with their kids all the time, he wouldn't have any time to do his job! If he has to briefly take on babysitting duties in a true emergency, offer him a minimum of $40 or $50, or the same that you would pay a regular babysitter. " - Victoria Rong
"Doormen can be another pair of eyes that keep tabs on your kids. For teens, I'd imagine it would be helpful to have a doorman making sure they're not getting into too much trouble—​and telling mom and dad if something is happening that they not might approve of. I personally have always found that doormen can be great sources of information on nannies. They're there when you're not and can often report on how your kids and nanny interact. We once were looking to hire a nanny and, just before the interview, she got into a tiff with our doorman. He told us she was rude and aggressive to him; his feedback helped us steer clear of what could have been a bad situation." - Lucy Cohen Blatter
7. My two children are sharing a room. How do I make the best of it?
"Loft beds can give kids private space within a shared room. Plus they clear the floor area so both kids can have a dresser and desk. Make sure your ceilings are high enough, though. Otherwise the beds can feel claustrophobic. " -Tina Fallon, agent with Realty Collective
"Bunk beds are obviously great when the kids are old enough. Once they start to want more privacy, it's helpful to have a wardrobe/desk combination for each kid that splits the room in half [like walls]. Each kid gets their own individual space, complete with storage." - Lucy Cohen Blatter
Related: 
Strollers 101: how to survive vertical living with a baby buggy in tow
NYC's 10 best nabes for young families (including 5 you may not have considered)
Real estate with kids: find a place, make nice with the neighbors, and more

The parents' guide to buying and renting in NYC
How to find a family friendly building
Brick Underground articles occasionally include the expertise of, or information about, advertising partners when relevant to the story. We will never promote an advertiser's product without making the relationship clear to our readers.