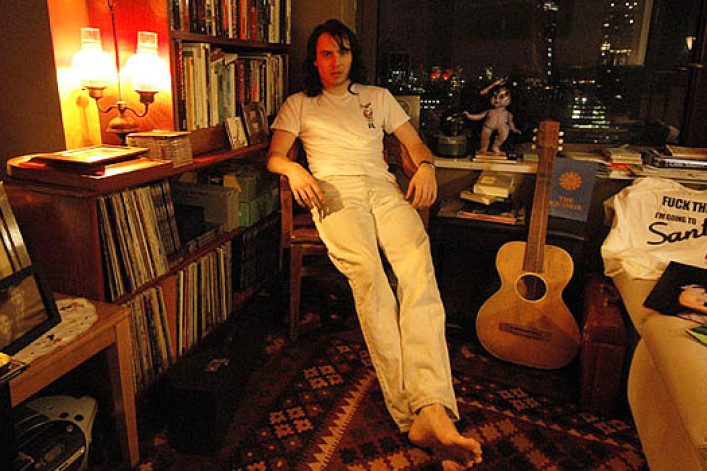 Andrew W.K. first came to the world's attention in 2001, when his debut record "I Get Wet" beguiled college kids with rock anthems like "Party Hard," "Party Til You Puke," and "It's Time To Party." Since then, the 35-year-old rock star, born Andrew Wilkes-Krier, has remade himself into a guru of sorts, spreading his all-inclusive, party-loving philosophy through lectures at NYU and Oxford, a forthcoming book called "The Party Bible," and a weekly advice column in the Village Voice that delves insightfully into everything from suicidal thoughts to Internet trolls. He's also the co-owner of Santos Party House, a sprawling downtown music venue.
W.K. currently rents a two-bedroom in a Times Square high-rise—​a place chockablock with figurines and fan art that he's called home since about 2008—​with his wife, the performer Cherie Lily. When he first moved to New York in the late 1990s, W.K. slept on a cot in a Williamsburg living room, paying $300 a month to his two fellow tenants. "They were very generous and very gracious and I really made them miserable," he says. "But we did end up becoming friends."
Below, the rocker-cum-thinker shares his wisdom on decorating without rules, partying in a small space and nurturing the soul with obnoxious roommates. 
How do you party hard in a tiny apartment?
By leaving. If you have a small space, it doesn't matter because there's nothing but space outside. Go to bars, clubs, restaurants, the parks. Apartments here are kind of like a storage space for your stuff and your body, but your mind is meant to go elsewhere. You're paying so much, not for this apartment but for this city.
What happens if your roommate wants to party and you don't?
You have to remember that it's everyone's space. If I moved in with someone and that person ate meat and I didn't eat meat, I wouldn't feel like it was fair for me to say, "Hey, you can't eat meat." If you can embrace the challenges of having a roommate, it's for the best—​rather than just finding a way around them or finding the perfect person. It's better to elevate yourself to be someone who can tolerate different kinds of behavior. You are growing your soul and becoming stronger. And you'll be able to tolerate a lot more other stuff.
What's your worst roommate horror story?
I was a horrible roommate to some other people. I didn't realize I was at the time—​it was my first time as a roommate. I would do things like clean up the living room and organize and make sure things were very tidy. But I didn't ask permission to do it, and they didn't want me to move their stuff. I would throw away people's food that they didn't want thrown away [like] cheese that was very strong, but that was the style of cheese it was.
You also said that when you lived in Greenpoint in the late 1990s, your neighbor could hear you practicing on the keyboard.
I tried to be as quiet as possible at all times. We could all hear each other regardless. I would always play everything with headphones on or at an extremely low volume. But they said even the tapping of my fingers on the keyboard with headphones on was disturbing them. They were very nice about it. The gentleman would come by and say, "Andy, why all this tap, tap every night all night?"
He could really hear that?
He really could. We thought that maybe it was the fact that the keyboard was on a stand that connected to the [floor we shared]. It was just thin drywall separating it. I put the keyboard on pillows, and then I would put the keyboard [on top of] my knees to raise up the keyboard so it was a lot less weight. I even put up rubber and crepe material on the walls. I could scream really loud, recording vocals when I was working on songs in there, and he could hear nothing except the tap, tap.
What's your design aesthetic?
I guess I never really bought stuff that you use just to decorate because I have so much stuff anyway. The house is filled with our belongings. I've been over to some people's houses that, maybe, they went to a store to buy things to put in a house, like non-functional objects. Things that take up space. I already had a bunch of stuff, and there's not that much room to need to fill anyways. I like to have less stuff, in a way. … Rather than hanging up some object that you don't have any connection to, you put up a picture that you made or your friend made or you took yourself or you acquired in the act of living. My parents always had stuff from their travels [that] they just accumulated over the years.
What's your fantasy home purchase?
Storage space. A giant room would be great. Ten pounds of gold. That's very valuable and doesn't take up much room.
You said that you often have dreams about houses and apartments. What kind of dreams?
The dream almost seems to be about the space, being in the space and exploring it. I've been in my old 53rd Street apartment and I think, wait a minute, how do I still have keys to this place? I can have two apartments at once. Or, holy smokes, there's this other 5,000 square feet that I never noticed.
What's your favorite thing in your apartment right now?
My old landlord on 53rd Street was this fantastic artist, Tom LoCicero. And he used that space as a painting studio and also lived there. He used to do quite large paintings. He had them all stored there in this nice area in the back of the building. He said, "Hey you can use any of those paintings in the back of the house." He had a very wide variety of stuff that he painted. Some very abstract, some very particular pastoral themes, and some very floral themes, which are the ones I particularly enjoyed. There was one with a small bird, probably 4 by 3 feet, and when we moved he gave me that painting. It hangs right in my bedroom here. It was a way to keep that spirit of the house and that time in my life very close. And it was so generous as well [to give it to me]. I offered to pay him, and he said, "I really just want you to have it." I probably couldn't have afforded it even if I could have picked it out.
Related:
"Tiny House Nation" host John Weisbarth on living large in a (really) small space
What one Brooklyn guy learned from hosting a live talk show to find a roommate
The Real Housewives' Luann de Lesseps on summer hosting and where to shop home decor
Ask an Expert: tips for breaking a lease over neighbor noise
Brick Underground articles occasionally include the expertise of, or information about, advertising partners when relevant to the story. We will never promote an advertiser's product without making the relationship clear to our readers.